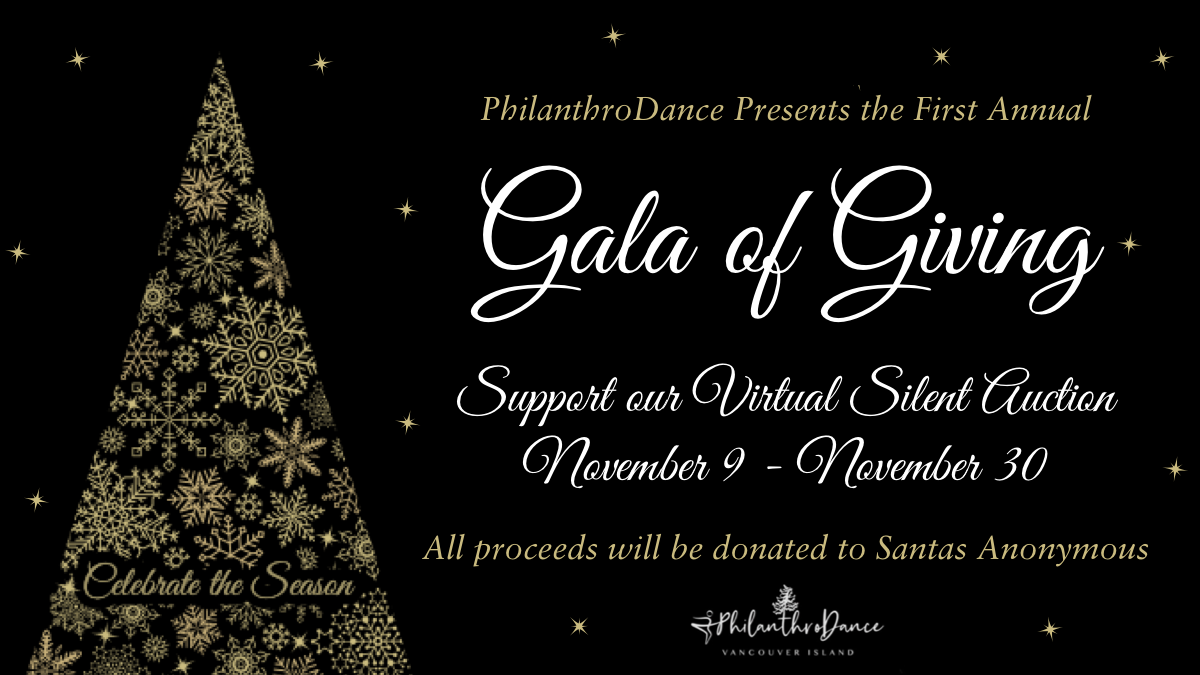 Event:
The First Annual Gala of Giving
Start:
Wednesday November 10, 2021
10:00 AM PST
End:
Tuesday November 30, 2021
11:59 PM PST
Already registered? Sign in here.
PhilanthroDance is a not-for-profit, volunteer-run initiative that unites and inspires the Vancouver Island dance community while raising funds for local families in need. This year, all profits will go to Santas Anonymous, which is one of Greater Victoria's longest-running children's charities, working diligently to serve families with children in need.
Cash Appeal

s

Our Goal

Monetary Donation

Not interested in bidding on the auction? Make a cash donation instead!
Auction Item

s

Value
High Bid
Gala of Giving

Two Nights at Waters Edge Suites Private Island in Uclulet

Valid: Sunday - Thursday (no weekends). Not valid: July 1st - Sept 15th, Holidays or Long Weekends.

Room Features:
*Deluxe 1 bedroom with outdoor tub
*Maximum Occupancy: 4
*500 – 650 sqft
*Outdoor Soaker Tub
*Separate Bedroom
*Full Kitchen
*Gas (Propane) Fireplace
*Maximum Occupancy: 4
*Non-Smoking
*Pet suites may be available; contact us for availability.
*Stairs may be required to access this suite; contact us if you have mobility issues.

Website: https://www.watersedgesuites.com/

*Winning bidder is responsible for Stripe payment processing fee. E-transfer may be considered at the discretion of PhilanthroDance.

Valued at $500Current bid: $265

Donated By Waters Edge Suites Private Island

Item pickup location: Email.
This item can be mailed.

$500
$265

Alset Tours Half Day Saanich Wine Tour

Enjoy a private, custom four hour wine tour for two in a luxurious Tesla vehicle. Tour with standard tastings included. Extended tastings, food and drink available for purchase.

Valid November 2021 to April 2022.

Website: https://www.teslatours.ca/


*Winning bidder is responsible for Stripe payment processing fee. E-transfer may be considered at the discretion of PhilanthroDance.

Valued at $600Current bid: $125

Donated By Alset Tours

Item pickup location: Email.
This item can be mailed.

$600
$125

Nautical Nellies Gift Certificate

Website: https://nauticalnelliesrestaurant.com/


*Winning bidder is responsible for Stripe payment processing fee. E-transfer may be considered at the discretion of PhilanthroDance.

Valued at $50Current bid: $45

Donated By Nautical Nellies

Item pickup location: Gordon Head.
This item can be mailed.

$50
$45

Nautical Nellies Gift Certificate

Website: https://nauticalnelliesrestaurant.com/


*Winning bidder is responsible for Stripe payment processing fee. E-transfer may be considered at the discretion of PhilanthroDance.

Valued at $50Current bid: $45

Donated By Nautical Nellies

Item pickup location: Gordon Head.
This item can be mailed.

$50
$45

Nautical Nellies Gift Certificate

Website: https://nauticalnelliesrestaurant.com/


*Winning bidder is responsible for Stripe payment processing fee. E-transfer may be considered at the discretion of PhilanthroDance.

Valued at $50Current bid: $45

Donated By Nautical Nellies

Item pickup location: Gordon Head.
This item can be mailed.

$50
$45

Il Terrazzo Gift Card

Website: https://www.ilterrazzo.com/

*Winning bidder is responsible for Stripe payment processing fee. E-transfer may be considered at the discretion of PhilanthroDance.

Valued at $50Current bid: $45

Donated By Il Terrazzo

Item pickup location: Gordon Head.
This item can be mailed.

$50
$45

Milestones Inner Harbour Gift Card

Website: https://www.milestonesrestaurants.com/

*Winning bidder is responsible for Stripe payment processing fee. E-transfer may be considered at the discretion of PhilanthroDance.

Valued at $50Current bid: $30

Donated By Milestones

Item pickup location: Gordon Head.
This item can be mailed.

$50
$30

Penny Farthing & Vis a Vis Gift Card

Penny Farthing Website: https://www.pennyfarthingpub.com/

Vis a Vis Website: https://www.visavisoakbay.com/

*Winning bidder is responsible for Stripe payment processing fee. E-transfer may be considered at the discretion of PhilanthroDance.

Valued at $50Current bid: $36

Donated By Penny Farthing

Item pickup location: Gordon Head.
This item can be mailed.

$50
$36

Smith's Pub Gift Card

Website: https://smithspub.com/


*Winning bidder is responsible for Stripe payment processing fee. E-transfer may be considered at the discretion of PhilanthroDance.

Valued at $50Current bid: $18

Donated By Smith's Pub

Item pickup location: Gordon Head.
This item can be mailed.

$50
$18

Beacon Drive In Gift Card

Website: https://www.beacondrivein.ca/

*Winning bidder is responsible for Stripe payment processing fee. E-transfer may be considered at the discretion of PhilanthroDance.

Valued at $25Current bid: $13

Donated By Beacon Drive In

Item pickup location: Gordon Head.
This item can be mailed.

$25
$13

Beacon Drive In Gift Card

Website: https://www.beacondrivein.ca/

*Winning bidder is responsible for Stripe payment processing fee. E-transfer may be considered at the discretion of PhilanthroDance.

Valued at $25Current bid: $16

Donated By Beacon Drive In

Item pickup location: Gordon Head.
This item can be mailed.

$25
$16

Beacon Drive In Gift Card

Website: https://www.beacondrivein.ca/

*Winning bidder is responsible for Stripe payment processing fee. E-transfer may be considered at the discretion of PhilanthroDance.

Valued at $25Current bid: $13

Donated By Beacon Drive In

This item can be mailed.

$25
$13

Beacon Drive In Gift Card

Website: https://www.beacondrivein.ca/

*Winning bidder is responsible for Stripe payment processing fee. E-transfer may be considered at the discretion of PhilanthroDance.

Valued at $25Current bid: $14

Donated By Beacon Drive In

Item pickup location: Gordon Head.
This item can be mailed.

$25
$14

Rootside Bitters and Mixers Trio Pack

Our 3 best sellers all in one pack!

The pack includes 375ml bottles of Ginger Beer Mix, Cardamom Citrus Tonic Water Mix and our Rosehip Lemonade! Each bottle makes 13 drinks! Works with SodaStream

Just mix 2 Tbsp. (30ml) of our mixers with ice, your favourite spirit and top with sparkling water to taste!

Great for cocktails or just for mixing with sparkling water. Each bottle makes 13 drinks!

You can also use our Ginger Beer Mix or Rosehip Lemonade Mix with hot water, for an incredible Ginger or Rosehip Tea!

Website: https://rootside.ca/

*Winning bidder is responsible for Stripe payment processing fee. E-transfer may be considered at the discretion of PhilanthroDance.

Valued at $54Current bid: $21

Donated By Rootside Bitters and Mixers

Item pickup location: Gordon Head.

$54
$21

Sheringham Distillery Gift Card & TShirt

Website: https://www.sheringhamdistillery.com/

*Winning bidder is responsible for Stripe payment processing fee. E-transfer may be considered at the discretion of PhilanthroDance.

Valued at $48Current bid: $30

Donated By Sheringham Distillery

Item pickup location: Gordon Head.

$48
$30

The Village Torquay Gift Card

Website: https://torquayvillage.ca/

*Winning bidder is responsible for Stripe payment processing fee. E-transfer may be considered at the discretion of PhilanthroDance.

Valued at $20Current bid: $18

Donated By The Village Torquay

Item pickup location: Gordon Head.
This item can be mailed.

$20
$18

The Village Torquay Gift Card

Website: https://torquayvillage.ca/

*Winning bidder is responsible for Stripe payment processing fee. E-transfer may be considered at the discretion of PhilanthroDance.

Valued at $20Current bid: $20

Donated By The Village Torquay

Item pickup location: Gordon Head.
This item can be mailed.

$20
$20

The Village Torquay Gift Card

Website: https://torquayvillage.ca/

*Winning bidder is responsible for Stripe payment processing fee. E-transfer may be considered at the discretion of PhilanthroDance.

Valued at $20Current bid: $18

Donated By The Village Torquay

Item pickup location: Gordon Head.
This item can be mailed.

$20
$18

Fernwood Coffee Gift Card

Website: https://fernwoodcoffee.com/

*Winning bidder is responsible for Stripe payment processing fee. E-transfer may be considered at the discretion of PhilanthroDance.

Valued at $25Current bid: $20

Donated By Fernwood Coffee

Item pickup location: Gordon Head.
This item can be mailed.

$25
$20

Fernwood Coffee Gift Card

*Winning bidder is responsible for Stripe payment processing fee. E-transfer may be considered at the discretion of PhilanthroDance.

Valued at $25Current bid: $20

Donated By Fernwood Coffee

Item pickup location: Gordon Head.
This item can be mailed.

$25
$20

Pagliacci's Gift Card

Website: https://www.pagliaccis.ca/

*Winning bidder is responsible for Stripe payment processing fee. E-transfer may be considered at the discretion of PhilanthroDance.

Valued at $25Current bid: $23

Donated By Pagliacci's

Item pickup location: Gordon Head.
This item can be mailed.

$25
$23

White Spot Gift Card

Website: https://www.whitespot.ca/

*Winning bidder is responsible for Stripe payment processing fee. E-transfer may be considered at the discretion of PhilanthroDance.

Valued at $25Current bid: $23

Donated By White Spot

Item pickup location: Gordon Head.
This item can be mailed.

$25
$23

10 Free Drip Coffee Cards

Website: https://www.habitcoffee.com

*Winning bidder is responsible for Stripe payment processing fee. E-transfer may be considered at the discretion of PhilanthroDance.

Valued at $25Current bid: $7

Donated By Habit Coffee

Item pickup location: Gordon Head.
This item can be mailed.

$25
$7

10 Free Drip Coffee Cards

Website: https://www.habitcoffee.com/

*Winning bidder is responsible for Stripe payment processing fee. E-transfer may be considered at the discretion of PhilanthroDance.

Valued at $25Current bid: $12

Donated By Habit Coffee

Item pickup location: Gordon Head.
This item can be mailed.

$25
$12

The Whole Beast Gift Certificate

Website: https://www.thewholebeast.ca/

*Winning bidder is responsible for Stripe payment processing fee. E-transfer may be considered at the discretion of PhilanthroDance.

Valued at $25Current bid: $20

Donated By The Whole Beast

Item pickup location: Gordon Head.
This item can be mailed.

$25
$20

The Village Butcher Gift Certificate

Website: https://villagebutcher.ca/

*Winning bidder is responsible for Stripe payment processing fee. E-transfer may be considered at the discretion of PhilanthroDance.

Valued at $25Current bid: $20

Donated By The Village Butcher

Item pickup location: Gordon Head.
This item can be mailed.

$25
$20

Market on Yates Gift Card

Website: https://themarketstores.com/

*Winning bidder is responsible for Stripe payment processing fee. E-transfer may be considered at the discretion of PhilanthroDance.

Valued at $100Current bid: $90

Donated By Market on Yates

Item pickup location: Gordon Head.
This item can be mailed.

$100
$90

Royal Oak Country Grocer Gift Card

Website: https://www.countrygrocer.com/locations/victoria-royal-oak/

*Winning bidder is responsible for Stripe payment processing fee. E-transfer may be considered at the discretion of PhilanthroDance.

Valued at $50Current bid: $45

Donated By Royal Oak Country Grocer

Item pickup location: Gordon Head.
This item can be mailed.

$50
$45

Royal Oak Country Grocer Gift Card

Website: https://www.countrygrocer.com/locations/victoria-royal-oak/

*Winning bidder is responsible for Stripe payment processing fee. E-transfer may be considered at the discretion of PhilanthroDance.

Valued at $50Current bid: $45

Donated By Royal Oak Country Grocer

Item pickup location: Gordon Head.
This item can be mailed.

$50
$45

Shine Nanaimo 2022 Entry and Swag

-One free entry to Shine Nanaimo 2022
-Shine stainless steel water bottle
-Shine headphones
-Shine mints and lip balm
-Shine ninja phone loop
-Scrunchie
-Mini emergency kit

Website: https://shinedancefestival.com/

*Winning bidder is responsible for Stripe payment processing fee. E-transfer may be considered at the discretion of PhilanthroDance.

Valued at $600Current bid: $75

Donated By Shine Dance Festival

Item pickup location: Gordon Head.

$600
$75

View Dance Challenge Full Convention Scholarship

Full convention Scholarship for Vancouver 2022 (date/location TBD)

Website: https://www.viewdancechallenge.com/

*Winning bidder is responsible for Stripe payment processing fee. E-transfer may be considered at the discretion of PhilanthroDance.

Valued at $199Current bid: $50

Donated By View Dance Challenge

Item pickup location: Email.
This item can be mailed.

$199
$50

Summit Dance Challenge Entry and Swag

One free entry to 2022 tour.

Website: https://www.summitdancechallenge.com/

*Winning bidder is responsible for Stripe payment processing fee. E-transfer may be considered at the discretion of PhilanthroDance.

Priceless!Current bid: $100

Donated By Summit Dance Challenge

Item pickup location: Gordon Head.

Priceless!
$100

RNS Dance 5 Class Adult Punch Card

Valid Dec 2021-Dec 2022 for any 5 adult drop-in classes .
Website: https://www.rhythmandsouldance.ca/

*Winning bidder is responsible for Stripe payment processing fee. E-transfer may be considered at the discretion of PhilanthroDance.

Valued at $105Current bid: $50

Donated By Rhythm and Soul Dance

Item pickup location: Email.
This item can be mailed.

$105
$50

Birthday Dance Party @ Allegro Performing Arts Centre

A Birthday Dance Party!

- Value $175
- Includes 45 minutes to 1 hour of dance instruction for up to 12 guests, plus 1 Hour Room Rental for your Cake and Goodies
- You provide your own cake, snacks and birthday decorations. Responsible for leaving the premises as you found them.
- Bookings depend on instructor availability.
- 8695 Emard Terrace, North Saanich, B.C

Website:https://www.allegroperformingartscentre.com/birthday-dance-party

*Winning bidder is responsible for Stripe payment processing fee. E-transfer may be considered at the discretion of PhilanthroDance.

Valued at $175Current bid: $40

Donated By Allegro Performing Arts Centre

Item pickup location: Email.
This item can be mailed.

$175
$40

Grishko Warm-Up Boots & Duffel Bag

The Dream boot Warm-Up Dance Booties by Grishko will keep you warm wherever you go.

Warmup boots for dance class
All-over print design
Fully padded shoes keep heat in
Elastic opening keeps the shoe in place
Adjustable elastic straps
Flattened toe area for pointe and slipper work
Anti-slip sole for safety
Material: 100% Waterproof Polyester
Style: 3306

Website: https://grishko.ca/

*Winning bidder is responsible for Stripe payment processing fee. E-transfer may be considered at the discretion of PhilanthroDance.

Valued at $114Current bid: $50

Donated By Grishko

Item pickup location: Gordon Head.

$114
$50

Capezio Lifeknit Socks and Water Bottle

Size Medium Socks:
"Lifeknit Sox" are seamlessly engineered for movement. Ideal for dance, training and recovery, this ankle sock prioritizes comfort, support and compression. Meryl/elastane sock features strategically placed compression points to reinforce and lift, durable cushioning, wicking yarn for moisture ventilation and overall breathability, and a slip-free traction for maximum grip.

Water Bottle:
Stainless steel

Website: https://www.ellswear.com/

*Winning bidder is responsible for Stripe payment processing fee. E-transfer may be considered at the discretion of PhilanthroDance.

Valued at $48Current bid: $12

Donated By Ellswear

Item pickup location: Gordon Head.

$48
$12

Ellswear Booty Shorts

-Black
-High-waist
-Adult size Medium

Website: https://www.ellswear.com/

*Winning bidder is responsible for Stripe payment processing fee. E-transfer may be considered at the discretion of PhilanthroDance.

Valued at $42Current bid: $20

Donated By Ellswear

Item pickup location: Gordon Head.

$42
$20

Ellswear Gift Certificate

Website: https://www.ellswear.com/

*Winning bidder is responsible for Stripe payment processing fee. E-transfer may be considered at the discretion of PhilanthroDance.

Valued at $30Current bid: $22

Donated By Ellswear

Item pickup location: Gordon Head.
This item can be mailed.

$30
$22

Five Twenty Co Size 4 Shorts

*Size 4
*80% nylon / 20% spandex

Website: https://www.fivetwentyco.ca/

*Winning bidder is responsible for Stripe payment processing fee. E-transfer may be considered at the discretion of PhilanthroDance.

Valued at $39Current bid: $10

Donated By Five Twenty Co

Item pickup location: Gordon Head.

$39
$10

Five Twenty Co Size 2 Shorts

*Size 2
*3 inch inseam
*80% nylon / 20% spandex

Website: https://www.fivetwentyco.ca/

*Winning bidder is responsible for Stripe payment processing fee. E-transfer may be considered at the discretion of PhilanthroDance.

Valued at $44Current bid: $0

Donated By Five Twenty Co

Item pickup location: Gordon Head.

$44
$0

Five Twenty Co Size 10 Shorts

*Size 10
*6 inch inseam
*80% nylon / 20% spandex

Website: https://www.fivetwentyco.ca/

*Winning bidder is responsible for Stripe payment processing fee. E-transfer may be considered at the discretion of PhilanthroDance.

Valued at $49Current bid: $0

Donated By Five Twenty Co

Item pickup location: Gordon Head.

$49
$0

Adrena LINE Zipline Adventures 2 Zipline Passes

2 adult or youth passes

Website: https://adrenalinezip.com/

*Winning bidder is responsible for Stripe payment processing fee. E-transfer may be considered at the discretion of PhilanthroDance. Payment must be received within 24 hours of the end of the auction.

Valued at $187Current bid: $61

Donated By Adrena LINE Zipline Adventures

Item pickup location: Gordon Head.
This item can be mailed.

$187
$61

WildPlay Gift Card

Website: https://www.wildplay.com/

*Winning bidder is responsible for Stripe payment processing fee. E-transfer may be considered at the discretion of PhilanthroDance. Payment must be received within 24 hours of the end of the auction.

Valued at $50Current bid: $25

Donated By WildPlay

Item pickup location: Email.
This item can be mailed.

$50
$25

Personal Training at Innovative Fitness

Includes one health and wellness consultation and two personal training sessions.

Website: https://www.innovativefitness.com/location/victoria-personal-training/

*Winning bidder is responsible for Stripe payment processing fee. E-transfer may be considered at the discretion of PhilanthroDance. Payment must be received within 24 hours of the end of the auction.

Valued at $200Current bid: $40

Donated By Innovative Fitness

This item can be mailed.

$200
$40

One Float at Float House Victoria

Website: https://floathouse.ca/

*Winning bidder is responsible for Stripe payment processing fee. E-transfer may be considered at the discretion of PhilanthroDance. Payment must be received within 24 hours of the end of the auction.

Valued at $79Current bid: $37

Donated By Float House Victoria

Item pickup location: Gordon Head.
This item can be mailed.

$79
$37

One Float at Float House Victoria

Website: https://floathouse.ca/

*Winning bidder is responsible for Stripe payment processing fee. E-transfer may be considered at the discretion of PhilanthroDance. Payment must be received within 24 hours of the end of the auction.

Valued at $79Current bid: $37

Donated By Float House Victoria

Item pickup location: Gordon Head.
This item can be mailed.

$79
$37

Deco De Mode Manicure

Website: https://www.decodemode.com/

*Winning bidder is responsible for Stripe payment processing fee. E-transfer may be considered at the discretion of PhilanthroDance. Payment must be received within 24 hours of the end of the auction.

Valued at $40Current bid: $36

Donated By Deco De Mode

Item pickup location: Gordon Head.
This item can be mailed.

$40
$36

Tulipe Noire Gift Card

Website: https://www.tulipenoire.com/

*Winning bidder is responsible for Stripe payment processing fee. E-transfer may be considered at the discretion of PhilanthroDance. Payment must be received within 24 hours of the end of the auction.

Valued at $25Current bid: $15

Donated By Tulipe Noire

Item pickup location: Gordon Head.
This item can be mailed.

$25
$15

Victoria Butterfly Gardens 1 Day Pass for 5 People

Website: https://butterflygardens.com/

*Winning bidder is responsible for Stripe payment processing fee. E-transfer may be considered at the discretion of PhilanthroDance. Payment must be received within 24 hours of the end of the auction.

Valued at $89Current bid: $50

Donated By Victoria Butterfly Gardens

Item pickup location: Gordon Head.
This item can be mailed.

$89
$50

Cinecenta Gift Passes

4 movie admissions, 2 medium popcorn and 2 medium pop.

Website: https://www.cinecenta.com/

*Winning bidder is responsible for Stripe payment processing fee. E-transfer may be considered at the discretion of PhilanthroDance. Payment must be received within 24 hours of the end of the auction.

Valued at $48Current bid: $44

Donated By Cinecenta

Item pickup location: Gordon Head.
This item can be mailed.

$48
$44

Magic Mirror Call with Elsa and Anna from Frozen

Website: https://www.islandprincesspartiesvi.com/

*Winning bidder is responsible for Stripe payment processing fee. E-transfer may be considered at the discretion of PhilanthroDance. Payment must be received within 24 hours of the end of the auction.

Valued at $100Current bid: $20

Donated By Island Princess Parties

Item pickup location: Email.
This item can be mailed.

$100
$20

Bike Tune Up at North Park Bike Shop

Website: https://www.northparkbikeshop.com/

*Winning bidder is responsible for Stripe payment processing fee. E-transfer may be considered at the discretion of PhilanthroDance. Payment must be received within 24 hours of the end of the auction.

Valued at $90Current bid: $39

Donated By North Park Bike Shop

Item pickup location: Gordon Head.
This item can be mailed.

$90
$39

Beehive Wool Shop Gift Certificate and Wool

$25 gift certificate and wool.

Website: https://beehivewoolshop.com/

*Winning bidder is responsible for Stripe payment processing fee. E-transfer may be considered at the discretion of PhilanthroDance. Payment must be received within 24 hours of the end of the auction.

Valued at $65Current bid: $40

Donated By Beehive Wool Shop

Item pickup location: Gordon Head.

$65
$40

Gauntlet Games Gift Card

Website: https://www.gauntletgamesvictoria.ca/

*Winning bidder is responsible for Stripe payment processing fee. E-transfer may be considered at the discretion of PhilanthroDance. Payment must be received within 24 hours of the end of the auction.

Valued at $25Current bid: $23

Donated By Gauntlet Games

Item pickup location: Gordon Head.
This item can be mailed.

$25
$23

Gauntlet Games Gift Card

Website: https://www.gauntletgamesvictoria.ca/

*Winning bidder is responsible for Stripe payment processing fee. E-transfer may be considered at the discretion of PhilanthroDance. Payment must be received within 24 hours of the end of the auction.

Valued at $25Current bid: $23

Donated By Gauntlet Games

Item pickup location: Gordon Head.
This item can be mailed.

$25
$23

Oak Bay Flower Shop Gift Card

Website: https://oakbayflowershop.com/

*Winning bidder is responsible for Stripe payment processing fee. E-transfer may be considered at the discretion of PhilanthroDance. Payment must be received within 24 hours of the end of the auction.

Valued at $40Current bid: $22

Donated By Oak Bay Flower Shop

Item pickup location: Gordon Head.
This item can be mailed.

$40
$22

Brown's the Florist Gift Card

Website: https://brownsflorist.com/

*Winning bidder is responsible for Stripe payment processing fee. E-transfer may be considered at the discretion of PhilanthroDance. Payment must be received within 24 hours of the end of the auction.

Valued at $30Current bid: $27

Donated By Brown's the Florist

Item pickup location: Gordon Head.
This item can be mailed.

$30
$27

Brown's the Florist Gift Card

Website: https://brownsflorist.com/

*Winning bidder is responsible for Stripe payment processing fee. E-transfer may be considered at the discretion of PhilanthroDance. Payment must be received within 24 hours of the end of the auction.

Valued at $30Current bid: $27

Donated By Brown's the Florist

Item pickup location: Gordon Head.
This item can be mailed.

$30
$27

Brown's the Florist Gift Card

Website: https://brownsflorist.com/

*Winning bidder is responsible for Stripe payment processing fee. E-transfer may be considered at the discretion of PhilanthroDance. Payment must be received within 24 hours of the end of the auction.

Valued at $30Current bid: $20

Donated By Brown's the Florist

Item pickup location: Gordon Head.
This item can be mailed.

$30
$20

Total Prepare Jumbo First Aid Kit

Website: https://totalprepare.ca/

*Winning bidder is responsible for Stripe payment processing fee. E-transfer may be considered at the discretion of PhilanthroDance. Payment must be received within 24 hours of the end of the auction.

Valued at $70Current bid: $51

Donated By Total Prepare

Item pickup location: Gordon Head.

$70
$51

Nature Bee Wraps Variety Pack

This pack was inspired by the slow and relaxing vibe of sloths. Sloths are known for always giving the appearance of a constant smile. We hope that when people open up this package they are reminded to smile!

This package contains 1 small beeswax wrap, 1 medium beeswax wrap and 1 large beeswax wrap.

Dimensions:
Small Beeswax Wrap - Approximately 20cm x 20cm. Great for small snacks like carrots, crackers, cookies, apple slices, oranges and more.

Medium Beeswax Wrap - Approximately 25cm x 25cm. Best for half-cut peppers, cheese, cut veggies and covering leftovers.

Large Beeswax Wrap - Approximately 35cm x 35cm. Perfect for sandwiches, lettuce and herbs, covering containers with no lid, and bundling items together like loose veggies.

Website: https://www.naturebeewraps.ca/

*Winning bidder is responsible for Stripe payment processing fee. E-transfer may be considered at the discretion of PhilanthroDance. Payment must be received within 24 hours of the end of the auction.

Valued at $25Current bid: $15

Donated By Nature Bee Wraps

Item pickup location: Gordon Head.
This item can be mailed.

$25
$15

Nature Bee Wraps Variety Pack

Inspired by the phrase used to encourage everyone to be optimistic and positive while working through everything life has to offer. Plus, lemons keep extra fresh in Nature Bee Beeswax Wraps.

This package contains 1 small beeswax wrap, 1 medium beeswax wrap and 1 large beeswax wrap. Please note that you will not get the exact images show on the display as we cut the wraps at different parts of the pattern. They will be as close as we can.

Small Beeswax Wraps: Approximately 20cm x 20cm (7.87402 Inches * 7.87402 inches). Great for small snacks like carrots, crackers, cookies, apple slices, oranges and more.

Medium Beeswax Wraps: Approximately 25cm x 25cm (9.84252 inches * 9.84252 inches). Best for half-cut peppers, cheese, cut veggies and covering leftovers.

Large Beeswax Wraps: Approximately 35cm x 35cm (13.7795 inches * 13.7795 inches). Perfect for sandwiches, lettuce and herbs, covering containers with no lid, and bundling items together like loose veggies.

Website: https://www.naturebeewraps.ca/

*Winning bidder is responsible for Stripe payment processing fee. E-transfer may be considered at the discretion of PhilanthroDance. Payment must be received within 24 hours of the end of the auction.

Valued at $25Current bid: $15

Donated By Nature Bee Wraps

Item pickup location: Gordon Head.

$25
$15

Beadworld Gift Certificate

Website: https://www.facebook.com/VictoriaBeadworld/about/?ref=page_internal

*Winning bidder is responsible for Stripe payment processing fee. E-transfer may be considered at the discretion of PhilanthroDance. Payment must be received within 24 hours of the end of the auction.

Valued at $30Current bid: $8

Donated By Beadworld

Item pickup location: Gordon Head.
This item can be mailed.

$30
$8

Whale Catch All Dish from Fired Up

Website: https://www.firedup.ca/

*Winning bidder is responsible for Stripe payment processing fee. E-transfer may be considered at the discretion of PhilanthroDance. Payment must be received within 24 hours of the end of the auction.

Valued at $45Current bid: $10

Donated By Fired Up!

Item pickup location: Gordon Head.

$45
$10

Catch All Dish from Fired Up

*Winning bidder is responsible for Stripe payment processing fee. E-transfer may be considered at the discretion of PhilanthroDance. Payment must be received within 24 hours of the end of the auction.

Valued at $22Current bid: $5

Donated By Fired Up!

Item pickup location: Gordon Head.

$22
$5

Gage Gallery Arts Collective 10 Assorted Cards

Website: https://gagegallery.ca/

*Winning bidder is responsible for Stripe payment processing fee. E-transfer may be considered at the discretion of PhilanthroDance. Payment must be received within 24 hours of the end of the auction.

Valued at $34Current bid: $9

Donated By Gage Gallery Arts Collective

Item pickup location: Gordon Head.

$34
$9

Gage Gallery Arts Collective 10 Assorted Cards

Website: https://gagegallery.ca/

*Winning bidder is responsible for Stripe payment processing fee. E-transfer may be considered at the discretion of PhilanthroDance. Payment must be received within 24 hours of the end of the auction.

Valued at $34Current bid: $18

Donated By Gage Gallery Arts Collective

Item pickup location: Gordon Head.

$34
$18

Gage Gallery Arts Collective Gift Certificate

Website: https://gagegallery.ca/

*Winning bidder is responsible for Stripe payment processing fee. E-transfer may be considered at the discretion of PhilanthroDance. Payment must be received within 24 hours of the end of the auction.

Valued at $30Current bid: $12

Donated By Gage Gallery Arts Collective

Item pickup location: Gordon Head.

$30
$12

Gage Gallery Arts Collective Print

Website: https://gagegallery.ca/

*Winning bidder is responsible for Stripe payment processing fee. E-transfer may be considered at the discretion of PhilanthroDance. Payment must be received within 24 hours of the end of the auction.

Valued at $20Current bid: $5

Donated By Gage Gallery Arts Collective

Item pickup location: Gordon Head.

$20
$5

Gage Gallery Arts Collective Print

Website: https://gagegallery.ca/

*Winning bidder is responsible for Stripe payment processing fee. E-transfer may be considered at the discretion of PhilanthroDance. Payment must be received within 24 hours of the end of the auction.

Valued at $20Current bid: $10

Donated By Gage Gallery Arts Collective

Item pickup location: Gordon Head.

$20
$10

Gage Gallery Arts Collective Print

Website: https://gagegallery.ca/

*Winning bidder is responsible for Stripe payment processing fee. E-transfer may be considered at the discretion of PhilanthroDance. Payment must be received within 24 hours of the end of the auction.

Valued at $12Current bid: $0

Donated By Gage Gallery Arts Collective

Item pickup location: Gordon Head.

$12
$0

Toes 'N' Taps Dance Shoppe Gift Certificate

Website: https://m.facebook.com/ToesnTapsDanceShoppe/

*Winning bidder is responsible for Stripe payment processing fee. E-transfer may be considered at the discretion of PhilanthroDance. Payment must be received within 24 hours of the end of the auction.

Valued at $50Current bid: $42

Donated By Toes 'N' Taps Dance Shoppe

Item pickup location: Gordon Head.
This item can be mailed.

$50
$42

2 Night Stay at JDF Way Station in Port Renfrew

The JDF Way Station is a private cabin located in the Wild Coast Cottages development that sleeps 2 comfortably in the main cabin and 2 more in the detached bunkhouse, all on queen-sized beds. An open living space with exposed beams, equipped kitchen, full bath, WIFI, gas BBQ, wood-burning fire pit, and cozy wraparound deck, bring all the comforts of home with a touch of rustic escape. Walking distance to restaurants, cafes, marinas, and remote beaches, let this be a haven for your escape.

Port Renfrew is one of the last tiny towns on the edge of the wilderness, but it has all the amenities and comforts you'll need. A general store, post office, gas station, local restaurants, cafes, and gift shops let you pick up any missing supplies or skip cooking for a night. The white sand beaches of Beach Camp and Pacheedaht Beach are only a few minutes away by foot or by car. The San Juan River estuary and its opportunities for sheltered stand up paddleboarding or kayaking is just down the road. Trailhead access to the Juan de Fuca Marine Trail couldn't be easier, and other astounding adventures like Avatar Grove or Big Lonely Doug are within easy reach of your stay here.

Check-in: After 4:00 p.m.
Checkout: 11:00 a.m.
Self check-in with lockbox
No smoking
No pets

The winner will be contacted to book any available dates from January until the end of May 2022.

Website: https://airbnb.com/h/jdfwaystation

*Winning bidder is responsible for Stripe payment processing fee. E-transfer may be considered at the discretion of PhilanthroDance.

Valued at $450Current bid: $230

Donated By JDF Way Station

Item pickup location: Email.

$450
$230