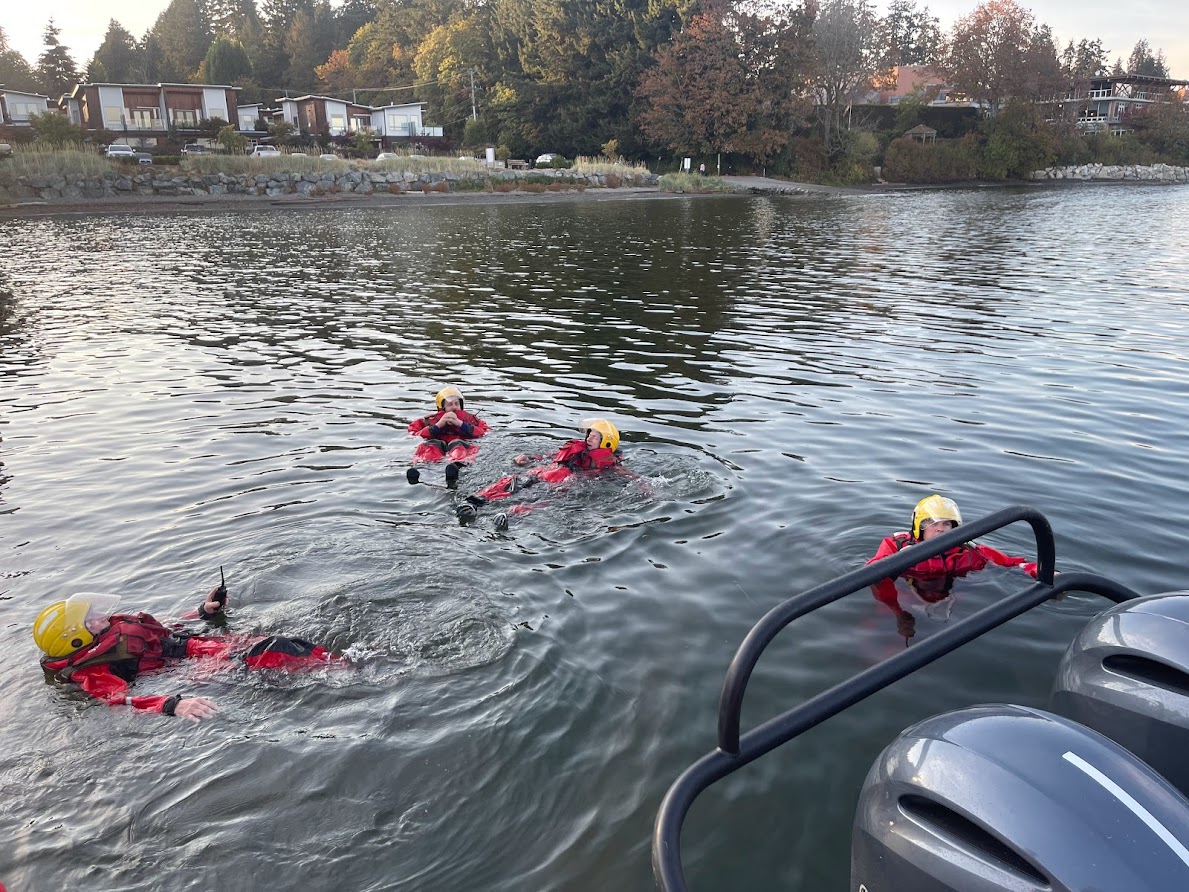 Event:
RCMSAR34 - Cowichan 2023 Fundraising and Auction 2023
Start:
Saturday Mar 11, 2023
9:00 AM PST
End:
Saturday Mar 18, 2023
9:00 PM PDT
Contact:
Ross Pierce or Jacobus Zwaan
(780) 966-3165

The RCMSAR.34 Cowichan recognizes, and gives deep thanks, that we work, live, play, and camp on the traditional lands and unceded territory of the Coast Salish peoples.

RCMSAR34-Cowichan contributes to the marine safety of people in our community of Cowichan Bay and surrounding areas by saving lives and property. As a local charity, we depend on donations to ensure we have the right equipment, rescue boats and on-shore facilities. Your support today will go towards a upgrading our existing boathouse.
Many items will be auctioned off. There are some great DONATIONS. As this is a fundraiser please consider bidding high. Bidding full price is a very small donation over full value. 

If you have the winning bid you can e-transfer the funds to mbmrs34@gmail.com, there is no password required as the funds are automatically deposited and we are notified that you have paid. If you pay this way 100% of the payment is received by RCMSAR34. COWICHAN. IF YOU PAY ONLINE A PERCENTAGE WILL BE CHARGED.

Website is now completed any further Auction Items will be added as they are received. Registration will start on March 10, 2023. Auction will open on March 11, at 9:00 am and close March 18 at 9:00 pm, 2023.
Cash Appeal

s

Our Goal

Fundraiser Cash Donation

Cash donations will be gratefully accepted. Tax receipts will be provided for all donations over $20.

Donations could also be e-transferred to mbmrs34@gmail.com for no addtional fees to our Society.

Our Goal: $15,000

$15,000

$10,645
Auction Item

s

Value
High Bid
RCMSAR34 online Auction - 2023

Lillypad Yoga Mat - RSM-SAR Water Bottle

6' in length
Great for Yoga and Pilates
Eco Friendly - 100% recyclable
No latex or pcv's
Made from 100 % recycled Material
Designed for comfort
Non Slip Yoga Mat: exercise yoga mat has double-sided non-slip surfaces so you can perform any movement with confidence. The specially textured designed structure provides extremely reliable slip resistance and gives you stability in all asanas.

Alignment Lines: alignment lines help to correct the yoga posture effectively, stay in the correct position and prevent possible damage from incorrect postures

Valued at $85Current bid: $90

Donated By Lilly Pad

$85
$90

Cure Artisan Meat & Cheese Gift Basket

Gift Basket Contains:
: Colavita Hot Chili Pepper Spread
: Colavita Black Olive Pate
: Showdonia Cheese Co. Pear, Date& Cognac Chutney
: Vancouver Island Maple Smoked Sea Salt Flakes
: Salt Spring Kitchen Co. Cranberry, Sour Cherry & Port
Preserve
: Dodi | Balsamela Apple, Balsamic Vinegar
: Parmegan & Rosemary Crackers
: $15.00 Voucher for Cure

Valued at $95Current bid: $105

Donated By Cure Artisan Meat and Cheese

$95
$105

Drumroaster Coffee - Coffee Sample Box -

If you're new to our coffees and you'd like to try the best of what we have, look no further!

This gift box contains 4x250g coffees in one box: Our House Blend, Gold Espresso, one of our Peruvian, and Colombian coffees

Get it!

Valued at $45Current bid: $45

Donated By Drumroaster Coffee

$45
$45

Beverly Corners Liquor Store $ 50.00 Gift Card

Valued at $50Current bid: $55

Donated By Beverly Corner Liquor Store

This item can be mailed.

$50
$55

Langbord AKVAVIT - 750 mls

Akvavit is a distilled spirit produced mainly in Scandinavia and northern Germany. It can be called aquavit in English, and akevitt in Norwegian. As with whisky (from the Gaelic uisce beatha) and eau de vie, the name means "water of life". Documentary evidence for the drink dates back to the 1530s.

Valued at $45Current bid: $50

Donated By Resonance Hearing

$45
$50

Two one-way 'vehicle, driver, adult passenger' vouchers.

Two one-way 'vehicle + driver' vouchers and two one-way 'adult passenger' vouchers. Valid to July 31 2023, 2023. The value of these vouchers is $180.

Valued at $180Current bid: $200

Donated By BC Ferries

Item pickup location: Mill Bay.
This item can be mailed.

$180
$200

Gift Basket - Great Greens Farm Market

Mulligatawny Soup Mix 394 gms.
Yeshi Nutritional Yeast Dressing and Dip-Gluten Free
Mrs. Jones Strawberry Vanilla Jam
Corazon Bean to Bar - Dark Chocolate Bar
Peak's Coffee 340 g./12 oz. - Black Bear Blend-Organic Dark Roast
Rockin Risotto " Rippin Mix"-Easy ready to prepare Risotto in 20 minutes
That's Amore : Premim Chocolate Drizzled Caramel Popcorn with cashews and coconut

Valued at $75Current bid: $65

Donated By Great Greens Farm Market

$75
$65

CPS $ 100.00 worth of fuel certificate

Cowichan Petroleum Sales is offering a certificate valid for $100.00 worth of fuel

Valued at $100Current bid: $95

Donated By Cowichan Petroleum Sales 2007 Ltd.

This item can be mailed.

$100
$95

Spa - One $ 50 Gift Certificate

Our mission is simple: to be your oasis of calm, catering to your every need.

Spa One Cobble Hill is a haven of tranquility. We offer luxurious spa treatments, designed to indulge your every whim. Our full service spa retreat includes massages, facials, body treatments, couple's treatments, nail care, waxing, makeup application and more!

Valued at $50Current bid: $50

Donated By Spa One

This item can be mailed.

$50
$50

Hand of Man Museum Pass x 4

4 passes to the Hand of Man Museum located in Maple Bay.

Open 365 days per year, the Hand of Man is a 15,000 square foot Museum of Natural History, Cultural Arts and Conservation. Each room offers a unique display of cultural and natural artifacts from Shockey's travels.

Valued at $80Current bid: $85

Donated By Hand of Man Museum

This item can be mailed.

$80
$85

Dean's Marine Swag Bag

Swag Bag Contains:

Outbound Cooler Bag
Seachoice Light Sticks
Cabela's Multi-Tool
Mercury T-Shirt
Dean's Marine Ball Cap
Seachoice Emergency Poncho
Backpackers Salt and Pepper Shaker
Deck of Playing Cards
Berkely Fishin Gear Fish Grip Gloves
Bass Pro Shop Flashlight

Valued at $120Current bid: $74

Donated By Dean's Marine

$120
$74

32L Original Sea Soil x 10 bags

Created from a mixture of fish and forest fines. This top-quality product is rich in colour and in nutrients while maintaining a neutral pH. SEA SOIL™ contains all necessary micro and macro nutrients to grow a healthy garden, is weed-free, and is an excellent way to retain moisture. SEA SOIL™ is listed by the Organic Materials Review Institute (OMRI). With no fish odour, this two year composted soil is a complete soil for your garden.

Macronutrients: 2.1-.16-.05

Valued at $120Current bid: $125

Donated By SEA SOIL by Foenix Forest Technology Inc.

$120
$125

Asobu Compact coffee Cup - White, Surespan t-shirt and Cap

The "Café Compact" is the perfect size cup for your office,home and car with its snug,easy grip handle and flip top lid. Fits in all standard cup holders, carry in purses and backpacks. Made of double wall, vacuum insulated stainless steel, which keeps beverage HOT up to 12 hours. Matte Finish and dented sides for good grip. Café Compact makes ideal cup for drinking coffee on the go!

Valued at $50Current bid: $25

Donated By Brentwood College School

$50
$25

Drumroaster Coffee - Coffee Sample Box -

If you're new to our coffees and you'd like to try the best of what we have, look no further!

This gift box contains 4x250g coffees in one box: Our House Blend, Gold Espresso, one of our Peruvian, and Colombian coffees

Get it!

Valued at $45Current bid: $40

Donated By Drumroaster Coffee

$45
$40

Mr. Mike's Gift Card - $ 25.00

Valued at $25Current bid: $30

Donated By Mr. Mike's Steakhouse

This item can be mailed.

$25
$30

Malahat Skywalk Certificate

Certificate for 2 adult day passes for the Malahat Skywalk

Valued at $70Current bid: $75

Donated By Malahat Skywalk

$70
$75

Great Adventure "7 Hour Tour"

A day (6 -7 hours) on the water for a maximum of six guests aboard our 36' cabin cruiser "Grand Adventure".

Departure from and return to our moorage spot at Maple Bay Marina

The WLSA will provide a skipper and crew.

Fuel costs included.

To take place on a mutually convenient date.

Valued at $500Current bid: $300

Donated By Warmland Sailing Association

$500
$300

Beverly Corners Liquor Store $ 50.00 Gift Card

Valued at $50Current bid: $55

Donated By Beverly Corner Liquor Store

This item can be mailed.

$50
$55

NEW STARTING PRICE Landlubber to Old Salt Sailing Trip

Are you comfortable around water and boats? Join an experienced crew of a privately owned 55' sailing vessel for a 4 hour Sail.

Basic instruction and Seamanship will be provided for 2 to 4 people. Seasoned sailors are welcome.

This trip will begin at the Maple Bay Marina and will sail in the local area.

A picnic style lunch will be provided. Relax at the end of the voyage over a glass of wine to talk about the adventures of the day.

Bring your own snacks, water, hats and sunscreen. Pack rain gear and sweaters just in case.

Date of sailing to be agreed upon by all parties

Priceless!Current bid: $0

Donated By Blakey Energy

Priceless!
$0

Country Grocer $ 50.00 gift card

Valued at $50Current bid: $55

Donated By Private Donor K+G

This item can be mailed.

$50
$55

Reflective Address Sign

Reflective sign for a driveway or front yard. Includes post.

Valued at $75Current bid: $80

Donated By Signology

$75
$80

Celtic Knot Lap Quilt

Celtic Knot lap quilt - this is a wonderfully cozy way to read by the fire or watch TV with a beautifully crafted quilt to keep you warm. The Celtic knots are rich gold and the background is deep woad blue, colours that evoke the Celtic heritage. It is sewn in a scroll pattern that emphasizes the colours and images of the Celts.

Valued at $300Current bid: $180

Donated By Cowichan Valley Heritage Quilters

$300
$180

Thirfty's Smile Card - $ 100.00

Valued at $100Current bid: $110

Donated By Thrifty Foods Mill Bay

This item can be mailed.

$100
$110

Lillypad Yoga Mat -

Made from 100 % recycled Material
Designed for comfort
Extra long Mat - 198 cms ( 6' 6" )

Non Slip Yoga Mat: exercise yoga mat has double-sided non-slip surfaces so you can perform any movement with confidence. The specially textured designed structure provides extremely reliable slip resistance and gives you stability in all asanas.

Alignment Lines: alignment lines help to correct the yoga posture effectively, stay in the correct position and prevent possible damage from incorrect postures

Valued at $85Current bid: $90

Donated By Lilly Pad

$85
$90

Arbutus Ridge Golf Club - 2 rounds of golf

2 rounds of golf at the Arbutus Ridge Golf Club

Valued at $160Current bid: $120

Donated By Arbutus Ridge Golf Club

This item can be mailed.

$160
$120

Interlux MicronCSC Antifouling

Interlux MicronCSC Antifouling paint - Black

Provides excellent multi-season longevity against all types of algae, weeds, barnacles, and other shell fouling
Apply at temperatures as low as 41°F / 5°C, improving productivity at cooler Fall / Spring temperatures
High Solids formulation makes it easier to achieve film thickness with a reduction in VOC

Suitable for below the waterline
Hull
Suitable water types
Sea Water
Fresh Water
Brackish Water
Substrates
GRP / FRP
Steel
Wood
Safe for aluminum outdrives

Application method

Recommended no. of coats
Practical coverage (ft²/gal)
Brush 2 coats

Roller 2 coats

Pack sizes 1 gallon,

Valued at $290Current bid: $240

Donated By Cove Yachts ( 1979 ) Ltd.

$290
$240

Beverly Corners Liquor Store $ 50.00 Gift Card

Valued at $50Current bid: $55

Donated By Beverly Corner Liquor Store

This item can be mailed.

$50
$55

Mr. Mike's Gift Card - $ 25.00

Valued at $25Current bid: $20

Donated By Mr. Mike's Steakhouse

This item can be mailed.

$25
$20

1 Family Day Pass

Valued at $65Current bid: $55

Donated By BC Forest Discovery Centre

$65
$55

The Kakūn Organic Shredded Latex Head Pillow - 1 only

The Kakun Organic Shredded Latex Head Pillow is made with GOLS Certified organic shredded Dunlop latex. .
Details
Includes one 100% organic cotton envelope-style outer casing
Includes one 100% organic cotton zippered inner casing for access to fill material
100% organic shredded latex fill
Hypoallergenic, dust mite resistant, and naturally fire resistant
Made in Canada
A good night's rest courtesy of your new organic pillow

Valued at $200Current bid: $110

Donated By Resthouse Sleep Solutions

$200
$110

Standsfield Heavy Weight Rib Knit - Size L

This heavy weight rib knit wool henley is 80% wool, 20% nylon. Around since the gold rush, this heavy wool garment is blended for absorbent comfort, warmth and longer wear. A popular choice for fishing, logging and mining, this long sleeve shirt is fondly known as the "Island Tuxedo". Our wool henley neck features a double front, military insert shoulders and a 3 button placket with an extra button for securing the neck open.

Fabric: 80% Wool/20% Nylon

Valued at $90Current bid: $95

Donated By Berks InterTruck

$90
$95

BCAA Gift Card

The gift card can be used for any BCAA products or services, including a Basic Membership.

Valued at $96Current bid: $105

Donated By BCAA

This item can be mailed.

$96
$105

Asobu Compact coffee Cup - White with $40 Tim Horton Card

The "Café Compact" is the perfect size cup for your office, home and car with its snug, easy grip handle and flip top lid. Fits in all standard cup holders, carry in purses and backpacks. Made of double wall, vacuum insulated stainless steel, which keeps beverage HOT up to 12 hours. Matte Finish and dented sides for good grip. Café Compact makes ideal cup for drinking coffee on the go!

Tim Horton gift Card ( $ 40.00 )

Valued at $70Current bid: $65

Donated By Brentwood College School

$70
$65

Sheep Wool Mattress Overlay- Made on Vancouver Island

Queen Size Mattress Overlay

Highest quality 100% pure Sheep's Wool Fabric ( 550 gms.)

All mattress overlays are fitted with four elastic straps. If you will be using the mattress overlay for a hospital bed, please add that information in the comment section below, as we add two extra elastic with velcro straps. These are added on both sides of the overlay, where the health beds' crease lines are, to stop the overlay from buckling and creating added pressure points.

An added bonus: Sheep's wool keeps menopausal women with night sweats, dry!

Wash at 70°C (158 F) (Infections Control Canada) and tumble dry up to 85%, the residual moisture will not be felt and will disperse quickly on its own.

High end sheepskin bedding.

Valued at $240Current bid: $250

Donated By Soul Comfort Sheepskin & Sheep Wool

$240
$250

Hultafors Small Forest Axe

Useful for a range of camping tasks like splitting firewood and building shelters, the small forest axe can also be used for detail work such as carving; it has a pronounced finger notch below the head and a 3 1/4" face ground with only a slight camber to allow precise, flat cuts. Its 24" handle is relatively thin to reduce weight, but long enough to lend significant force to the 1 1/2 lb head.

The handle is hickory, selected for minimal grain runout and treated with an oil finish that provides protection against moisture and helps resist slippage in the hand. The axe comes honed, ready for use, and has a sturdy leather sheath to protect the edge.

As with all Hultafors axes, it is HAND FORGED in a small Swedish factory that has been in operation since the late 17th century. The performance of these exceptionally well-made traditional axes lives up to their fine appearance. As each axe is handmade, its weight and measurements may vary slightly.

An excellent tool, built to last a lifetime.

Valued at $245Current bid: $245

Donated By Drillwell Enterprises Ltd.

$245
$245

Canadian Tire $ 50.00 Gift Card, RCM-SAR Marine Safety Kit

RSM-SAR Marine Safety Kit contains:

: SOS Mirror
: Fox 40 Pealess Whistle
: Waterproof Led Flashlight plus AA Battery
: 2L Bailer
: Marine Rope and Float

Valued at $75Current bid: $55

Donated By Private Donor K+G

This item can be mailed.

$75
$55

Basket of Home Made Jams etc. - Locally made

Made Locally by Lisa's Own - Cowichan Bay

250 mls.- Vegi Antipastp
350 mls.- Blackberries and Sanbuka
265 mls.- Blazin Relish
190 mls.- Local Strawberry Jam
1 Package - Homemade Toffee

Valued at $50Current bid: $40

Donated By Lisa's Own

$50
$40

NEW STARTING PRICE-Handmade Chess Set

The chess board is made from red and yellow cedar. The dimensions are 26" x 26" (66.4 cms x 66.4 cms )

The chess pieces are made from Maple. Each piece is weighted for stability and covered with felt for easy movement.

The height of the pieces range from 3" ( 7.62 cms) for the pawn to 7.75" (19.70 cms ) for the King

Valued at $400Current bid: $175

Donated By Private Donor CS

$400
$175

Lifetimer Boats Aluminum Twoonie Piggy Bank

Great for the children and grandchildren in your family.

Holds up to $2000.00. When bank if full Lifetimer will cut the bank open, withdraw the money, and reweld the bank to start saving all over.

Valued at $45Current bid: $45

Donated By Lifetimer Boats

This item can be mailed.

$45
$45

Country Grocer $ 100.00 Gift Card

Valued at $100Current bid: $110

Donated By Country Grocer

This item can be mailed.

$100
$110

Round for 4 and 2 Carts-Cowichan Golf and Country Club

Round of golf for 4 people and 2 power carts

Valued at $320Current bid: $280

Donated By Cowichan Golf and Country Club

This item can be mailed.

$320
$280

NEW STARTING PRICE-Quilt

59" X 68"

Drama in Noir and Cerise - this is a full size quilt that makes a dramatic statement in shades of black and white with hits of bright pink. The floral theme is emphasized by the flowing quilting pattern and the vivid black and white flower images. This quilt will have a beautiful impact in whatever room it is used

Valued at $800Current bid: $300

Donated By Cowichan Valley Heritage Quilters

$800
$300

Save-on Foods gift card - $ 100.00

$ 100.00 gift card from Save-on Foods

Valued at $100Current bid: $90

Donated By Save-on Foods

$100
$90

NEW STARTING PRICE-REPAIR-ME.RINSE & REAPIR-ME.WASH

Kevin Murphy-The REPAIR.ME Rinse: The REPAIR.ME Rinse (aka conditioner) has a lush, creamy texture that glides through your hair. Thanks to its thick texture, you only need a little bit to evenly coat your strands. To use, leave it in your hair for up to two minutes before rinsing.

The REPAIR.ME Wash: The REPAIR.ME Wash is sulfate-free, so it's not going to have that thick, foamy texture of a regular shampoo. If you want to get more foam out of it, put a little in the palm of your hands, add water, and then rub into your scalp, instead of applying it directly. It rinses out clean and doesn't leave any residue whatsoever.

The Wash and the Rinse should be used together anytime you would normally shampoo and condition

Valued at $100Current bid: $65

Donated By Fern & Sage

$100
$65

The Butchart Gardens - Admission for 2

Valued at $76Current bid: $80

Donated By The Butchart Gardens

This item can be mailed.

$76
$80

Mr. Mike's Gift Card - $ 25.00

Valued at $25Current bid: $20

Donated By Mr. Mike's Steakhouse

This item can be mailed.

$25
$20

One Sun Polarized Sunglasess

Fashionable, affordable, polarized sun protection to fit your prescription and your lifestyle. All frames are 100% polarized and feature complete UVA/UVB protection.
Gender
Unisex
Frame material
Plastic

Valued at $100Current bid: $50

Donated By Station Street Eyecare

$100
$50

Basket of Home Made Jams etc. - Locally Made

Made Locally by Lisa's Own - Cowichan Bay

250 mls.- Vegi Antipasto
350 mls.- Blackberries and Sanbuka
265 mls.- Blazin Relish
190 mls.- Local Strawberry Jam
1 Package - Homemade Toffee

Valued at $50Current bid: $35

Donated By Lisa's Own

$50
$35

Two one-way 'vehicle, driver, adult passenger' vouchers.

Two one-way 'vehicle + driver' vouchers and two one-way 'adult passenger' vouchers. Valid to October 31, 2023. The value of these vouchers is $180.

Valued at $180Current bid: $180

Donated By BC Ferries

Item pickup location: Mill Bay.
This item can be mailed.

$180
$180

Lifetimer Boats Aluminum Twoonie Piggy Bank

Great for the children and grandchildren in your family.

Holds up to $2000.00. When bank if full Lifetimer will cut the bank open, withdraw the money, and reweld the bank to start saving all over.

Valued at $45Current bid: $45

Donated By Lifetimer Boats

This item can be mailed.

$45
$45

Mr. Mike's Gift Card - $ 25.00

Valued at $25Current bid: $20

Donated By Mr. Mike's Steakhouse

This item can be mailed.

$25
$20

32L Original Sea Soil x 10 bags

Created from a mixture of fish and forest fines. This top-quality product is rich in colour and in nutrients while maintaining a neutral pH. SEA SOIL™ contains all necessary micro and macro nutrients to grow a healthy garden, is weed-free, and is an excellent way to retain moisture. SEA SOIL™ is listed by the Organic Materials Review Institute (OMRI). With no fish odour, this two year composted soil is a complete soil for your garden.

Macronutrients: 2.1-.16-.05

Valued at $120Current bid: $125

Donated By SEA SOIL by Foenix Forest Technology Inc.

$120
$125

BebeDiamond Tiara Sunglasses

STYLE: Oval
FRAME TYPE: Full Rim
GENDER: Women
MATERIAL: Plastic
AGE GROUP: Adult

Valued at $150Current bid: $60

Donated By Station Street Eyecare

$150
$60

NEW STARTING PRICE-The Wickertree Gift Certificate

Valued at $50Current bid: $0

Donated By The Wickertree

This item can be mailed.

$50
$0

Alderlea Vineyards - 6 bottles of assorted wines

PINOT GRIS- a dry, rose-coloured wine, showing aromas of peach, and apricot, with a balanced mouth-feel and flavours of tangerine, orange and mango.
MERLOT - a graceful wine with round tannins and mouthfeel that allow its dark berry and forest notes to shine through.
CLARINET - Concentrated aromas of sweet blackberries and a hint of coffee are followed by bold fruit flavours and a touch of black pepper on the finish.
MATRIX - With aromas of cassis, blackberry, cedar and black olive, this wine is full on the palate and shows elegant flavours of black currant, prune, liquorice and a touch of coffee, coupled with a full and lingering finish.
BACCHUS - wine of full varietal character with balanced fruit and crisp acidity. Great on its own and excellent with all types of fish, seafood, and Asian cuisine.
SAUVIGNON BLANC - Fully ripened and cold fermented, this wine's bright flavours of green apple and nectarine blend with aromas of wild grass and gooseberries to give this wine a balanced bouquet and a clean finish.

Valued at $180Current bid: $190

Donated By Alderlea Vineyards

$180
$190

Brentwood College School Hoodie

Size L
65 % Polyester
35 % Cotton

Valued at $80Current bid: $40

Donated By Brentwood College School

$80
$40

Lifetimer Boats Aluminum Twoonie Piggy Bank, ACR C-Strobe

Great for the children and grandchildren in your family.

Holds up to $2000.00. When bank if full Lifetimer will cut the bank open, withdraw the money, and reweld the bank to start saving all over.

ACR C-Strobe
The LED C-Strobe is a manually activated personal distress strobe light with a dramatically improved operating life. This waterproof light is tiny yet rugged and features a 45 lumen LED that typically operates for 120 hours continuously. The C-Strobe has been USCG/SOLAS approved and is manually activated with an easy twist on/off activation, making it an ideal light for all outdoor enthusiasts.

Valued at $65Current bid: $50

Donated By Lifetimer Boats

This item can be mailed.

$65
$50

32L Original Sea Soil x 10 bags

Created from a mixture of fish and forest fines. This top-quality product is rich in colour and in nutrients while maintaining a neutral pH. SEA SOIL™ contains all necessary micro and macro nutrients to grow a healthy garden, is weed-free, and is an excellent way to retain moisture. SEA SOIL™ is listed by the Organic Materials Review Institute (OMRI). With no fish odour, this two year composted soil is a complete soil for your garden.

Macronutrients: 2.1-.16-.05

Valued at $120Current bid: $125

Donated By SEA SOIL by Foenix Forest Technology Inc.

$120
$125

NEW STARTING PRICE-$150Certificate towards Wheel Alignment

$150 gift Certificate towards a full Wheel Alignment

Valued at $150Current bid: $60

Donated By KalTire

This item can be mailed.

$150
$60

Liquor Plus $ 75.00 Gift Card

Valued at $75Current bid: $70

Donated By Liquor Plus

$75
$70

NEW STARTING PRICE The Wickertree Gift Certificate

Valued at $50Current bid: $20

Donated By The Wickertree

This item can be mailed.

$50
$20

Country Grocer $ 50.00 gift card

Valued at $50Current bid: $55

Donated By Private Donor K+G

This item can be mailed.

$50
$55

Mr. Mike's Gift Card - $ 25.00

Valued at $25Current bid: $20

Donated By Mr. Mike's Steakhouse

This item can be mailed.

$25
$20

NEW UPDATED STARTING PRICE-Springfield folding seat

Springfield folding seat, Economy Coach, Grey/Blue.Comfortable cushioned seat to support your backside. Strap with snap to keep
seat secure when folded down. Rigid injection molded frame.

• Folds down easily
• Heavy-duty powder coated hinges
• Universal mounting pattern: 5″ x 5″

Valued at $200Current bid: $0

Donated By Lake's Marine Supply

$200
$0

Bowrun Sheepskin Rug - 190cms x 60 cms

Instantly recognizable, Longwool Lambskin luxury. It's the real thing! Bowron Sheepskins prides itself on taking the worlds finest lambskin material and transforming it into traditional, luxurious, opulent and stylish rugs. Luxurious soft lambskin.

These New Zealand origin Ivory coloured longwool sheepskins are some of the largest and softest available in Canada. Pure lambskin rugs offer comfort as well as decorative versatility: try placing a rug at the foot of your bed, in front of the fire, or use it as a throw to accent your favourite furniture. Machine washable and long lasting, this genuine sheepskin rug will be a timeless addition to any home.

Valued at $220Current bid: $190

Donated By Private Anonamous

$220
$190

Canadian Tire $ 50.00 Gift Card, RCM-SAR 34 Toque

Valued at $65Current bid: $50

Donated By Private Donor K+G

This item can be mailed.

$65
$50

The Old Farm Market - $ 50.00 gift card

Keeping locally grown, fresh produce on our shelves is our number one priority. The Old Farm Market supports our local farmers, suppliers and communities by purchasing our seasonal fruits and vegetables from as many local island growers as possible.

It is our mission to provide affordable healthy and nutritious produce to the Valley."

Valued at $50Current bid: $50

Donated By The Old Farm Market

This item can be mailed.

$50
$50

Wine Tasting for 4

Valued at $30Current bid: $20

Donated By Rocky Creek Winery

This item can be mailed.

$30
$20

NEW UPDATED STARTING PRICE-Private Tech Training

Training at your location. Heather at WestView Learning has trained valley teachers, adults, and children in the use of Apple and Windows computers, mobile devices and specific apps in her past role as Tech Coordinator with SD 79 and her ongoing role as owner/educator at WestView Learning. If you would like to become more knowledge about how to use a single device, manage multiple devices, learn a specific program, and/or increase your knowledge about the use of your tech device a private or small group session is the way to go. More information on tech courses for adults and kids can be found at www.westviewlearning.ca

Training Session : 3 Hours

Valued at $180Current bid: $0

Donated By Westview Learning

This item can be mailed.

$180
$0

Sport Chek Gift Card - $ 50.00

Valued at $50Current bid: $45

Donated By Sports Chek

This item can be mailed.

$50
$45

Purica Health Food and Supplements - Gift Card

Canadian-owned and operated natural health foods and supplements company since 1999.

Our products are inspired by Nature. Vegan. Non-GMO. Gluten Free..
Our natural supplements & positive lifestyle solutions empower you to live life to the fullest.
Winners of MISTIC Science & Technology Innovation Award 2008
Our natural supplements & positive lifestyle solutions empower you to live life to the fullest.

Duncan Location:6157 Scott Rd.

Valued at $200Current bid: $120

Donated By Purica

$200
$120

Canadian Tire $ 50.00 Gift Card

Valued at $50Current bid: $40

Donated By Private Donor K+G

This item can be mailed.

$50
$40

Imperial Stove Thermometer

For single wall stove pipe only
Durable and highly accurate
Monitors wood stove performance
Burn efficiency range from 100°F to 850°F (40°C to 475° C)
Easily installed on stove pipe with magnetic attachment

Valued at $30Current bid: $35

Donated By South Island Fireplace

$30
$35

MUSTANG MIT 70 MANUAL INFLATABLE PFD

Features
Front entry with buckle for convenient donning and doffing.

Automatically inflates upon water immersion. Easy-access inflator for convenient re-arming

High visibility, contrasting fabric when inflated for increased safety in rescue scenarios

Provides 15.7 LBS of buoyancy when inflated

Approval: Harmonized Level 70 - USA and Canada (Meets minimum buoyancy of 15.7 LBS)

Valued at $179Current bid: $185

Donated By Gone Fishin

$179
$185

Horizon HX210 Handheld VHF Radio

6W Compact Floating Marine Handheld Transceiver

Features:

Floating / Submersible IPX7 Waterproof rating (3.3 feet or 1 meter for 30 minutes)
All USA, International and Canadian channels
Selectable 6W / 2.5W / 1W output power
Receive WX and FM radio bands 76MHz to 108MHz
High resolution dot matrix LCD display
E2O Easy to Operate Menu system
Programmable function keys
Speaker mic Jack
High capacity 1850 mAh Li-Ion battery
3 hour desktop rapid charger
12VDC and 110VAC charging cables and charging cradle included
3 year waterproof warranty

Valued at $200Current bid: $160

Donated By Gone Fishin

$200
$160

UPDATED MINIMUM;-Aluminum Twoonie Piggy Bank, Ball Cap

Lifetimer Boats Aluminum Twoonie Piggy Bank, Lordco Ball Cap. Great for the children and grandchildren in your family.

Holds up to $2000.00. When bank if full Lifetimer will cut the bank open, withdraw the money, and reweld the bank to start saving all over.

Lordco Ball Cap

Valued at $60Current bid: $20

Donated By Lifetimer Boats

This item can be mailed.

$60
$20

32L Original Sea Soil x 10 bags

Created from a mixture of fish and forest fines. This top-quality product is rich in colour and in nutrients while maintaining a neutral pH. SEA SOIL™ contains all necessary micro and macro nutrients to grow a healthy garden, is weed-free, and is an excellent way to retain moisture. SEA SOIL™ is listed by the Organic Materials Review Institute (OMRI). With no fish odour, this two year composted soil is a complete soil for your garden.

Macronutrients: 2.1-.16-.05

Valued at $120Current bid: $125

Donated By SEA SOIL by Foenix Forest Technology Inc.

$120
$125

-DRI DUCK Laredo Canvas Jacket with Thermal Lining

Size Large:
This 20 oz, 100% cotton quarry washed Boulder Cloth canvas will keep you dry and warm when the weather does not want to cooperate. It features Diamond quilted brushed tricot "soft touch" polyfill lining, triple-needle stitched throughout, a three-piece hood, inside patch pockets with snap closures, inside cell phone pocket, DRI DUCK heavy-duty zipper pull, oversized front pouch pockets, an articulated elbow and quality

spandex blend rib-knit trim and cuffs.

There is nothing better to stand up against the elements Vancouver Island throws at you

Valued at $140Current bid: $60

Donated By Slegg Building Materials

$140
$60

Mr. Mike's Gift Card - $ 25.00

Valued at $25Current bid: $20

Donated By Mr. Mike's Steakhouse

This item can be mailed.

$25
$20

Old Farm Garden - Heron Stand and $ 50.00 Gift Card

Stunning herons among cattails, beautifully re-created in cold rolled steel by Anvil Island Designs.
Dimensions: 11.5" x 3" x 11.

Anvil Island Design artist Jack Willoughby lives on Vancouver Island where the ocean beaches give him much of his inspiration. Jack's career as an artist began in steel working, then teaching metal work at a Vancouver college where the freedom to create his own designs soon led him to start up Anvil Island Design. Jack's unique metal art is sold throughout North America, Europe and Japan. The strength and simplicity of his work makes it equally at home in the house, office or in an outdoor setting.

Valued at $140Current bid: $90

Donated By Old Farm Garden Centre

$140
$90

Updated:- Active Body Active Body Certificate

Includes:
: 1 month membership
: 1 hour gym orientation with personal trainer
: 24/7 access card

Valued at $175Current bid: $0

Donated By Active Body Training.

This item can be mailed.

$175
$0

Liquor Plus $ 75.00 Gift Card

Valued at $75Current bid: $70

Donated By Liquor Plus

$75
$70

Dean's Marine Swag Bag

Swag Bag Contains:

Outbound Cooler Bag
Seachoice Light Sticks
Cabela's Multi-Tool
Mercury T-Shirt
Dean's Marine Ball Cap
Seachoice Emergency Poncho
Backpackers Salt and Pepper Shaker
Deck of Playing Cards
Berkely Fishin Gear Fish Grip Gloves
Bass Pro Shop Flashlight

Valued at $120Current bid: $50

Donated By Dean's Marine

$120
$50

Country Grocer $ 50.00 gift card, RCM-SAR Marine Safety Kit

RCM-SAR Marine Safety Kit Contains;
: 2L Bailer
: SOS Mirror
: Fox 49 Pealess Whistle
: Waterproof LED Flashlight - 2AA Battery
Marine Rope and Float

Valued at $75Current bid: $65

Donated By Private Donor K+G

This item can be mailed.

$75
$65

Duncan Garage Cafe Basket

Contains:

Bag of Six Seed Granola: Vegan, Organic, No Nuts

Duncan Garage Cafe Travel Coffee Mug

Oatmeal Chocolate Chip Cookie

Duncan Garage Cafe Toque

Duncan Garage Cafe Ball Cap

Blackwood Bib Apron

Valued at $50Current bid: $30

Donated By Duncan Garage Cafe

$50
$30

Cherry Point Wines $ 60.00 gift certificate for Tasting

Wine tasting for 6

Valued at $60Current bid: $30

Donated By Cherry Point Estate Wines

$60
$30

Island Auto Spa Bronze Package - Vehicle Detailing

Thorough Vacuum
Blow Out Vents
Clean Cracks and Crevices
Full Interior Wipe Down
Clean and Dress Plastics
Clean Door Jams
Exterior Wash & Dry
Clean Rims
Spray Wax Paint Surface
Dress Tires
Windows In & Ou

Valued at $250Current bid: $260

Donated By Island Auto Spa

This item can be mailed.

$250
$260

Rocky Creek Winery VIP Tasting

Experience our well-known intimate tasting experience with knowledgeable staff.

Afterwards you can stay outside in our picnic area with a bottle of wine on us or take it home with you. Enjoy our experience shere " Every sip tells a story. "

Vip Tasting for up to 6 people

Valued at $75Current bid: $50

Donated By Rocky Creek Winery

$75
$50

Ray-Ban Polarized Green Sunglasses

Ray-Ban RB2132 901 58 Black Polarized 55 sunglasses are iconic and stylish. This new Retro Wingtip style comes with G-15 polarized lenses and a shiny black finish. The frame's rounded edges make it a little softer then the classic Retro Wingtip. These sunglasses are a versatile style for any face shape.

Valued at $190Current bid: $120

Donated By Cowichan Eyecare

$190
$120

Updated:- Active Body Active Body Certificate

Includes:
: 1 month membership
: 1 hour gym orientation with personal trainer
: 24/7 access card

Valued at $175Current bid: $0

Donated By Active Body Training.

This item can be mailed.

$175
$0

2 standard seating tickets to the play "Gaslight",

2 standard seating tickets to the play "Gaslight", at the Chemainus Theatre. The voucher is valid April 28 – May 12, 2023

Valued at $125Current bid: $135

Donated By Chemainus Theatre Festival

This item can be mailed.

$125
$135

Country Grocer $ 50.00 gift card

Valued at $50Current bid: $55

Donated By Private Donor K+G

This item can be mailed.

$50
$55

$ 50.00 Amazon Gift Card, RCM-SAR Morakniv Knife

$ 50.00 Amazon Gift Card

MORA Companion With Sheath:

The all-in-one knife for outdoor buffs with a blade of Swedish cold-rolled special stainless steel. The patterned high-friction grip makes the knife pleasant to hold and easy to handle.

Features :
Ergonomic handle with patterned high-friction rubber grip
Color-matching plastic sheath

Valued at $75Current bid: $65

Donated By Private Donor NB

This item can be mailed.

$75
$65

Dinters Nursery gift card - $ 100.00

Dinters Nursery carries hundreds of varieties of ornamental trees, fruit trees, roses, and rhododendrons as well as many other unique specimens. We continually update our stock and grow much of our stock in on-site greenhouses. During the gardening season, we bring in new stock daily! We guarantee that our plants are healthy, properly identified, and will establish with proper planting and care.

Valued at $100Current bid: $110

Donated By Dinter Nursery

This item can be mailed.

$100
$110

Updated:-TruKrew 5X Class Pass

5X Class Pass : Expires July 31, 2023

This membership will entitle the purchaser to a partial or complete discount on event(s)/class(es) offered by the business. Some classes/events may be excluded from this membership. This membership cannot be refunded. Unless otherwise noted, this membership is non-transferable. See the details above for more information.

Valued at $81Current bid: $0

Donated By TruKrew Fitness

This item can be mailed.

$81
$0

Canadian Tire $ 50.00 Gift Card

Valued at $50Current bid: $50

Donated By Private Donor K+G

This item can be mailed.

$50
$50

Treefrog Tropicals Certificate - $ 50.00, RCM-SAR Travel Mug

Treefrog Tropicals is a tropical oasis in Duncan. so many varieties of plants to choose from and so healthy

RCM-SAR Travel Coffee Mug

Valued at $70Current bid: $43

Donated By Treefrog Tropicals

This item can be mailed.

$70
$43

Sport Chek Gift Card - $ 50.00

Valued at $50Current bid: $45

Donated By Sports Chek

This item can be mailed.

$50
$45

Updated:- Michelin Wiper Blades - 20"

Two new Michelin Stealth Hybrid windshield wipers. 20".

Valued at $40Current bid: $0

Donated By Private Donor R&S

$40
$0

Updated:- TruKrew 5X Class Pass

5X Class Pass : Expires July 31, 2023

This membership will entitle the purchaser to a partial or complete discount on event(s)/class(es) offered by the business. Some classes/events may be excluded from this membership. This membership cannot be refunded. Unless otherwise noted, this membership is non-transferable. See the details above for more information.

Valued at $81Current bid: $0

Donated By TruKrew Fitness

This item can be mailed.

$81
$0

Updated:- Olympia Outdoor Butane Cooking Stove

This portable butane stove uses an adjustable heat control for ease of use. Ideal for parties, RV, boats, camping and right on your patio. Compact and sturdy, it can easily be packed away to take with you anywhere with a convenient storage case. No matched needed, fuel loads instantly and safe. NOT to be used indoors and butane fuel NOT included.

Adjustable heat control
Storage case with handle
Fuel loads instantly and safe
Easy to use
Great for emergency use
Up to 9000 btu

Valued at $50Current bid: $20

Donated By Bucky's Sports Shop

$50
$20

Barcelona Stripe Pouf – Black

Poufs add versatility and style to any space. Inspired by Spain's old-world yet contemporary interiors, our Barcelona Pouf is stunning in black with a unique white geometric graphic pattern. It's the perfect place to put up your feet after a night of tapas, as extra seating or the most gorgeous side table when you place a tray on top.

Valued at $315Current bid: $145

Donated By Style Sense Furniture

$315
$145

Updated:- Moen Icon Towel Ring (1) and Robe Hook (x 2)

Andrew Sheret-MOEN Icon Brushed Nickel Towel Ring:Sleek yet bold, this modern collection perfectly is available in Brushed Nickel and Chrome finishes, and matches the Icon line of Moen Faucets.

Moen Icon Robe Hook:
Convenient storage for a hand towel
Sleek yet bold
Brushed Nickel Finish
Easy to install - hardware included
n proves that petite forms can inspire great design. Sleek and simple, European influences abound: unobstructed lines, thin curves and crisp water flow make Icon faucets and accessories so eye-catching.
Handles: Not Applicable
PMI Description: Not Applicable
Quality Part Type: Other Bath
limited lifetime warranty
corrosion resistant
Lead Law Compliant: N/A
included template and mounting hardware take the guesswork out of installation
double robe hook
pro-fit(tm) installation system, including template with a built-in level, eliminates set screws for faster, more secure mounting
brushed nickel finish brings the warm look of stainless to your bath
pro-fit(tm) installation system eliminates set screws for faster, more secure mounting

Valued at $160Current bid: $0

Donated By Andrew Sheret Limited

$160
$0

Updated minimum Gift Certificate for photography.

Bob Vanderford Family or individual Portrait session (Value $200 ).

And $200 Towards your portrait order.

Valued at $400Current bid: $0

Donated By Bob Vanderford Photography

This item can be mailed.

$400
$0

Tall Ship Tour and $ 100 gift card

Step back in time as you sail aboard Providence, a historical tall ship with stories to share from it's journeys around the world. Built in 1903 she is the oldest working vessel in BC waters and draws admirers where ever she lands. The friendly and professional Providence crew are committed to providing an authentic and fun experience for all!

Enjoy 2 tickets to enjoy a 3 hour sunset cruise aboard
Providence Tall Ship from Mill Bay Marina or Port Sidney Marina plus $100 MBMG gift card to be used towards dinner, moorage, adventures or more!


Tall Ship tours run from June - Sept
Booking Contact: Marlese Plater (events@mbmg.ca or 778-356-4303)

Tall Ship tours run from June - Sept

Valued at $310Current bid: $220

Donated By Mill Bay Marine Group

This item can be mailed.

$310
$220

KS16 PAKEKE COOLER

The Kailani KS16 PAKEKE was built with a rugged yet practical design for all environments. This ice bucket can hold up to seventeen cans plus ice and is a terrific addition for every activity imaginable.

Our stylish, strong, and reliable cooler products are a must have item, wherever you go. It can maintain ice for between 60-80 hours depending on outside temperatures. With an engineered, overlapping box/lid construction making it "armored to the core" and virtually indestructible, withstanding the weight of a car on the lid.

Finally, a cooler for a wine bottle - make is seven bottles to be exact. PAKEKE means a "bucket" in Hawaiian. Our bucket can also hold 7 bottle of wine or 24 cans of your favorite bevarege.

Valued at $170Current bid: $120

Donated By Monti's Marine & Motor Sports Ltd.

$170
$120

32L Original Sea Soil x 10 bags

Created from a mixture of fish and forest fines. This top-quality product is rich in colour and in nutrients while maintaining a neutral pH. SEA SOIL™ contains all necessary micro and macro nutrients to grow a healthy garden, is weed-free, and is an excellent way to retain moisture. SEA SOIL™ is listed by the Organic Materials Review Institute (OMRI). With no fish odour, this two year composted soil is a complete soil for your garden.

Macronutrients: 2.1-.16-.05

Valued at $120Current bid: $125

Donated By SEA SOIL by Foenix Forest Technology Inc.

$120
$125

Country Grocer $ 50.00 gift card, RCM-SAR Toque

Valued at $65Current bid: $55

Donated By Private Donor K+G

This item can be mailed.

$65
$55

Canadian Tire $ 50.00 Gift Card

Valued at $50Current bid: $55

Donated By Private Donor K+G

This item can be mailed.

$50
$55

Lordco Auto Parts Gift Card and Ball Cap

$ 25.00 Lordco Auto Parts Gift Card

Lordco Ball Cap

Valued at $40Current bid: $25

Donated By Lordco Auto Parts

$40
$25

Slegg Rolling Cooler Bag with $ 50.00 Slegg gift card

This cooler bag is perfect for a short picnic or the to keep things cool for your weekend away. It features a large 20 Litre waterproof pocket with a mesh pocket on each side, and two zippered front pockets. The top zippered pocket features a bungie cord system to hold down those items you want to stack on top. Once you get this cooler full, you can pull out the retractable handle to lean it back and wheel it around at your convenience.

Included with the cooler is a Slegg swag package to get you set up for any day trip this summer.

Valued at $125Current bid: $85

Donated By Slegg Building Materials

$125
$85

Serious Coffee Gift Basket

Contains:
: Three Amigos Blend
: Coal Miner's Organic Blend
: Glass Teapot Set
: Coastal Mint Loose Tea
: Orange Pekoe Loose Tea
: 1 T-shirt ( S )

Proudly defining fresh while providing
an exceptional guest experience
every single day.

Valued at $105Current bid: $65

Donated By Serious Coffee

$105
$65

Updated:- Choko Ladies Precision Jacket - Island Tractor

*100% Polyester soft shell bonded with fleece *Breathable *Wind & water resistant *Fleece lined collar *Adjustable bottom hem with drawstring/toggles *Two exterior zippered pockets *Regular fit*

Valued at $80Current bid: $25

Donated By Island Tractor & Supply Ltd.

$80
$25

Bugsy's Bowls - Maple Salad Bowl

The round maple is the closest to the traditional "salad bowl" that people picture when thinking of wood bowls, yet is enhanced through the natural beauty of the maple. This bowl is smooth, simple, and functional, while still making a statement. It is a long lasting piece, a classic, which will deepen in colour with age and use. The quality and nature of hand turned bowls is immediately apparent by the fact that even these traditional bowls are each slightly different, and unique in changing colour and depth.

Handcrafted by a local Vancouver Island Artisan

Pre-seasoned, food-safe

15" Wide x 3 1/2" High

Valued at $120Current bid: $95

Donated By Private Donor BJ

$120
$95

32L Original Sea Soil x 10 bags

Created from a mixture of fish and forest fines. This top-quality product is rich in colour and in nutrients while maintaining a neutral pH. SEA SOIL™ contains all necessary micro and macro nutrients to grow a healthy garden, is weed-free, and is an excellent way to retain moisture. SEA SOIL™ is listed by the Organic Materials Review Institute (OMRI). With no fish odour, this two year composted soil is a complete soil for your garden.

Macronutrients: 2.1-.16-.05

Valued at $120Current bid: $125

Donated By SEA SOIL by Foenix Forest Technology Inc.

$120
$125

Home Depot Gift Card - $ 50.00

$ 50.00 Gift Card from Home Depot

Valued at $50Current bid: $55

Donated By Home Depot

This item can be mailed.

$50
$55

Updated:- Gilden Heavy Blend Zip Hoodie - Size XL

8 oz., 50% USA cotton, 50% polyester
-Heather Sport Colours: 60% polyester, 40% cotton
-Made with 50% sustainably and fairly grown USA cotton
-Pill-resistant air jet yarn
-Double-needle stitching throughout
-Double-lined hood
-Pouch pocket; matching drawcord
-1x1 ribbed cuffs and waistband with spandex-8 oz., 50% USA cotton, 50% polyester
-Heather Sport Colours: 60% polyester
A wrinkle resistant fabric of man-made filament fibers.
, 40% cotton
-Made with 50% sustainably and fairly grown USA cotton
-Pill-resistant air jet yarn
-Double-needle stitching throughout
-Double-lined hood
-Pouch pocket; matching drawcord
-1x1 ribbed cuffs and waistband with spandex

Valued at $60Current bid: $20

Donated By Berks InterTruck

$60
$20

Meeco's Surestart Firelighting Squares

Ideal for charcoal grills, campfires, fireplaces, woodstoves, pellet & corn stoves and is safe for catalytic woodstoves
Lights quickly and easily - Ignites instantly, even when wet and will burn for 8-12 minutes
Will start lump coal no problem, will not flavor food, lights quickly and easily, order less and non toxic
Eliminates the Need for Liquids, kindling and newspaper
100% All Natural – Made from compressed wood chips, paper fiber and wax

Valued at $40Current bid: $45

Donated By South Island Fireplace

$40
$45

The Old Farm Market - $ 50.00 gift card

Keeping locally grown, fresh produce on our shelves is our number one priority. The Old Farm Market supports our local farmers, suppliers and communities by purchasing our seasonal fruits and vegetables from as many local island growers as possible.

It is our mission to provide affordable healthy and nutritious produce to the Valley."

Valued at $50Current bid: $55

Donated By The Old Farm Market

This item can be mailed.

$50
$55

Thirfty's Smile Card - $ 100.00

Valued at $100Current bid: $110

Donated By Thrifty Foods Mill Bay

This item can be mailed.

$100
$110

UPDATED STARTING PRICE-. A Pet Portrait & a $200 Gift Cert.

A Pet Portrait session (Value $200 ).
With $200 credit towards your print order.
All bidders will receive a mystery prize.

Valued at $200Current bid: $0

Donated By Bob Vanderford Photography

This item can be mailed.

$200
$0

Westview Learning: Summer Day Camp for a Child aged 6-12

WestView Learning is located at 3248 Cowichan Valley Hwy - known locally as the Old Somenos Community Hall. For years we have offered day camps for kids through the Community Centre and privately. Topics include cooking, crafts, Lego, Robotics, Coding, and Jr. Engineers. For more information about this summer's camps with dates and age ranges, visit www.westviewlearning.ca

Summer Camp is 5 Days, 9-3 each day

Valued at $330Current bid: $170

Donated By Westview Learning

$330
$170

32L Original Sea Soil x 5 bags

Created from a mixture of fish and forest fines. This top-quality product is rich in colour and in nutrients while maintaining a neutral pH. SEA SOIL™ contains all necessary micro and macro nutrients to grow a healthy garden, is weed-free, and is an excellent way to retain moisture. SEA SOIL™ is listed by the Organic Materials Review Institute (OMRI). With no fish odour, this two year composted soil is a complete soil for your garden.

Macronutrients: 2.1-.16-.05

Valued at $60Current bid: $65

Donated By SEA SOIL by Foenix Forest Technology Inc.

$60
$65

2 tickets to see Shane Koyczan at CPAC - April 6, 2023

Shane Koyczan is an award-winning Canadian poet, writer, and artist. He is the winner of the US Slam Poetry Championship and the Canadian Spoken Word Olympics and is an extraordinary talent who has blown the dust off of the traditional designation "poet," known for tackling social and political issues with fierce honesty and tender humanity.

There seems no shortage of adjectives to describe a Shane Koyczan show. Moving, hilarious, challenging, provocative, or inspirational. Take your pick. Here is a writer that takes you on a tour of your own feelings in a way that leaves you grasping for your own heart just to make sure it's still in your chest. His work has become a staple in schools for both its impact and reach. Shane curates a kind of art gallery that displays sculptures of the human experience each time he speaks. Lauded for his sold out live performances Koyczan has carved out his own artistic path and taken his work beyond the conventional.

Valued at $85Current bid: $65

Donated By Cowichan Performing Arts Centre Arts and Culture Division

$85
$65

Fern and Sage Gift Certificate $ 80.00

Tim McClean, owner and operator is a Freelance Hair Stylist For the past 10 years, Tim's career has taken him on a journey around the world doing hair as a global educator, platform artist, and CUTTING & STYLE.MASTER for the Australian hair brand KEVIN.MURPHY. Australian born, Tim trained under the creative forces of Melbourne's top salons, learning classic techniques in cutting and styling before moving to North America. Tim's work includes doing hair for runways at Fashion Weeks and hair industry shows in North America, UK & Australia, magazine photo shoots, celebrity clients and top salons in Toronto, Canada, Melbourne, Australia, and now the Cowichan Valley.

Valued at $80Current bid: $60

Donated By Fern & Sage

$80
$60

Handcrafted New Zealand Wool Blanket

6' x 4' Hand Knit New Zealand wool blanket

New Zealand Pattern

Natural Colors

Hand Washable

Valued at $300Current bid: $200

Donated By The Loom

$300
$200

Cowichan Milk Swag

12 oz. Speckled Camp Cup

Farmstand Tear-Cards (Gift Certificates): Treat someone to cream & milk at our farmstand! They can tear off as many perforated tokens as they need for each visit.

Cowichan Milk T-Shirt:Show your local pride (and good taste!) with a Cowichan Milk Company t-shirt. A soft heathered dark gray and unisex fit means this is a great style for anyone!

Refillable Glass Cowichan Milk Company Bottle

Bottle Carrier

Valued at $60Current bid: $50

Donated By Cowichan Milk Company

$60
$50

Tim Horton's Gift Card

Tim Horton's Gift Card valued at $ 50.00

Valued at $50Current bid: $55

Donated By Tim Hortons

This item can be mailed.

$50
$55

Unsworth Vineyards Wine Selection

2019 Allego: Our unique Vancouver Island white blend crafted from unique varieties to coastal British Columbia, it is Vancouver Island in a glass.

2020 Amiel: Experience our inaugural bottling of this grape—unique to not only Vancouver Island, but also one of the rarest varieties on the planet.

2021 Petit Milo: Petit Milo is unique to coastal BC. Unsworth's verison is ripe, off-dry, yet fresh and easy going. This interesting and quaffable white will be sure to please a crowd.

2019 Symphony: A unique style of wine to Vancouver Island, Symphony is ripe and surprisingly full bodied considering our mild climate. Wild berries, currants, dried tobacco and notes of coastal forests on the nose give way to structured tannins, cherries and exotic spices on the palate. Symphony is a blend of Cabernet Libre, Labelle and small percentages of other sparsely planted varieties unique to Vancouver Island.

1-4 bottle wine bag

Valued at $110Current bid: $115

Donated By Unsworth Vineyard

$110
$115

Starbucks Pike Place Roast Beans and Coffee Tumbler

A well-rounded blend of 100% Arabica, Latin American beans with subtle, rich flavours of chocolate and toasted nuts.

This recycled, double-wall, 473 mL hot beverage tumbler--made with 90% recycled stainless steel and 100% recycled plastic including 25% post-consumer recycled plastic--showcases an item from our responsible recycled collection.
- Double-Wall Stainless-Steel
- For Hot Beverages
- Hand Wash Only
- Do Not Microwave

Valued at $40Current bid: $35

Donated By Starbucks

$40
$35

Performance Too; Rechargeable 24 LED Worklight

Cordless or corded operation
24 Super bright white LEDs
360 degree swivel hanging hook and heavy duty magnet
Great for: Home, Auto, Shop, Outdoors
4-5 hour continuous run time

Valued at $50Current bid: $40

Donated By Shawnigan Mill Bay Auto Parts

$50
$40

Red Arrow Growler Bottle and Fill Card, SureSpan shirt, Cap

Growler Bottle with a fill Card. Growler holds 4 pints of beer

SureSpan T-shirt and Ball Cap

T-Shirt: Size available( in limited quantities) M, L, XL

Valued at $45Current bid: $35

Donated By Red Arrow Brewing Company

$45
$35

Gift Basket from Western Coast Insurance Services Ltd.

Cozy Alpaca Blanket: Unlike real alpaca, this blanket is super soft and not itchy at all. It's made with micro fur and luxuriously warm faux alpaca wool, so no alpacas were hurt in the making of this blanket.

Lankmark Movie Pass for two including general admission, 2 drinks and 2 popcorn

2 Simon Holt Restaurant Gift Cards @ $ 50.00 each

2 Western Coast Insurance Coffee Mugs

Valued at $225Current bid: $120

Donated By Western Coast Insurance Services Ltd

$225
$120

Selection of Enrico Wines

Hurricane: this estate field blend combines 50% Row 83, 40% Cabernet Libre and 10% Cabernet Foch. The colour is a rich opaque ruby with medium intensity on the nose—toasty oak notes on the palate balanced by plum, cherry and aromatic spices. The velvet finish of soft tannins follows the rich, full body of this unique estate field blend.

Victory: Made in the Charmat method, this elegant sparkling wine shares delicate aromatics, balanced against the charming depth of stone fruit. The texture and light golden colour reflects the worldly charm of the Pinot Gris grapes grown on our Estate.

Noble: Chardonnay—aromatic, smooth and buttery with notes of vanilla and a light touch of oak. This warm-hearted wine embraces any food pairing. Enjoy year round with delicate fish dishes, a Thai chicken salad or a hearty winter soup.

Savignette Petit Milo: An off dry foil to the rest of Unsworth's decidedly dry white wines. Petit Milo, considering our cool climate, shows surprisingly ripe flavours of apricot, white peach and green papaya. Due to its small berries and thick skins, it is packed full of flavour to accompany its wonderful texture. Armed with a crisp finish, Petit Milo brings an exotic flair perfect for a wide array of food.

Valued at $125Current bid: $130

Donated By Enrico Winery

$125
$130

Mag-Lite MagLite Flashlight

Maglite 3D cell flashlights and accessories are the safety professional's choice in flashlights.
See clearly in dark environments and conditions with Maglite flashlight
3x D cell batteries are required (not provided)
Flashlight is mate from durable long lasting aluminum

Valued at $60Current bid: $45

Donated By RCMSR HQ

$60
$45

Bugsy's Bowls - Walnut Salad Bowl

This Walnut wood bowl is the secret ingredient to every great salad. The perfect size wood bowl for family salads for dinner or a night in with friends. Handcrafted on Vancouver Island from a single block of Black Walnut for a thicker wall and exceptional strength and beauty.

Pre-seasoned, food-safe

12" Wide, 6 1/4" Deep

Valued at $200Current bid: $110

Donated By Private Donor BJ

$200
$110

Highland Pacific Golf

Round of golf x4, carts included

Highland Pacific Golf is one of southern Vancouver Island's golfing gems. Centrally located between Victoria General Hospital and Thetis Lake Park, and just a short drive from downtown Victoria, Colwood and Langford

Valued at $370Current bid: $260

Donated By Highland Pacific Golf

$370
$260

Horizon Intrepid Standard Model GX1260S VHF Marine Radio

USED:

The Standard Communications Corp. (SCC) GX1260S is a VHF/FM
transceiver designed for use in the frequency range of 156.025 to 163.275 MHz. It requires 13.8V for operation and has a switchable RF output power
of 1 watt or 25 watts.
The transceiver is capable of RTCMSC101 DSC (Digital Selective Calling) operation and intercom operation .

The transceiver operates on all currently-allocated marine channels which
are switchable for use with either USA, International, or Canadian regulations.

Valued at $100Current bid: $30

Donated By Private Donor - DB

$100
$30

Milwaukee M18 FUEL™ 3/8" Impact Wrench

M18 FUEL™ 3/8"" Compact Impact Wrench w/ Friction Ring Bare Tool. Battery and Charger not included

Our M18 FUEL™ 3/8" Compact Impact Wrench w/ Friction Ring is the most compact in its class, delivering you the most access in tight spaces, up to 250 ft-lbs of nut-busting torque, and maximum workspace visibility. This battery-powered impact wrench measures only 4.8" in length with a POWERSTATE™ Brushless motor to provide the power to remove stubborn fasteners, even in confined spaces. The MILWAUKEE® 3/8" Compact Impact Wrench has tri-LEDs that surround the anvil to deliver you brighter light with fewer shadows. 4-Mode DRIVE CONTROL™ offers greater precision with a range of pre-set RPM and IPM levels, selectable from a single button on the tool.

Valued at $350Current bid: $200

Donated By Bumper to Bumper Duncan

$350
$200

Lordco Auto Parts Gift Card and Ball Cap

$ 25.00 Lordco Auto Parts Gift Card

Lordco Ball Cap

Valued at $40Current bid: $30

Donated By Lordco Auto Parts

$40
$30

Salt Marsh Gallery : Cowichan Valley Seasons

Luke Downs is a multi-talented artisan now living in beautiful Cowichan Bay, British Columbia. Fine Art Photography provides an outlet for his creativity and demonstrates his ability to capture the nuances of the detail in a flower and to show his unique interpretations of the World around him.

This photo depicts the different seasons in the Cowichan Valley.

Valued at $80Current bid: $40

Donated By Salt Marsh Gallery

$80
$40

Updated: Ornamental light up Village scene

Get ready for Christmas 2023

Valued at $89Current bid: $25

Donated By Private Donor JP

$89
$25

Bugsy's Bowls - Maple Bowl

This bowl is smooth, simple, and functional, while still making a statement. It is a long lasting piece, a classic, which will deepen in colour with age and use. The quality and nature of hand turned bowls is immediately apparent by the fact that even these traditional bowls are each slightly different, and unique in changing colour and depth.

Handcrafted by a local Vancouver Island Artisan

Pre-seasoned, food-safe

12" Wide x 6 1/4" High

Valued at $100Current bid: $70

Donated By Private Donor BJ

$100
$70

Basket of Honey

2-1kg honey, 2-500g honey, 1 honey comb, 2 packs of tea and 2 mugs.

Valued at $75Current bid: $80

Donated By Hardie Honey

$75
$80

True Grain Basket

Contains:

Organic BC Sifted Red Fife Flours

Organic Pancake and Waffle Mix. BC Red Fife and Cinnamon

Organic Cream of BC Red Fife

Red Fife Fettuccine

1 dozen cookies

Valued at $110Current bid: $60

Donated By True Grain Cowichan Bay

$110
$60

Duncan Garage Cafe Basket

Contains:

Bag of Six Seed Granola: Vegan, Organic, No Nuts

Duncan Garage Cafe Travel Coffee Mug

Oatmeal Chocolate Chip Cookie

Duncan Garage Cafe Toque

Duncan Garage Cafe Ball Cap

Blackwood Bib Apron

Valued at $50Current bid: $35

Donated By Duncan Garage Cafe

$50
$35

GF Pet - Dog Life Vest

Size L

Chin flotation flap to help keep head above water
High buoyancy
Bright and highly visible with reflective details
Sturdy handle to lift dog quickly and safely
D-ring to attached leash for quick and effective pet management around water

Valued at $50Current bid: $20

Donated By Private Donor C

$50
$20

Cobblestone Pub Hoodie

Let us know what size is needed.

Valued at $80Current bid: $59

Donated By Cobblestone Pub

$80
$59

Gift certificate valued at $850.00

The Bearer of this Certificate is entitled to receive one
'Travelift" Haul-Out , Pressure Wash, Standard Blocking and Launch for up to a 40 foot boat at Canoe Cove Marina and Boat Yard.

Expiry Date: December 15, 2023

Valued at $850Current bid: $365

Donated By Canoe Cove Marina and Boatyard

$850
$365

Koshane Vegas Collection : Area Rug 160cms X 230 cms

The Vegas Collection features natural shapes and vintage motifs in warm vibrant colors. This collection is an exquisite combination of bold and beautiful vintage and retro designs. Made with 100% Olefin heatset, these rugs are durable and very easy to maintain.

PRODUCT DETAILS
100% Olefin Heatset
Power Loomed
Made in Turkey

Valued at $200Current bid: $90

Donated By End of the Roll

$200
$90

Golf Round x 4 - Duncan Meadows Golf Club

Valued at $285Current bid: $200

Donated By Duncan Meadow Golf Course

This item can be mailed.

$285
$200

Yamaha Propeller - Used

Used propeller for Yamaha. Aluminum, rubber bushing, right hand, diameter = 14.5, pitch = 17.

Valued at $120Current bid: $0

Donated By RCMSAR34

$120
$0

Brand New Solas propeller for Yamaha motor

Solas Propeller for Yamaha motor Amita 3, Aluminum, Left hand, Diameter = 14.8, Pitch = 17.
Value = $240

Valued at $240Current bid: $0

Donated By RCMSAR34

$240
$0

Mustang MS195 HX Integrity Floater Suit - XL- Brand New

Mustang Survival's MS-195 HX Integrity Flotation Suit is a weatherproof, seam-sealed suit designed for the most severe conditions.

XL 46" - 50" 40" - 42" 33" 117cm - 127cm 102cm - 107cm 84cm 198lbs - 276lbs 90kg - 125kg

This top of the line flotation suit is built with Mustang Airsoft foam for a lighter and more comfortable fit than the Classic Flotation Suit. Its durability comes in the form of hydrostatically-tested materials and abrasion-resistant knee, seat and hem reinforcements, while its comfort is driven by the Mustang AirSoft foam, Comfort Cuff technology, hand-warmer pockets and overall relaxed fit. Also featuring zippered legs for easy donning over boots and large chest and cargo pockets, the MS-195 HX presents the ideal blend of functionality and comfort features to meet the demands of a wide-range of activities. This suit is the perfect choice for anyone seeking protection from the most inclement weather, and is easily the best choice for ice fishing and late season, cold weather boating.

Mustang Survival flotation suits are designed to protect the wearer from foul or cold weather and use closed-cell foam to offer flotation and hypothermia protection in the event of water immersion. Tug-Tite technology and Velcro wrist and ankle closures improve fit and limit water flushing if immersed, SOLAS reflective tape enhances visibility and an insulated hood is easily stowed in the collar for convenience and added warmth.

Valued at $699Current bid: $350

Donated By RCMSAR34

$699
$350