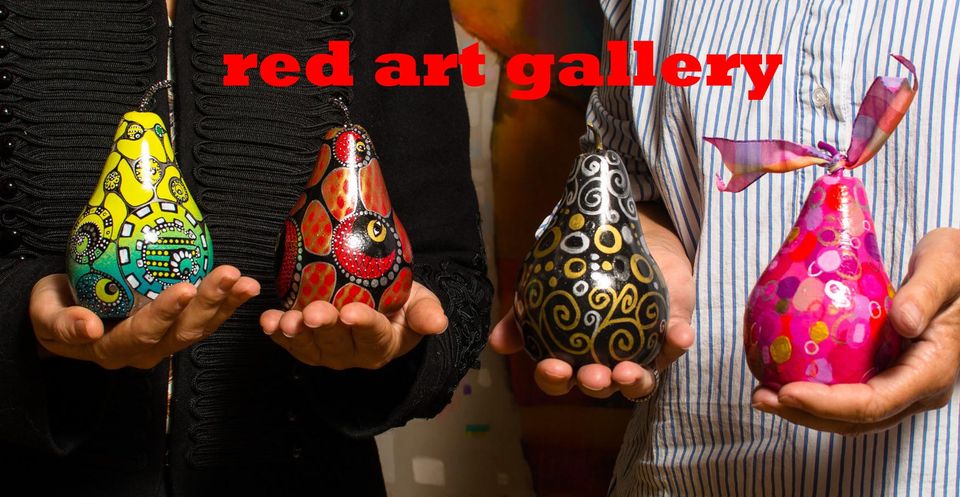 Start:
Sunday September 26, 2021
12:01 PM PDT
End:
Saturday October 2, 2021
3:00 PM PDT
Thank you for joining our online auction Fundraiser for Victoria Women's Transition House (VWTH). This project was initiated and organized by Marion Evamy and Bobb Hamilton of the Red Art Gallery in Sidney, BC. Thank you Marion and Bobb!

Thirty Canadian women artists have each contributed their talents to decorating a concrete pear to enable this gift of giving. Each of the "one of a kind" life-sized painted pears will be auctioned to raise funds in support of women of all ages, with and without children, fleeing intimate partner violence and abuse.

The online auction will take place September 26 to October 2, 2021.

As well, cash donations are greatly appreciated.

All funds helps VWTH support women and their children fleeing domestic violence and abuse. Your participation in this fundraiser helps Transition House continue to operate our two Emergency shelters, a 24-Hour Crisis and Information Line and various counselling and support programs for women with specialized programs for older women, including expressive arts groups and health and wellness programs, and for children who witness abuse. Children's programs include individual and group counselling as well as summer and spring camps and in-school educational workshops. Each year, VWTH supports more than 2,500 women and hundreds of children and youth.

Sadly, throughout the pandemic, a tremendous number of women have come forward, many with complex needs and challenging personal circumstances. Intimate partner violence and abuse cases have soared; the abuse is more prevalent and the outcomes, more violent.

Thank you for participating in this fundraiser and for helping us provide safety and comfort to vulnerable women and children in our community.

We sincerely appreciate your support.
Cash Appeal

s

Our Goal

Fund A Need

Victoria Women's Transition House welcomes cash donations to help support Victoria Women's Transition House emergency shelters, counselling, programs, projects and services.
Auction Item

s

Value
High Bid

PEAR #1 BY HEIDI CHARTRAND

Stone ‐ 5" x 3"
Pear by artist Heidi Chartrand. Mixed media, acrylic and swarovski crystals on concrete base.

Heidi is a self taught mixed media artist living in Metchosin, BC. Having worked with horses for most of her life, she finds inspiration from animals and nature.

In 2016, Heidi started painting on bones, later learning to clean skulls, literally facing her fear of death. Canvases were often donated by farmer friends. She loves getting damaged skulls, that are less valuable to others, but allow for the most artistic interpretation. Using sewing machine and Harley Davidson parts, Heidi created a series of cyborgs, another way to reuse what was once unwanted. Heidi develops a piece by sitting with the skull and accentuating natural patterns and shapes already present. The design that develops represents the skull's own unique energy and that animal's past experiences.

Priceless!Current bid: $400

Donated By Heidi Chartrand

Priceless!
$400

PEAR #2 BY SHELLEY WUITCHIK

"For me, painting with encaustic creates a state of totipotentia, a latin term meaning the ability for all things. A totipotent cell has the potential to develop and differentiate into any cell in the body, be it skin, bone or even heart tissue.

Encaustic painting is also filled with such potential. Since the medium is malleable and fluid, I am able to mix it with vibrant pigments and embed sculptural elements. I seek to illustrate the flow of water, the dense weight of the earth and the flash and volatility of fire.

My work is a reflection of my life, the rich texture of my family, history, and experiences are blended together just as composition colours melt into swirls of water and bursts of fire. The ebb and flow of the seasons are divided into different series through which I explore both the macroscopic and microscopic in tandem. With sweeping gestures of the blowtorch, I am not only burning in the medium, adhering layer to layer. I am also burning in memory, time and space. I hope the luminosity and movement of my work offer the viewer the same spontaneity and transformation I experience as I paint.

Totipotentia - all things are possible."

- S.W.

Priceless!Current bid: $400

Donated By Shelley Wuitchik

Priceless!
$400

PEAR # 3 BY FLO-ELLE WATSON

Flo-Elle Watson, Porcelain Painter

Flo-Elle Watson attended the Kootenay School of Art, took courses at Uof Vic. Victoria Art College and Issaquah, WA.

Flo-Elle has worked in the art field for more than 30 yrs. Creating , assisting, teaching and learning many mediums. After working in Clay, Oils, Water colors, and acrylics, she was influence by her Mother who was a painter of white Porcelain.

Flo-Elle is a painter, using clean white Porcelain as her canvas. She creates original, permanent, non-toxic, and functional Heritage pieces.

Priceless!Current bid: $400

Donated By Flo-Elle Watson

Priceless!
$400

PEAR #4 BY ELIZABETH LITTON

Elizabeth has made Victoria, Canada her home for the past twenty-two years. She has participated in a number of solo shows and a variety of group exhibitions in Victoria, Vancouver, Montreal and South Africa. While her practice is predominantly painting, her work has also been included in several printmaking and sculpture exhibitions.

Elizabeth was born in Johannesburg, South Africa, and has a masters degree in Art Education from the University of Victoria (UVic).

Priceless!Current bid: $150

Donated By Elizabeth Litton

Priceless!
$150

PEAR #5 BY MARION EVAMY

I am Marion Evamy, otherwise known as "me!" the artist ....you'll notice my signature is m.e. for my initials and an exclamation mark to indicate I want to live my life as an exclamation not an explanation. The majority of my life was spent in Calgary in real estate and marketing jobs, but my love of art and design, fostered by my architect father, could not be denied.

I moved on to Vancouver Island, and now live in a town called Sidney by the Sea. My 'front door' faces the Pacific Ocean, and my 'local' friends include herons, eagles, hummingbirds, otters, seals and orcas.

Most people would consider me an abstract expressionist painter.

My techniques and approaches vary, depending on the subject matter. My guiding principles are joy, humour, mystery and boldness.

I try to bring the unbridled happiness of a dog's joyful greeting into my abstracts, and mystery and drama into my figurative paintings.

I love strong and sophisticated colour, people watching, animals and being out in Mother Nature.

Priceless!Current bid: $400

Donated By Marion Evamy

Priceless!
$400

PEAR #6 BY GERA SCOTT CHANDLER

I am a Vancouver Islander and my environment has always deeply affected my art. When I was a child I used to run down to the beach, gather cedar bark and kelp, tease the materials into long strips and spend happy hours weaving the cords into wall hangings and baskets. Later I'd follow trails through the forest and cut panels of alder bark to make tiny canoes for floating down the creek. My imagination was alive with stories and my first works of craft were props for my play making. My childhood freedom gave me early training for my current work. Storytelling is infused in my pieces as I work to achieve a subtle narrative based either on the character of the figure I am sculpting or a suggestion of past history with surface treatments and the design of my vessels. I was delighted when someone once commented that a piece I had made was Futuristic Primitive as she couldn't decide if the piece reminded her of an ancient artifact or a prop from a science fiction movie!

My Storytelling Muse awakens whenever I walk on the seashore or in a rain forest. The west coast environment envelops me in a creative cloak tinted with muted, misty colours and undulating textures. The sound of the waves and wind in the trees inspire mood and rhythm as I sketch my ideas. I capture colour combinations with my camera and fill my pockets with glorious collections of stones and inspirational tangles of organic materials that I use to stamp in the clay or weave into my work.

I have been using polymer clay as my primary medium for almost twenty years. Polymer Clay is a synthetic material that fires at 275 F. It is available in a myriad of mixable colours as well as a translucent version for 3 dimensional surface effects. It can be sculpted, stamped, carved and even turned on a lathe or potters wheel. Adding inclusions such as sand, ash, ground herbs and spices or crushed clamshells results in interesting variations that imitate natural materials such as jade, opal, turquoise or even rusted metal. As the clay fires at a low 275 F it can be fired repeatedly with organic or mineral inclusions and attachments. I am able to carve, stamp and "scritch scratch" the surface of the clay for effects that I highlight and colour with alcohol inks. I include pieces from my collections of silk and wool fibres, organic materials and beach-combed treasures for connections and texture.

Priceless!Current bid: $400

Donated By Gera Scott Chandler

Priceless!
$400

PEAR #7 BY JANIS BLYTH

Artist Janis Blyth, captures the wonderful energy, humour and soul of the various women and themes she paints.⁠ Janis loves bringing playfulness into people's lives.⁠

Priceless!Current bid: $400

Donated By Janis Blyth

Priceless!
$400

PEAR #8 BY VAL LAWTON

Val is a children's book illustrator and nature sketch artist. She still loves the kind of illustration style that leaves something up to a reader's imagination, and has gone on to illustrate over 30 children's picture books for such clients as the Canadian Football League and the National Hockey League. She is currently working on a couple of corporate projects.

In addition to being a best-selling, award-winning children's book illustrator, Val has also worked with the Royal Conservatory of Canada as an artist-educator with the Learning Through the Arts program, helping kids learn by creating their own art.

Val now lives in beautiful Victoria, and works as an arts educator at the Bateman Gallery of Nature.

Priceless!Current bid: $400

Donated By Val Lawton

Priceless!
$400

PEAR #9 BY SANDY TERRY

Sandy is drawn to capture the simple elegance in the curve of a leaf, subtle shifts in color and the radiance of light as it interacts with the flower.⁠

Priceless!Current bid: $400

Donated By Sandy Terry

Priceless!
$400

PEAR # 10 BY IRMA SOLTONOVICH

Irma creates solid, confident abstracts, based on her prairie roots which guide her life and her art. Her aim is to express the essence of the landscape.⁠

She grew up on a Saskatchewan farm where the prairie is never just background – nature dominates. Blizzards, lightning storms, and the overarching sky instilled in her a feeling of freedom, limitless space, and room to explore. Her predominant memory is a feeling of independence and the sky's overwhelming presence.

Although Irma has degrees in art and art education, she did not return to painting until 2002, and had a solo show within a year. Since April 2013 she has made her living as a full time artist.

Irma continues to have an avid interest in contemporary dance. In 2005 she received the Peter Gzowski Literacy Award. Irma is well-known across BC for her advocacy in the fields of literacy, mental health and FASD, as well as her development and delivery of programs in the criminal justice system.

Priceless!Current bid: $400

Donated By Irma Soltonovich

Priceless!
$400

PEAR # 11 BY SHARLENE STUSHNOV

Light is integral to her work, powerful in influencing what we see and feel; how we perceive colours and shapes. Sharlene is fascinated with the leaves of tropical Canna lilies.⁠

Priceless!Current bid: $225

Donated By Sharlene Stushnov

Priceless!
$225

PEAR #12 BY JACQUELINE DE LANGE

Jacqueline has always had a passion for helping people, and became a speech pathologist. However, she spent all her free time making art, jewelry and photography. 16 years later she decided to become an abstract artist expressing her emotion and South African roots through her works of art.

Priceless!Current bid: $150

Donated By Jacqueline De Lange

Priceless!
$150

PEAR #13 BY LISA RIEHL

Inspired by the dramatic landscapes around her, she has translated her passion for hiking, surfing and her love of nature onto canvas. Lisa's landscape paintings reflect her love and fascination with nature and the gorgeous scenery all around her.⁠

Priceless!Current bid: $400

Donated By Lisa Riehl

Priceless!
$400

PEAR #14 BY DR. SUZI BEBER

Suzi loves gardening and chose to integrate flowers from her own garden into the decorating of her pear. Layers of plant fibres are combined with dried orchids and cactus grown in her garden, along with fluid acrylics, inks, gold leaf, and glazes, to produce this pear's jewel like finish.⁠

Priceless!Current bid: $400

Donated By Suzi Beber

Priceless!
$400

PEAR #15 BY KRISTINA BOARDMAN

Artist Kristina Boardman. Kristina is endlessly intrigued with painting stones, with their varied colour, texture and beautiful markings. She often holds the stones as she paints, giving her a sense of peace and tranquility.⁠

Priceless!Current bid: $400

Donated By Kristina Boardman

Priceless!
$400

PEAR #16 BY ANNE HUDEC

Artist Anne Hudec. Anne is an award winning watercolour artist and juror who focuses on painting evocative interpretations of late 19th C. statuary. Her pear is one of the most intriguing and 'storied' of the collection!⁠

Priceless!Current bid: $400

Donated By Anne Hudec

Priceless!
$400

PEAR #17 BY CYNTHIA GOLBY

Artist Cynthia Golby. Cynthia is a retired ICU Nurse who has a creative streak in full gear, not that she has the time to play! She has utilised layers of hand made papers, acrylics, inks, and clear glazes, combined to give this pear its lustrous surface, reminiscent of a piece of stained glass.⁠

Priceless!Current bid: $150

Donated By Cynthia Golby

Priceless!
$150

PEAR #18 BY MARCELA STRASDAS

Marcela is an Argentinian-Canadian painter who loves painting landscapes and florals. She is inspired by her love of travelling and gardening and translating this to colourful and vibrant paintings of the beauty found in everyday life.⁠

Priceless!Current bid: $200

Donated By Marcela Strasdas

Priceless!
$200

PEAR #19 BY CONNIE GEERTS

Connie is a multi-disciplinary artist whose talents are devoted to painting and sculpture, though she has also worked in film, theatre and as a news videographer. Connie is based in Calgary where she teaches and creates in her home studio.⁠

Priceless!Current bid: $175

Donated By Connie Geerts

Priceless!
$175

PEAR #20 BY JUDY PERRIN

Judy is a self-taught artist who has explored many mediums including encaustics, oil, acrylics and watercolours. Her love of impressionism is always evident in whatever subject she chooses to portray.

Priceless!Current bid: $400

Donated By Judy Perrin

Priceless!
$400

PEAR #21 BY LOUISE LACEY-ROKOSH

Louise Lacey-Rokosh completed her Bachelor of Fine Art (BFA) in Painting in 1982. Discovering that she also had a passion for math, she chose to complement her Fine Arts degree with a Masters in Architecture (MArch) in 1987, and also completed her Masters in Architectural Technology (MSc) from Edinburgh UK in the same year.

After many years in a successful career as a Senior Design Architect in England and Canada, Louise felt the lure of painting calling her again. Eventually, she left the field of Architecture in 2005 to paint full time. Her very graphic background has had a strong influence in her painting. Every painting, even those completed plein air, start with a carefully composed notan to ensure that the paintings will have strong composition, balance and light. These simple little drawings have kept her focus on what is important even as the light changes or the still life fades.

Louise has been influenced by many artists throughout her life. They ebb and flow throughout her thoughts as she paints. What she admires most in other painters is not necessarily their technical skills but their ability to paint and leave their "hand writing", their personal identifiable brushwork, on their paintings. This is what Louise strives for in every painting; to capture a moment in time with a sense of light and space, with her own identifiable handwriting.

Louise's paintings are in private collections in Canada, USA, and England and Europe. She has won professional competitions in the USA as well as exhibited in numerous group and solo shows throughout North America. In 2020, Louise was honoured to be named "Featured Artist" of the renowned "San Diego ArtWalk" which is home to over 300 artists.

Priceless!Current bid: $400

Donated By Louise Lacey-Rokosh

Priceless!
$400

PEAR #22 BY TRICIA SYZ

Tricia has a background in commercial art, and many years of workshops and classes, honing her unique style. Her paintings explore her belief that "life is simple if you let it be", and that our thoughts and beliefs influence our daily lives.⁠

Priceless!Current bid: $400

Donated By Tricia Syz

Priceless!
$400

PEAR #23 BY DIANE KNIGHT

Artist Diane Knight is a Canadian/Mexican artist and an arts ambassador in Todos Santos. She is inspired by the intensity of the light, the vibrant colours and how cultures use colour to express themselves.

Priceless!Current bid: $400

Donated By Diane Knight

Priceless!
$400

PEAR #24 BY LORRAINE WHELLAMS

Lorraine is inspired by a fascination with the human figure as well as a love of travel. Her paintings record her journey through life, exploring a particular idea or theme - and now finding abstraction an exciting new direction.⁠

Priceless!Current bid: $150

Donated By Lorraine Whellams

Priceless!
$150

PEAR # 25 BY KATHY ADAMO

Artist Kathy Adamo grew up in the heart of historic Nova Scotia amongst the lush foliage of the Annapolis Valley near the Atlantic Ocean. In the late 1970s she moved west, drawn by Alberta's big skies, wide prairies and snowy peaks. In 1999, Kathy took her first art class at Swintons Art Supply and has been painting her oneiric Impressionist landscapes and still lifes ever since. She has said: "I always knew beauty was everywhere, but until I started painting with oils, I didn't know its depth." In France, while studying under Mike Svob, Kathy discovered the singular magic of painting en plein air, now her preferred mode of making art. Locally, Kathy has studied with Erica Neumann, Doug Swinton, Neil Patterson, and Frank Serrano. She has shown pieces in several public and private shows. Kathy shares her passion with others as a painting instructor with The Retired School Teachers Association. She also teaches private lessons in people's homes, provided they're good cooks.

Priceless!Current bid: $250

Donated By Kathy Adamo

Priceless!
$250

PEAR #26 BY BONNIE MACRAE-KILB

As an artist I attempt to build my own glossary to convey the natural/man made forms that surround us. The vastness of the land leads me to provoke the viewer to see familiar subject anew. This "natural geometric" approach gives the hard edged subject matter a feeling of solidity; be it clouds, mountains, rocks, vegetation or water. By reducing forms to their essence, shape and line become heightened. My use of a carefully edited palette, mark making and drawing, irresistibly draw and then continue to satisfy the eye. My hope is that the added spontaneity of the abstracted landscape/object, inspire the viewer towards imagination.

Priceless!Current bid: $400

Donated By Bonnie Macrae-Kilb

Priceless!
$400

PEAR #27 BY PAM WEBER

Pam Weber was born and raised in Kitchener, Ontario.

She graduated from University of Guelph in 1979 with a Bachelor of Arts degree with a Fine Art major. At Guelph, Pam studied a wide variety of art mediums, from figurative drawing to sculpture. However, it was printmaking, under the direction of accomplished printmakers Walter Bachinski and Gene Chu that gave her the greatest challenge and satisfaction.

In printmaking, Pam found, what was for her, in art, an ideal balance between the creative artistic vision and the importance of following a measured process.
Not surprisingly, upon graduation Pam started working in the commercial printmaking business. In 1981 she started Oink Ink Productions, a screen-printing company, with her business partner in Kitchener. This venture allowed her to combine her creativity with the challenges of owning and operating a successful business.

In 1984 she married and moved to Ottawa where she continued to study lithography, serigraphy, and graphic art at the Ottawa School of Art and Algonquin College. While employed as a production artist at a screen-printing enterprise, and later a publishing company, she still managed to get involved with the local art community. Pam also had a brief stint as an opaque artist, applying her brush to acetate film, for Hinton Animation Studio, the producer of The Raccoon series.

Gradually, Pam changed her medium from printer's ink to mixed media and collage; finally to acrylic paint. In acrylic paint Pam found a long-running medium in which to create her signature bold and colourful images.

In the summer of 1995 she moved to Calgary with her husband and three sons; this change in scenery provided an environment to explore a new and, for her, a compelling new subject matter, the Western landscape.

She is an active member of the Alberta Society of Artists, Calgary and an associate member of the Federation of Canadian Artists, Vancouver.

Priceless!Current bid: $400

Donated By Pam Weber

Priceless!
$400

PEAR #28 BY MARION EVAMY

I am Marion Evamy, otherwise known as "me!" the artist ....you'll notice my signature is m.e. for my initials and an exclamation mark to indicate I want to live my life as an exclamation not an explanation. The majority of my life was spent in Calgary in real estate and marketing jobs, but my love of art and design, fostered by my architect father, could not be denied.

I moved on to Vancouver Island, and now live in a town called Sidney by the Sea. My 'front door' faces the Pacific Ocean, and my 'local' friends include herons, eagles, hummingbirds, otters, seals and orcas.

Most people would consider me an abstract expressionist painter.
My techniques and approaches vary, depending on the subject matter. My guiding principles are joy, humour, mystery and boldness.
I try to bring the unbridled happiness of a dog's joyful greeting into my abstracts, and mystery and drama into my figurative paintings.
I love strong and sophisticated colour, people watching, animals and being out in Mother Nature.

Priceless!Current bid: $400

Donated By Marion Evamy

Priceless!
$400

PEAR #29 BY MARY-ELLEN THREADKELL

Never bored, I continually find my connected presence and inspiration with what I see around me; the way the light hits a wall in my bedroom, reflections of inanimate objects on the table or thru sunrises, sunsets and how light and shadow plays on water and farm fields . My goal is trying to capture the intrinsic value experiences of those frozen moments by focusing on shadows, reflections and refractions. Sometimes the connection to what I see and feel is immediate and takes my breath away. I am sublimely present on those occasions. Other times the excitement comes when I find that 'catch your breath' moment upon viewing the many iPhone photos that I take. Being present is necessary for me to abstractly join the visual and emotive connective experience with the act of painting in oils. When I have thumb nailed my composition, the dance of laying, layering, removing and integrating the paint onto my chosen surface begins. The choreography changes with the various intrigues of colour, tone and hue as I travel the map of my connected journey in a piece.

Priceless!Current bid: $400

Donated By Mary-Ellen Threadkell

Priceless!
$400

PEAR #30 BY HEIDI CHARTRAND

Pear by Heidi Chartrand. Acrylic and mixed media with Swarovski crystals.

Heidi is a self taught mixed media artist living in Metchosin, BC. Having worked with horses for most of her life, she finds inspiration from animals and nature.

In 2016, Heidi started painting on bones, later learning to clean skulls, literally facing her fear of death. Canvases were often donated by farmer friends. She loves getting damaged skulls, that are less valuable to others, but allow for the most artistic interpretation. Using sewing machine and Harley Davidson parts, Heidi created a series of cyborgs, another way to reuse what was once unwanted. Heidi develops a piece by sitting with the skull and accentuating natural patterns and shapes already present. The design that develops represents the skull's own unique energy and that animal's past experiences.

Priceless!Current bid: $400

Donated By Heidi Chartrand

Priceless!
$400