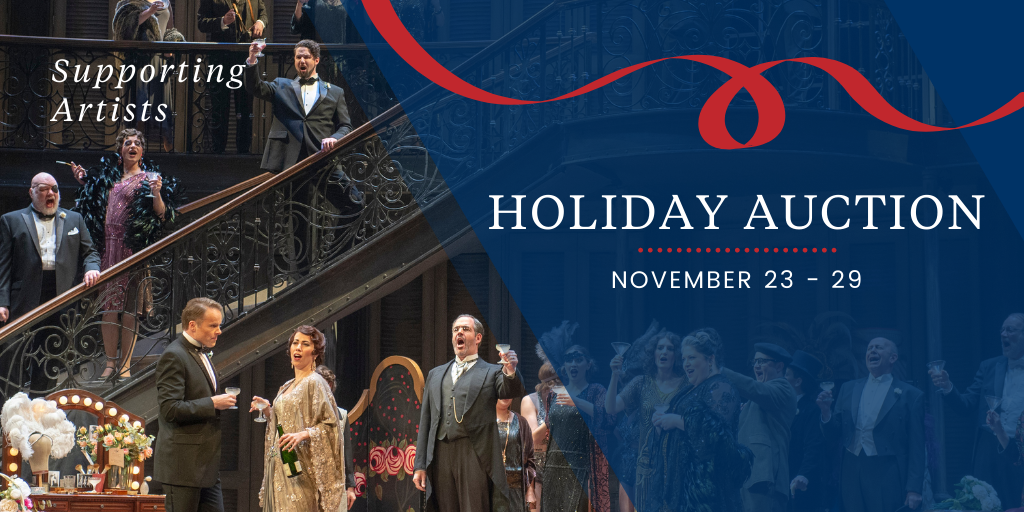 Event:
Pacific Opera Holiday Auction
Start:
Monday November 23, 2020
9:00 AM PST
End:
Sunday November 29, 2020
6:00 PM PST
Already registered? Sign in here.
Welcome to Pacific Opera Victoria's first Holiday Auction in support of our artist community. We are grateful for your interest and support in our art, and for your generosity in supporting our artists, and our local business partners, with your enthusiastic bidding and patronage.
Appeal

s

Our Goal

Pacific Opera Holiday Appeal

Pacific Opera Victoria's Holiday Auction aims to support artists and opera in our community. Please donate generously to our one big fundraising event of the year.

For Pacific Opera, the cancellation of numerous community event and postponement of all our Royal Theatre productions has had direct consequences for some 250 artists and cultural workers. Out of deep concern for these artists, we have provided compensation for lost work. We are also finding every way we can to help artists continue to create and perform, even now. Your support is crucial to helping artists survive and the art form to thrive during the biggest challenge this company has ever faced.

Please consider purchasing an auction item or donating any amount today.

Donations over $25 will receive a full tax receipt.

Our Goal: $10,000

$10,000

Pop-up Opera Performance

Hear music you love and support a local artist with a Pop Up Opera Postcard!

Give an emerging artist the opportunity to serenade you (and those in your bubble) and enjoy the power and glory of the human voice in song from a safe social distance with this unique front yard musical offering.

Qty: 10 performances available (Donations of $100 or more will receive a Pop Up Opera Postcard performance)

Our Goal: $1,000

$1,000

$200

Winter Elegance Centrepiece

by Fine Floral Designs

An exquisite collection of locally grown floral product: cymbidium orchids, roses, ilex berries, fragrant evergreens in a classic color palette, whites, greens & accent of red.

Purchase one for yourself and/or gift it to someone to brighten up their holiday this season.

A portion of the proceeds of this beautiful arrangement benefits Pacific Opera. Pacific Opera Victoria is delighted to partner with our long time flower supplier Fine Floral Designs to bring you this exclusive offer.

Only 40 arrangements are available so secure yours now!

$100 (Donations of $100 or more will receive the Winter Elegance Centerpiece)

Dimensions: Approx. 8" x 8."
The arrangement will last 5 - 7 days or longer depending on the warmth of the home and the watering; care instructions are included.

Our Goal: $100

$100

$550

Holiday Treat Box

Pacific Opera Holiday Treat Box by Toque

Curated by Pacific Opera's preferred award winning caterer Toque.

Looking for that perfect Christmas gift for your colleagues or friends? Toque has gathered goodies from their own kitchen alongside some of their favorite small local businesses. Support local while sharing in the holiday giving spirit!

A portion of the proceeds of this delicious holiday box helps Pacific Opera, but each of the businesses represented also benefit from your purchase.

Only 50 baskets are available so secure yours now!

From Toque's own kitchens:
Parmesan & Aleppo Nuts (200g)
Kickass Rhubarb Chutney (250 ml)
Pita Chips (125 g)
Curried Antipasto (250mL)
Chocolate Cherry Cake (6" cake)

Local food businesses:
Jenny Marie's Cheesy Yeshi Crackers (100g) & Thyme Sea Salt Crackers (100 g)
Zambri's Tomato Sauce (500 mL)
Saltspring Island Kitchen's Spicy Tomato Savoury Spread (270 mL)
Laughing Daughter's Maple Shortbread (1 packge of 6 pieces)
Rock Coast Dark Chocolate Melts (120 g)
Stark Raving's Holiday Stollen (Mini size)
Beeswax Food Wraps by Abeego (1 medium size package)

Cost $127 (Donations of $127 or more will receive a Holiday Treat Box)
Quantity: 50

Our Goal: $126

$126

$254

The Opera Box

Out of Hand Modern Market
Pacific Opera Exclusive Holiday Gift Box

The Opera Box by Out of Hand Modern Market is a gorgeous box of beautiful hand made goods by incredible makers, artists and designers from British Columbia.

This box has been specially curated by Out of Hand Modern Market and Pacific Opera's Auction committee to include a perfect array of lovingly handcrafted items. The box is beautifully packaged and all ready for holiday gift giving (or as a present to yourself).

A portion of the proceeds of this beautiful holiday box helps Pacific Opera, but each of the seven artisan businesses represented also benefit from your purchase. Pacific Opera Victoria is delighted to partner with Out of Hand Modern Market to support local island businesses.

Only 25 baskets are available so secure yours now!

$170.00 (Donations of $170 or more will receive The Opera Box)

Contents:
Scarf by K-OME Designs
Stacker Aromatherapy Bracelet by Woven Stone Co
Honey by Mellifera Bees
Milk and Sugar set by Driftwood Pinchpots
Lavender Oil by Bilston Creek Farm
Calm Candle by Island Wick Candle Co
Black Lavender Tea by Westholme Tea

Our Goal: $170

$170

$340
Auction Item

s

Value
High Bid

DINING

Deep Cove Chalet Gift Certificate for $250

A fine dining favourite not to be missed.

Enjoy waterfront dining in an elegant setting, or take advantage of their wonderful selection take-out menu items.

Valued at $250Current bid: $250

$250
$250

Deep Cove Chalet, Gift Certificate for $250

A fine dining favourite not to be missed.

Enjoy waterfront dining in an elegant setting, or take advantage of their wonderful selection take-out menu items.

Valued at $250Current bid: $250

$250
$250

Fireside Grill Gift Certificate for $175

Fireside Grill is a local favourite, in a lovingly restored heritage tudor estate, offering farm to table cuisine, extensive wine and beverage selections, and a unique ambience featuring several indoor and outdoor fireplaces.

Valued at $175Current bid: $125

Donated By Donna Thomas

$175
$125

Fireside Grill Gift Certificate for $175

Fireside Grill is a local favourite, in a lovingly restored heritage tudor estate, offering farm to table cuisine, extensive wine and beverage selections, and a unique ambience featuring several indoor and outdoor fireplaces.

Valued at $175Current bid: $125

Donated By Donna Thomas

$175
$125

Habitat Cafe, Royal Roads, Gift Certificate for $25

Truffles Catering has been proudly operating Habitat Food Services at Royal Roads University for over a decade. With a full range of hot entrees and a convenient grab and go, Habitat keeps students, staff and visitors fuelled with healthy food prepared fresh everyday.

Valued at $25Current bid: $15

Donated By Don and Charmaine Lovell

$25
$15

Surly Mermaid Pub, Sidney, $50 Gift Certificate

A local hangout for the residents of Sidney with a focus on fresh, creative, delicious ingredients to showcase food from Vancouver Island and our community.

Come visit us in Sidney!

Valued at $50Current bid: $50

$50
$50

University Club, UVic Gift Certificate for $40

Enjoy lunch for two at the University Club.

Valued at $40Current bid: $40

Donated By University Club, University of Victoria

$40
$40

Villa Eyrie Gift Card for $100

Escape into the clouds at Villa Eyrie Resort!

Located only 25 minutes north of downtown Victoria, the Villa Eyrie Resort is a boutique mountainside retreat unlike any other in Canada and quite possibly the world.

Beautiful accommodation with stunning views and the added delight of the Alpina Restaurant await you.

This gift card does not have an expiry date and is redeemable for booking, services and products at the Villa Eyrie resort. It may not be redeemed for cash.

Valued at $100Current bid: $100

Donated By Barbara Armstrong, Edward Jones Investments

$100
$100

Rock Bay Market, Spot Prawn Taco Kit

Enjoy a Spot Prawn Taco Kit and 4 pack of Cultured Kombucha. Everything you need to quickly and easily prepare 12 delicious tacos with the best locally sourced, wild and seasonal ingredients.

This certificate includes:

· 1lb Wild BC Spot Prawns Tails
· 12 MaiiZ Gluten free niztamal corn tortillas
· 1 Jar of our spicy Peach n Pepper Trinidadian inspired hot sauce
· 1 Container of our Local Quick Pickled Slaw
· 1 Container of our Herbed Crema
· Rock Bay Market recipe card
· 4 unique flavours from Cultured Kombucha

The Rock Bay Market was born out of a passion for connecting our community with locally-sourced, wild, seasonal and sustainable provisions.

Valued at $65Current bid: $30

Donated By Rock Bay Market

$65
$30

Farmer's Daughter, Wine & Cheese Pairing Box

The Farmer's Daughter is a fromagerie, bistro and wine bar. They specialize in cheese and wine flights and this pairing box is the perfect sampling of their thoughtfully selected and perfectly paired assortments.

A wonderful offering!

Valued at $70Current bid: $77

Donated By The Farmer's Daughter

$70
$77

Olive Olio's, Gift Certificate for $25

This lovely little eatery is a local favourite in Cadboro Bay. Pick up this gift certificate and enjoy a coffee, baked item and other delicious eats!

Valued at $25Current bid: $25

Donated By Olive Olio's

$25
$25

Olive Olio's, Gift Certificate for $25

This lovely little eatery is a local favourite in Cadboro Bay. Pick up this gift certificate and enjoy a coffee, baked item and other delicious eats!

Valued at $25Current bid: $25

Donated By Olive Olio's

$25
$25

Olive Olio's, Gift Certificate for $25

This lovely little eatery is a local favourite in Cadboro Bay. Pick up this gift certificate and enjoy a coffee, baked item and other delicious eats!

Valued at $25Current bid: $20

Donated By Olive Olio's

$25
$20

Olive Olio's Gift Certificate for $25

This lovely little eatery is a local favourite in Cadboro Bay. Pick up this gift certificate and enjoy a coffee, baked item and other delicious eats!

Valued at $25Current bid: $25

Donated By Olive Olio's

$25
$25

Pagliacci's Restaurant, Gift Certificate for $50

Since 1979, enjoy some wonderful eats from this Victoria tradition with this $50 Gift Certificate.

Pagliacci's is one of those timeless places, born in passion, carved from life and bathed in laughter. From the focaccia bread and soup through the Broadway-style cheesecake, every morsel is made on the spot, served with style by someone hustling for you.

Valued at $50Current bid: $50

Donated By Chanah Caplan

$50
$50

Pagliacci's Restaurant, Gift Certificate for $50

Since 1979, enjoy some wonderful eats from this Victoria tradition with this $50 Gift Certificate.

Pagliacci's is one of those timeless places, born in passion, carved from life and bathed in laughter. From the focaccia bread and soup through the Broadway-style cheesecake, every morsel is made on the spot, served with style by someone hustling for you.

Valued at $50Current bid: $50

Donated By Chanah Caplan

$50
$50

Pagliacci's Restaurant, Gift Certificate for $25

Since 1979, enjoy some wonderful eats from this Victoria tradition with this $25 Gift Certificate.

Pagliacci's is one of those timeless places, born in passion, carved from life and bathed in laughter. From the focaccia bread and soup through the Broadway-style cheesecake, every morsel is made on the spot, served with style by someone hustling for you.

Valued at $25Current bid: $25

Donated By Pagliacci's Restaurant

$25
$25

Pagliacci's Restaurant, Gift Certificate for $25

Since 1979, enjoy some wonderful eats from this Victoria tradition with this $25 Gift Certificate.

Pagliacci's is one of those timeless places, born in passion, carved from life and bathed in laughter. From the focaccia bread and soup through the Broadway-style cheesecake, every morsel is made on the spot, served with style by someone hustling for you.

Valued at $25Current bid: $25

Donated By Pagliacci's Restaurant

$25
$25

Pagliacci's Restaurant, Gift Certificate for $25

Since 1979, enjoy some wonderful eats from this Victoria tradition with this $25 Gift Certificate.

Pagliacci's is one of those timeless places, born in passion, carved from life and bathed in laughter. From the focaccia bread and soup through the Broadway-style cheesecake, every morsel is made on the spot, served with style by someone hustling for you.

Valued at $25Current bid: $25

Donated By Pagliacci's Restaurant

$25
$25

Pagliacci's Restaurant, Gift Certificate for $25

Since 1979, enjoy some wonderful eats from this Victoria tradition with this $25 Gift Certificate.

Pagliacci's is one of those timeless places, born in passion, carved from life and bathed in laughter. From the focaccia bread and soup through the Broadway-style cheesecake, every morsel is made on the spot, served with style by someone hustling for you.

Valued at $25Current bid: $20

Donated By Pagliacci's Restaurant

$25
$20

Dutch Bakery Mug, Chocolates & $50 in Gift Certificates

Pick up this wonderful Dutch Bakery package to tide you over for the holidays, or to gift to a loved one.

Package includes: Dutch Bakery mug, a box of their chocolates and two gift certificates worth $25 each!

The Dutch Bakery has been creating delicious breakfasts, lunches and bakery treats since 1956.

Valued at $75Current bid: $35

Donated By Dutch Bakery & Diner

$75
$35

Bon Macaron, Gift Certificate for $25

Enjoy this $25 gift certificate to Bon Macaron, where you can experience an amazing moment in one bite.

You can order online to minimize contact in their shop and feel free to check out their flavours in advance online!

Valued at $25Current bid: $25

Donated By Bon Macaron

$25
$25

La Roux Patisserie, Gift Certificate for $50

Make life sweeter with this $50 Gift Certificate to La Roux Patisserie.

They will deliver anywhere within downtown, Oak Bay, James Bay and Ross Bay with a minimum of $25 per order.

A delightful bakery full of delicious french treats and local products to enjoy!

Valued at $50Current bid: $50

Donated By La Roux Patisserie

$50
$50

Patisserie Daniel, Gift Certificate for a 6" Vanilla Cake

A 6" Vanilla Cake from Patisserie Daniel is perfect for that upcoming birthday or special occasion celebration!

This favourite bakery and neighbour to Pacific Opera is the go-to place for cakes, pies, pastries & bread, plus savory lunch bites.

Valued at $40Current bid: $40

Donated By Patisserie Daniel

$40
$40

Patisserie Daniel, Gift Certificate for a 6" Vanilla Cake

A 6" Vanilla Cake from Patisserie Daniel is perfect for that upcoming birthday or special occasion celebration!

This favourite bakery and neighbour to Pacific Opera is the go-to place for cakes, pies, pastries & bread, plus savory lunch bites.

Valued at $40Current bid: $40

Donated By Patisserie Daniel

$40
$40

Rogers Chocolates, Premium Assortment

A wonderful holiday chocolate for a household, or to bring to your office this holiday season.

This 3.9lb box of premium Rogers Chocolates is a rare treat!

Valued at $125Current bid: $135

Donated By Rogers Chocolates

$125
$135

GROCERY

Peppers in Cadboro Bay, $25 Gift Certificate

Gold Medal Winner for Best Grocery Store in BC and Canada 2 years in a row. Peppers Foods quality and service guaranteed.

Enjoy a $25 gift card for shopping at Pepper's in Cadboro Bay.

Valued at $25Current bid: $25

Donated By Pepper's Cadboro Bay

$25
$25

The Very Good Butchers, Gift Certificate for $75 + Merch!

Whether you've been vegan for awhile, or want to give it a try, this gift certificate is for you:

The Very Good Butcher is the new butcher on the block, supplying minimally-processed, vegan meats that are handcrafted in British Columbia, Canada with whole-foods you've likely got in your kitchen; beans, grains, vegetables, herbs and spices.

Package includes a $75 gift certificate and some fabulous merchandise:a metal mug, a baseball cap and a baseball style t-shirt, proudly displaying the TVGB logo.

Valued at $100Current bid: $110

Donated By The Very Good Butchers

$100
$110

Lifestyles Market, Gift Certificate for $100

Indulge yourself with a grocery shop at Lifestyles Market with this $100 gift certificate! Choose from their fantastic selection of local, organically-grown fresh produce, celiac-friendly foods, and quality supplements and vitamins.

A Victoria favourite, Lifestyles Markets is a locally owned Health Food Store that sells vitamins, supplements, sports nutrition, natural body care, and organic & natural groceries.

Valued at $100Current bid: $100

Donated By Lifestyle Markets

$100
$100

Save-on-Foods, Gift Card for $25

Pick up some food essentials and holiday treats with this $25 Gift Card from Save on Foods.

Valued at $25Current bid: $25

Donated By Save-on Foods, Ravine Way Saanich

$25
$25

Thrifty Foods Gift Basket

You'll appreciate this wonderful assortment of treats for the holidays, selected by the wonderful staff at Thrifty Foods, Sidney.

Valued at $100Current bid: $60

Donated By Thrifty Foods, Sidney

$100
$60

Farm & Field Butchers, Gift Certificate for $100

This $100 gift certificate to Farm & Field Butchers allows you to select meat and poultry for your table that is naturally raised with no antibiotics or hormones, free range, pastured and fed a biologically appropriate diet.

Farm & Fields Butchers is the place to go for meat and poultry, all sourced from local and ethical farms.

Valued at $100Current bid: $90

Donated By Farm & Field Butchers

$100
$90

SPECIALTY ITEMS

Cashmere Throw Blanket, Black Goat Cashmere

Wrap yourself in the fine warmth of this 100% cashmere throw blanket from Black Goat. 55"x 78"

A beautiful accessory for your home, in an elegant plaid of gorgeous neutral tones, this is an investment in comfort that will be enjoyed!

Valued at $1,000Current bid: $0

Donated By Black Goat Cashmere

$1,000
$0

In-home 2 Hour Art Consultation, Art Gallery of Victoria

Transform Your Space!

Spend two hours with the AGGV's own Karen Cooper, who can assist you with the selection of original art by local artist to bring life to the bare walls in your home or office, or refresh your collection by rehanging and rearranging your art.

A wonderful opportunity to bring a new look and energy into your space.

Valued at $250Current bid: $0

Donated By Art Gallery of Greater Victoria

$250
$0

BMW branded Gift Assortment, BMW Victoria

If you are behind the wheel of a BMW, or know someone who is, they'll enjoy this assortment of BMW branded gifts.
BMW German Made key ring disc
Baseball cap with leather strap & logo Classic Collection BMW gold balls by Teitlist
"Sparkling Raindrops" air freshener kit made in Italy Deluxe insulated water bottle
BMW Collector's edition pen
Umbrella
Mousepad

Valued at $250Current bid: $0

Donated By BMW Victoria

$250
$0

Emergency Preparedness Kit, Ross Bay Home Hardware

Ross Bay Home Hardware wants to make sure you're prepared for an emergency or disaster with this deluxe kit, suitable for 4 people.

Prepared in accordance with specifications from the Canadian Red Cross, this kit contains over 40 items, including: a Red Cross Biohazard Bag with sanitization and personal protection gear, emergency lighting, tools, a siren, shelter, blanket, food and much more.

If having a kit like this has been on your to-do list, this is your chance for your and your family to be prepared.

Valued at $200Current bid: $200

Donated By Ross Bay Home Hardware

$200
$200

James Moder Crystal Bowl Chandelier, Illuminations Lighting

Light up your home with this elegant and brilliant crystal chandelier by James Moder.

A stunning way to refresh your home's decor.

Dimensions: 32" H x 19" D

Valued at $4,900Current bid: $0

Donated By Bob and Wendy MacRitchie

$4,900
$0

Open Frame 6 Light Chandelier, Illuminations Lighting

Modern, geometric 6 light open frame chandelier from Illuminations Lighting.

A versatile light fixture that will look good in traditional and contemporary homes.

Dimensions: 44" H x 24" D

Valued at $1,429Current bid: $0

Donated By Bob and Wendy MacRitchie

$1,429
$0

Small Open Frame 3 Light Chandelier, Illuminations Lighting

This airy open frame 3 light chandelier is the perfect "grand" look for smaller spaces.

Dimensions: 26" H x 20" D

Valued at $1,085Current bid: $0

Donated By Bob and Wendy MacRitchie

$1,085
$0

Handmade Leather Bicycle Bag & Bike Tune up

Art, form, and function, for all of you cyclists out there!

This handmade leather Oaklands bicycle bag, made by Bao Li of Bao Shoemaker, is a showstopper and it could be yours - Pair it with this gift certificate for a full tune-up for your bike at the North Park Bike Shop, and you're set!

Check out the fine selection of handmade shoes at Bao Shoemaker, and the bikes and gear at North Park Bike Shop - two fabulous locally owned businesses.

Valued at $150Current bid: $100

Donated By

Bao Shoemaker
North Park Bike Shop

$150
$100

La-Z-Boy Shopping Spree with a $300 Gift Certificate

Home comfort is playing big role in our lives these days, and this $300 gift certificate for home furnishings at La-Z-Boy will ensure that you are in comfort this winter.


The certificate is valid until December 31, 2021, and cannot be used as payment on existing accounts, or on hot buys or final markdowns.Valid on REG, PLEXi and Featured pricing.

Valued at $300Current bid: $125

Donated By La Z Boy Home Furnishing and Decor

$300
$125

Options Picture Framing, $200 Gift Certificate

Reframe your art or showcase something new with this $200 gift certificate to Options Picture Framing.

Valued at $200Current bid: $95

Donated By Options Picture Framing

$200
$95

New Sails for your boat, Precision Sails

A unique offer to outfit your sailboat with brand new sails is coming your way with this $2,500 gift certificate from Precision Sails in Sidney, BC.

Whether you're after a basic cruising Dacron or a performance racing membrane, Precision sails are trusted by cruisers and racers alike from around the globe. They have a huge selection of custom sailboat sails and can offer economical options for sailors on a tight budget as well.

The $2500 gift certificate from Precision Sails can be used towards any kind of sail the client would like, whether that be a head sail, main sail, spinnaker etc. We ship anywhere in the world and the certificate can be used during our Black Friday sale or any other promotions we might have throughout the year. Our sails come in a variety of materials including dacron, laminate, carbon and aramid and we can design a custom sail for any boat. We offer numerous types of sail cloth quality that can be chosen based on the client's needs and we have a 100% Perfect Fit Guarantee. The client can find their boat type and request a quote by going to our website at www.precisionsailloft.ca through our easy step by step quote form. Our phone number is 1-888-958-5638. We make sure our clients are always completely satisfied with their purchase from Precision Sails.
(Shipping and taxes not included).

Valued at $2,500Current bid: $0

Donated By Precision Sails

$2,500
$0

Provenance Fine Things $50 Gift Certificate

Amazing gifts, jewelry, and home decor are to be found at Provenance Fine Things.

A shop not to be missed, so pick up this gift certificate and pay them a visit this holiday season!

Valued at $50Current bid: $50

$50
$50

St. Geneve Organic Cotton Sheets, Muffett & Louisa

Unbelievably smooth and fine, these organic cotton sheets by St. Geneve are the definition of luxury bed linens . . .

This gorgeous sheet set is king-sized, and offered in a lovely ivory tone.

St. Geneve is a world-renowned Canadian manufacturer of luxury bed linens and quality down products.

Valued at $650Current bid: $250

Donated By Muffett and Louisa

$650
$250

Sidney Cleaners, $200 Gift Certificate for Dry Cleaning

Sidney Professional Cleaners specializes in the dry cleaning of wedding dresses, silks, down and wet cleaning, and this $200 gift certificate is a solid investment in the care of your clothes and household fabrics.

Your precious items are in very capable hands with Stew and Leslie at Sidney Cleaners.

Valued at $200Current bid: $35

Donated By Sidney Cleaners

$200
$35

Classical Guitar Starter Package, Tom Lee Music

Always dreamed of playing the guitar?

If you or someone you know has, then this Classical Guitar Starter Package from Tom Lee Music is for you. It's complete with a FC100 Fender Classical Guitar, a Classical Guitar stand, Gig bag, tuner, a spare set of strings and the Modern Approach to Classical Guitar to get you started.

With thanks to Tom Lee Music, Pacific Opera sponsor and long time supporter of the arts, for this incredible musicians' package.

Valued at $255Current bid: $100

Donated By Tom Lee Music

$255
$100

Outdoor Nature Photo Shoot, Mackenzie Lawrence Photography

Treat yourself to a solo, duo, or family photography session in nature with Pacific Opera Victoria's own Mackenzie Lawrence.

Pick your favourite spot in the Greater Victoria Region and spend an hour outside capturing the natural beauty of the island when it's framing your inner glow.

Check out her photography here:
https://mlawrence256.wixsite.com/photography/people

Date, time and location for the photo shoot to be arranged upon mutual agreement.

Valid until December 1, 2021

Valued at $250Current bid: $150

Donated By Mackenzie Lawrence

$250
$150

Handmade Felted Holiday Decor, Stix n' Prick

Decorate your space for the holidays with these charming, hand-made felted decor pieces.

The set contains:
-Felted Decor Trees
-Two Acorn Garlands
-A collection of eight single felted Acorn Ornaments

This wonderful festive holiday offering comes to you from our own Kristen Sands, who has worked for Pacific Opera for the past 27 years as the Leads Props Builder. Kristen first started felting eight years ago when she was inspired by the over abundance of acorn caps in her backyard.

For all those Hallmark Christmas show enthusiasts, keep your eyes open for Kristen's work in the coming few days!

Valued at $150Current bid: $50

Donated By Stix n' Prick

$150
$50

JEWELRY

14K & sterling silver Hummingbird bracelet, Joe Descoteaux

A 14K & sterling silver Hummingbird bracelet beautifully and exquisitely handcrafted by Indigenous artist Joe Descoteaux of the Kwagiulth First Nations.

Bracelet is ⅜" wide x 6" long

Or Purchase at the BUY IT NOW price and choose the design (Bear, Eagle, Hummingbird, Orca, Raven, Wolf) and ring size of your choice.

Allow up to 14 days for delivery.

Valued at $650Current bid: $325

Donated By Westcoast Auctions

$650
$325

14K & sterling silver Orca Pendant, Joe Descoteaux

14K & sterling silver Orca Pendant beautifully and exquisitely handcrafted by Indigenous artist Joe Descoteaux of the Kwagiulth First Nations.

OR purchase at the BUY NOW price and choose your design.
(Eagle, Hummingbird, Orca, Raven, Thunderbird, Wolf)

ALLOW UP TO 14 DAYS FOR SHIPPING

Valued at $450Current bid: $0

Donated By Westcoast Auctions

$450
$0

14K & Sterling Silver Raven Earrings, Joe Descoteaux

14K & sterling silver Raven earrings beautifully and exquisitely handcrafted by Indigenous artist Joe Descoteaux of the Kwagiulth First Nations.

OR

Purchase at the BUY IT NOW price and choose your design.
(Eagle, Hummingbird, Orca, Raven, Thunderbird, Wolf)

ALLOW UP TO 14 DAYS FOR SHIPPING

Valued at $450Current bid: $0

Donated By Westcoast Auctions

$450
$0

3/8" wide 14K & Sterling Silver Orca Ring

A ⅜" wide 14k & Sterling Silver Orca Ring beautifully and exquisitely handcrafted by Indigenous artist Joe Descoteaux of the Kwagiulth First Nations.

Ring Size 7

Or

Purchase at the BUY IT NOW price and choose the design (Bear, Eagle, Hummingbird, Orca, Raven, Wolf) and ring size of your choice.
Allow up to 14 days for delivery.

Valued at $325Current bid: $0

Donated By Westcoast Auctions

$325
$0

Amethyst Neckpiece, Barbara Adams

Dark tones set off the rich crystals of amethyst in this artful, dramatic four strand necklace by local jewelry artist Barbara Adams. 19"

Valued at $395Current bid: $185

Donated By Jewels By Barba Design

$395
$185

Bering Wristwatch

A classic men's timepiece: this wristwatch by Bering is lightweight, sleek and stylish.

Bering Wristwatch (Men's) Model 11939-078

Valued at $230Current bid: $100

Donated By Michael Morres

$230
$100

18K Gold, amethyst & seed pearl bracelet, Francis Jewellers

A rare opportunity to capture this unique 18KT yellow gold vintage Amethyst and Pearl bracelet and make it your own.

Very pretty and classic!

7" long containing four oval modified brilliant cut natural amethysts, measuring 5.00 x 3.90 x 2.54mm, approximate total weight of 1.12 ct. Bracelet has a box clasp & figure 8 safety clasp.

Total weight of bracelet is 143.30 gm

Valued at $1,950Current bid: $0

Donated By Francis Jewellers

$1,950
$0

Sterling Silver Figural Pendant & chain, Francis Jewellers

This open design pendant is light, airy and the female figure evokes a sense of grace. A delightful feature pendant to complement your wardrobe. The silver chain has a spring ring clasp.

Chain length is 22 inches long with a matte and polished finish. Total weight 16.35 gm.

New

Valued at $500Current bid: $100

Donated By Francis Jewellers

$500
$100

Handmade Beaded Fringe Earrings, Brandi Lancaster

Statement earrings with a beautiful natural sway, designed and finely beaded by Brandi Lancaster, Kwak'waka'wakw.


Size: 4.5" length, 1 1/3" wide

Valued at $150Current bid: $100

Donated By Westcoast Auctions

$150
$100

Metal & Silk Necklace & Earring Set, Mimi Roy

Natural, earthy colours make this a handsome set to wear dressed up for the office, or to accent casual weekend wear. Necklace "17.5" Earrings 3

Mimi Roy's one of a kind creations are 'Upcycled' from a vintage silver plate, platter or serving tray. Some of these metal wares date back to the early 1900's when times were simpler before today's quick paced lifestyles, computers and cell phones. Perhaps by wearing a piece of history one will be reminded to slow down and take a breath . . even if only for a moment.

Valued at $150Current bid: $105

Donated By Mimi Roy, Cowichan Artisans Guild

$150
$105

Sterling Silver Earrings "Flow," Corrine Hunt

Northwest Coast First Nations Sterling Silver Earrings "Flow" Corrine Hunt, Kwak'waka'wakw, Co-Designer of the 2010 Olympic Medals.

Valued at $150Current bid: $0

Donated By Westcoast Auctions

$150
$0

Pearl Necklace

Beautiful strand of pearls with modern streamlined clasp. 16"

Valued at $350Current bid: $90

Donated By Barbara Hubbard

$350
$90

Rock Crystal & Silver Necklace and Earring Set

Define yourself with this statement vintage rock crystal and silver necklace and earring duo. The detail on the silver work is sublime and its neutral palette will work well with any wardrobe. This eye-catching piece has a substantial weight to it. Necklace 17" long. Earrings 2" long.

A unique and fabulous item from the treasure trove at Galleon Books & Antiques in Sidney.

Valued at $800Current bid: $125

Donated By Galleon Books & Antiques

$800
$125

STAYCATIONS

Yukon Get Away, Air North & NVD Yukon Hotels

See the Northern Lights!

Move this item off your bucket list and take off with Air North to visit Canada's Yukon with this wonderful get-away!

Two return economy class air tickets on Air North from Victoria or Vancouver, to Whitehorse, Yukon with two nights of accommodation at either the Edgewater or the Gold Rush Inn in Whitehorse, courtesy of NVD Yukon Hotels.

Valid for 12 months, with a case by case basis for extension as per COVID conditions, with blackouts for the Christmas week.

Valued at $1,000Current bid: $800

Donated By Air North & NVD Yukon Hotels

$1,000
$800

Four Nights Accommodation at the Chateau Victoria

Experience warm hospitality, casual elegance and supreme comfort in an authentically local hotel located in the heart of downtown Victoria.

A treat for yourself or visiting family and friends - a full four night's accommodation in a One Bedroom Suite (parking included).

Expires December 15, 2021, Subject to availability, with limited availability on Friday and Saturday evenings.

Chateau Victoria is a proud sponsor of Pacific Opera Victoria.

Valued at $1,500Current bid: $500

Donated By Chateau Victoria

$1,500
$500

Local Luxury at the Fairmont Empress

The Fairmont Empress welcomes you to enjoy a two Night consecutive stay for two on Fairmont Gold.

Take advantage of the stunning harbour location, architectural elegance and luxurious comfort of this landmark hotel.

Subject to availability, Inclusive of room & tax. Note that room nights must be taken consecutively. Excludes Fri/Sat in July and August and December 24 - 26 and December 31.

Valued at $1,300Current bid: $666

Donated By Fairmont Empress

$1,300
$666

Sidney Vacation Package: Sidney Pier Hotel, Spa & Ten Acres

An absolutely spectacular Staycation opportunity awaits you with this package - A one night stay in Seaview at the Sidney Pier Hotel, a $50 gift certificate for a treatment at the Haven Spa, and a $100 gift certificate to Ten Acres at the Pier for dinner! Shop the marvellous nearby boutiques and take advantage of all Sidney has to offer.

Plan on a fabulous time!

Accommodation expires October 31, 2021. Not valid on long weekends or blackout periods.

Valued at $380Current bid: $200

Donated By Sidney Pier Hotel & Spa, Ten Acres at the Pier

$380
$200

Rest & Relaxation at the Inn at Laurel Point

Come and relax with One Night's deluxe accommodation in an elegant Erickson Wing Studio, plus valet pairing and breakfast for two at the Laurel Point Inn.

Newly renovated, you'll enjoy the serene ambience, delicious food and genuine hospitality.

Certificate valid until December 31, 2021. Black out dates - July & August. Not valid Holidays or Holiday Weekends, subject to availability.

Valued at $289Current bid: $200

Donated By The Inn at Laurel Point

$289
$200

Overnight in a Harbour View Suite, Union Club of BC

Perfect for yourself or for visiting family or friend!

Enjoy an overnight stay The Union Club, with one night accommodation for two in a Harbourview Suite with a full breakfast in the MacGregor Lounge following your stay.

Expires October 15, 2021, some restrictions may apply.

Valued at $399Current bid: $150

Donated By The Union Club of BC

$399
$150

Two night stay in world-famous Tofino awaits you, Hotel Zed

Have a fun couple of nights in the retro-chic Hotel Zed Tofino!

A world class natural setting awaits you in Tofino on Vancouver Island. Experience a place like no other where ocean meets forest, and take time to enjoy the small coastal village of Tofino with its unique array of sites, shops and eateries.

Accommodation at Hotel Zed is valid until December 2021.Not valid July and August & Long Weekends during the year. Reservations must e made at least 7 days prior to arrival and are subject to availability.

Enjoy your stay in Tofino with Hotel Zed!

Valued at $280Current bid: $250

Donated By Terry and Leslie Farmer

$280
$250

FASHION

AYRTIGHT Wool Wrap, Moden Boutique

Keep this AYRTIGHT Wrap close year round - a warm layer over a coat, or instead of one! Light weight, boiled wool fabric, 60% Viscose/40% Wool, is cut in an over sized "U" shape to make it easy to wear with flair. 54"X 40"



Warm, stylish and timeless!

Valued at $200Current bid: $165

Donated By Moden Boutique

$200
$165

Black Kid Leather Fringed Gloves, Moden Boutique

Experience these fashionable, comfortable fringed black kid leather gloves made of premium leather with 100% wool lining.

Another one size cold weather accessory full of personality - perfect with a wrap, or a bracelet sleeve jacket.

Valued at $80Current bid: $50

Donated By Moden Boutique

$80
$50

Cashmere Shawl in Sky Blue, Baden-Baden Boutique

The sky is your limit when you wrap yourself in this luscious sky blue cashmere wrap by Oats Cashmere, courtesy of Baden-Baden Boutique, a local destination for fine hand-selected fashion items. 36"x 86"

Valued at $319Current bid: $200

Donated By Baden-Baden Boutique

$319
$200

D.G. Bremner Menswear, Gift Certificate for $100

Complement your wardrobe with some shopping at D.G. Bremner's Menswear, a luxury sportswear store for men, focussing on adult denim and fabulous shirts.

Perfect for yourself or as a gift for the holidays!

Valued at $100Current bid: $0

Donated By D.G. Bremner Menswear, Sidney

$100
$0

Estonian Lace Silk & Mohair Scarf

Light, airy and wonderfully warm, this beautiful Estonian lace scarf was hand-knit for the auction by opera supporter and fiber artist, Jeannie MacDonald.

Made from Shibui yarn in an aubergine colorway, from a 40% Silk and 60% Kid mohair blend. 52" x 11"

Gorgeous!

Valued at $135Current bid: $110

Donated By Jeannie Macdonald

$135
$110

Hand-tailored Cotton Jacquard Robe, Unisex

Hand-tailored by Tetyana V. Tailoring, this cotton jacquard robe in a rich black with scarlet red piping is the item to have for those relaxing moments at home.

The robe is designed to be unisex, and is sized to fit as a Large to X-Large.

Valued at $300Current bid: $175

Donated By Tetyana V. Tailoring

$300
$175

Stripes Collection Gift Basket, Hudson's Bay

Classic collection of Stripes from the Hudson's Bay Company, for yourself or as a gift -

Collection includes a knit hat, scarf, ear muffs, umbrella, cosmetics bag and a thermal coffee mug.

Valued at $150Current bid: $50

Donated By The Bay Mayfair

$150
$50

Outlooks for Men, Gift Certificate for $250

Enjoy a shopping trip to Outlooks for Men: Victoria and Duncan's go-to menswear shop for guys who are going places.

Beautiful suits, a polished look in shoes, basic staples, and quirky accessories are all on offer as is expert tailoring and the best customer service in town (according to our customers).

Valued at $250Current bid: $135

Donated By Outlooks for Men

$250
$135

Roberta's Hats, Gift Certificate for $50

Victoria's own hat shop has the hat for you (and on occasion, for Pacific Opera's own artists on stage!) -
Caps, Cloches, Fedoras, Toques! All kinds of hats to keep you cozy, comfortable and stylish this autumn...

With this gift certificate, you can head to the shop or browse and shop for some of Roberta's best-selling hats from the comfort of home!

Valued at $50Current bid: $30

Donated By Roberta's Hats

$50
$30

Waterlily Shoes, Gift Certificate for $100

Head to this shoe boutique in Sidney to select something special form their array of fashion forward footwear, clothing, bags and accessories!

Waterlily Shoes takes great pride in their unique assortment of beautiful footwear, curated for their diverse customer profile.

Valued at $100Current bid: $60

$100
$60

GIFT BASKETS

Carmen Gift Basket

Recreate the warmth and spice of a night at Lillas Pastia's tavern with the scents and tastes of Spain. Indulge in rich wines and practice your most persuasive seguidilla.

This wonderful gift basket contains some special items:
-$50 Gift Certificate to Fig Mediterranean Deli
-Boxed set of CDs, Herbert von Karajan's Carmen
-Gold tone Bracelets & Bangles
-Spanish Spices: Simply Organic Cayenne, Safransol & Sweet Smoked Paprika
-Set of 3 Heritage Spanish Recipes
-3 Bottles of wine: Carmen Gran Reserve 2017, Chianti Classico Riserva Ricasoli 2016 and Gabo do Xil Godello

Please note that bidders must be over 19 years of age to bid on this item.The government requires PST to be paid on the alcohol items in this lot.

Valued at $210Current bid: $110

Donated By

Fig Mediterranean Deli
Don and Charmaine Lovell
Board and Trustees of Pacific Opera Victoria

$210
$110

Entertaining at Home Gift Basket

This basket has everything you need to have a night out, at home!

A lovely collection of books, wine and a gift certificate to The Whole Beast Artisan Slumeria, and a little Puccini to keep you company!

Contents:
-The Whole Beast Gift Certificate $50
-Jamie Oliver's Christmas Cookbook & Munro's Tote Bag
-Set with Style, Caroline Clifton-Mogg
-Opera at Home Cookbook
-2 bottles of wine: Volnay Joseph Drouin 2017 & L'Ancien Beaujolais 2016
-Puccini's il trittico, 2 CD Boxed Set

Please note that bidders must be over 19 years of age to bid on this item. The government requires PST to be paid on the alcohol items in this lot.

Valued at $345Current bid: $110

Donated By

The Whole Beast Artisan Slumeria
Karen Jensen
Munro's Books
Don and Charmaine Lovell
Board and Trustees of Pacific Opera Victoria

$345
$110

Flight Gift Basket

Instead of flying this holiday season, keep your feet on the ground and enjoy a plush staycation in the comfort of your own home with tasty treats and colourful cocktails, and an original vocal score from Flight, signed & personalized for you by Flight composer Jonathon Dove.

Contents:
- Vocal score from Flight*, signed by Jonathon Dove
-Empress Gin
-Bitter Truth Cocktail Bitters, Travellers Set
-Stainless steel cocktail jigger
-Cuisinox Cocktail Shaker
-Two pairs of cozy velour socks by BCBG
-Camel coloured wrap with faux fur pockets
-Two travel-sized Pre de Provence Hand Butters, Coconut & Lavender
-Sirene Chocolate, Dolfin Pink Peppercorn Dark Chocolate
-Old School Coffee Salt
-Two Pacific Opera branded Luggage Tags
-Pacific Opera face mask
* The vocal score will receive a personalized signature once we have a winning bidder; please allow a few weeks for the signed score to arrive from the United Kingdom.

Please note that bidders must be over 19 years of age to bid on this item. The government requires PST to be paid on the alcohol items in this lot.

Valued at $295Current bid: $160

Donated By

Victoria Distillers
La Roux Patisserie
Board and Trustees of Pacific Opera Victoria

$295
$160

The Flight of the Hummingbird Gift Basket

In the spirit of Dukdukdiya, we encourage you to do what you can for our environment. This incredible basket contains a host of items donated by local businesses invested in sustainability, along with a copy of The Flight of the Hummingbird book, signed by author and librettist, Michael Nicoll Yahgulanaas.

Enjoy local products, grow wildflowers, marvel at hummingbirds, and reflect on the importance of caring for our environment.

Contents:
-The Flight of the Hummingbird book, signed copy
-The Good Planet $25 Gift Certificate
-The Very Good Butchers $25 Gift Certificate
-High Perch Hummingbird Feeder with four moats & Hummingbird Swing
-La Roux Patisserie, Country Bee Small Batch Honey & Beeswax Wraps
-Native Wildflower Seeds, 2 packages
-Wild Bird themed napkins
-Nezza Naturals Himalayan Bath Salts, 500g & Cocoa Cafe Lotion
-Copper Bracelet with stone
-Glass Hummingbird ornament
-Wine: Calliope Figure 8 Cabernet Merlot & Nerube Montepulciano d'Abruzzo Red 2017

Please note that bidders must be over 19 years of age to bid on this item. The government requires PST to be paid on the alcohol items in this lot.

Valued at $335Current bid: $150

Donated By

Wild Birds Unlimited
The Very Good Butchers
La Roux Patisserie
The Good Planet Company
Nezza Naturals
Donna and John deHaan
Board and Trustees of Pacific Opera Victoria

$335
$150

Needlework & Knitter's Delight Gift Basket

Cozy winter nights are made for crafting with wine!

The delightful gift basket sets you up for your next project and a visit to these shops will certainly inspire you.

Basket contains:
-$50 Gift Certificate to Button & Needlework Boutique
-$50 Gift Certificate to Beehive Wool Shop
-High quality tailoring shears, Size 300
Wine: Red Rooster Cab Merlot BC 2017 & Clarendelle (White) Bordeaux 2018

Please note that bidders must be over 19 years of age to bid on this item.The government requires PST to be paid on the alcohol items in this lot.

Valued at $176Current bid: $170

Donated By

Beehive Wool Shop
Button & Needlework Boutique
Sawyer Sewing Centre
Board and Trustees of Pacific Opera Victoria

$176
$170

Designing Divas: Leading Lady Fabrics & Gala Certificate

Unique, creative and delightful - just like the opera! This gift basket is an amazing offering -

A five star gift basket complete with fabric squares from a carefully curated list of our main stage leading roles over the past few years of Pacific Opera Production. These gorgeous fabrics are packaged with a $100 gift certificate to Gala Fabrics, a pair of quality tailoring shears, black and gold thread, sewing pins, a measuring tape and a set of four handmade iridescent glass buttons.

The squares are sized at 24" x 24" which is perfect for cushion covers or inserts in a one-of-a kind garment for yourself or an opera-loving friend or family member.

The 15 fabrics included are tagged by role, artist and opera as follows:
-Role of Amelia, Lara Ciekiewicz, Simon Boccanegra
-Role of Mother Goose, Rebecca Hass, The Rake's Progress
-Role of Flora, Heather Jewson, La traviata
-Role of Violetta, Sookhyung Park, La traviata
-Role of Violetta, Sookhyung Park, La traviata
-Role of Countess Maritza, Leslie Ann Bradley, Countess Maritza
-Role of Tisbe (Ugly Sister), Marion Newman, La Cenerentola
-Role of Tisbe (Ugly Sister), Marion Newman, La Cenerentola
-Role of Cenerentola, Julie Boulianne, La Cenerentola
-Role of Prince (Don Ramiro), Brian Stucki, La Cenerentola
-Role of The Countess, Erin Wall, Capriccio
-Role of Juno, Anita Krause, Semele
-Role of Cio-Cio San, Sally Dibblee, Madama Butterfly
-Role of Lady Billows, Sally Dibblee, Albert Herring
-Role of Lady Billows, Sally Dibblee, Albert Herring

Many of these fabrics were sourced from New York and other far-away locations, and are not only rare and beautiful, but priceless for their main stage presence.

Valued at $470Current bid: $175

Donated By

Pacific Opera Victoria
Gala Fabrics
Sawyer Sewing Centre
Chanah Caplan

$470
$175

Build Your Own Set, Tool Box & Tools

An opera auction wouldn't be complete without a Build Your Own Set gift basket, so here's one created just for you.

Whether you want to upgrade your own tools, or set someone up with just what they need to get the job done, this is a must-have collection of items!
(The laser measure replaces your old measuring tape and is accurate to 1/4" - perfect for home repair, renos and realtors!)

The Package contains:
Milwaukee 3/8" Power Drill
Milwaukee 95 piece Drill Accessory Pack
Benchmark Laser Measure, 32'
5 in 1 Smooth Ratchet Screwdriver
Cordless Multi-Pivot Driver with 8 bits
3 piece High Leverage Plier Set
Workcrew sturdy 19" Tool Box with removable tray

Valued at $315Current bid: $120

Donated By

Castle Building Supply, Cook and Bay Street locations
Ross Bay Home Hardware
Karen Jensen
Board and Trustees of Pacific Opera Victoria

$315
$120

ART

Oil Painting by Adam Noonan

Street Cafe by Adam Noonan, exquisitely rendered slice of a familiar scene. Oil, Size: 9 3/4" x 11 3/4", Framed.

Valued at $500Current bid: $0

Donated By Estate of Bob and Jo Durie

$500
$0

Pair of Lidded Vessels by Yves Louis-Seize

Two Japanese style lidded vessels handbuilt by Montreal sculptor and ceramist Yves Louis-Seize. Size: 4" x 6.5" and 3" x 4.5."

These beautiful hand-built ceramics come to our holiday auction with the generous participation of Dorothy and David Torontow.

Born in Saint-Andre-Avellino (Ottawa) in 1950, Jean Louis-Seize lives and works in Montreal where he earned a Master of Fine Arts (University of Quebec at Montreal, 1989). Active since the early 1980's, the artist divides his time between teaching and creation. He currently teaches sculpture and ceramics at the University of Montreal, Centre de Ceramique Bonsecours (Montreal) and at Cegep du Vieux-Montreal.

Valued at $225Current bid: $0

Donated By Karen Jensen

$225
$0

Ceramic Stoneware Bowl, by artist Ed Drahanchuk

Large stoneware bowl by leading Canadian studio potter Ed Drahanchuk. size: 13.4"x3.5"

This beautiful hand-built ceramic comes to our holiday auction with the generous participation of Dorothy and David Torontow.

Valued at $260Current bid: $60

Donated By Karen Jensen

$260
$60

Black Glazed Vessel with open top

Impressive large studio art pottery. Signed by unknown artist. 14.5" tall.

This beautiful hand-built ceramic comes to our holiday auction with the generous participation of Dorothy and David Torontow.

Valued at $450Current bid: $0

Donated By Karen Jensen

$450
$0

Ceramic Vessel with Diagonal Movement

Artful, organically-shaped studio pottery, mid-century style. A beautiful piece to display, as a stand alone art piece or to add to a collection. 7.5" tall

This beautiful hand-built ceramic comes to our holiday auction with the generous participation of Dorothy and David Torontow.

Valued at $225Current bid: $0

Donated By Karen Jensen

$225
$0

Tall Ceramic Vessel with Lid

Stately, tall, lidded vessel. Glazed stoneware, studio pottery. Signed with chopmark by unknown maker. 13.5" tall

This beautiful hand-built ceramic comes to our holiday auction with the generous participation of Dorothy and David Torontow.

Valued at $300Current bid: $50

Donated By Karen Jensen

$300
$50

Fine Ceramic Vessel, Cathi Jefferson, Cowichan Artisans

Lively organic salt fired sculptural art vase by Cowichan Valley studio potter Cathi Jefferson. 14" tall, 5" at base.

Valued at $250Current bid: $0

Donated By Cathi Jefferson, Cowichan Artisans Guild

$250
$0

Tudor Home, Jennifer Lawson, Cowichan Artisans

Bright, bold watercolour painting of a tudor style home, by local artist Jennifer Lawson. Size: 31" x 25 1/4", framed.

Valued at $1,400Current bid: $0

Donated By Jennifer Lawson, Cowichan Artisans Guild

$1,400
$0

"Remember September," Laurel Hibbert, Cowichan Artisans

"Remember September", a warm, welcoming artwork showcasing a free spirit celebrating the autumn by local artist, Laurel Hibbert.
Medium: Acrylic on canvas
Size: 12" x 36"

Valued at $1,400Current bid: $250

Donated By Laurel Hibbert, Cowichan Artisans Guild

$1,400
$250

Sailboats, Carole Sabiston

Blue Sailboats, a vibrant coastal scene by renowned Victoria artist and Pacific Opera collaborator Carole Sabiston. Mixed media, 31" x 25.5" Framed.

Valued at $1,800Current bid: $500

Donated By Estate of Bob and Jo Durie

$1,800
$500

Buffalo, Clemence Wescoupe

Buffalo by Clemence Wescoupe (1951-2018). Long Plains First Nation (Ojibway), prominent and bestselling Ojibway artist in the Woodlands School.
Size: 20 3/4" x 16 3/4", Framed.

Valued at $150Current bid: $50

Donated By Lydia Wingate

$150
$50

Kingfisher, Clemence Wescoupe

Kingfisher by Clemence Wescoupe (1951-2018). Long Plains First Nation (Ojibway), prominent and bestselling Ojibway artist in the Woodlands School.
Size: 20 3/4" x 16 3/4", Framed

Valued at $150Current bid: $50

Donated By Lydia Wingate

$150
$50

Migration, Clemence Wescoupe

Migration by Clemence Wescoupe (1951-2018). Long Plains First Nation (Ojibway), prominent and bestselling Ojibway artist in the Woodlands School.
Size: 20 3/4" x 16 3/4", Framed

Valued at $150Current bid: $50

Donated By Lydia Wingate

$150
$50

Mother & Child, Clemence Wescoupe

Mother and Child by Clemence Wescoupe (1951-2018). Long Plains First Nation (Ojibway), prominent and bestselling Ojibway artist in the Woodlands School.
Size: 20 3/4" x 16 3/4", Framed.

Valued at $150Current bid: $0

Donated By Lydia Wingate

$150
$0

Bath by Deirdre Roberts

A peaceful water feature by former Pacific Opera Artist in Residence.
Medium: Watercolour
Size: 19.5" x 15.5" Framed.

Valued at $1,800Current bid: $0

$1,800
$0

Oxford Cloister, Deirdre Roberts

Oxford Cloister, an atmospheric watercolour by former Pacific Opera Artist in Residence, Deirdre Roberts. Size: 20.5" x 27" Framed.

Valued at $2,100Current bid: $0

Donated By Donovan Waters

$2,100
$0

Rialto Bridge, Deirdre Roberts

Rialto Bridge, by Deirdre Roberts, a lively view of the famous Rialto Bridge over the Grand Canal in Venice, watercolour, Size: 19.5" x 15.5" Framed.

Valued at $1,800Current bid: $0

Donated By Estate of Bob and Jo Durie

$1,800
$0

Venice, Deirdre Roberts

Venice, by Deirdre Roberts, a moody slice of canal, gondola and Venitian architecture, Watercolour, Size: 19.5" x 15.5", Framed.

Valued at $1,800Current bid: $0

Donated By Estate of Bob and Jo Durie

$1,800
$0

Rocky Mountains, Elaine Fleming

The majesty of Canada's Rocky Mountains captured in an original painting by Canadian artist, Elaine Fleming. Medium: Watercolour on paper, Size: 23" x 30," Framed

Valued at $450Current bid: $0

Donated By Christine Seaville

$450
$0

Print, Flemming Jorgensen

A work by Flemming Jorgensen (1934-2009). This beautiful print evokes a calm and minimalist feeling, and would be a gorgeous addition to any home. The vessels depicted were owned by Jorgensen and crafted by his good friend, Wayne Ngan. 1980, 7/15 in the series. 23"x 28" Framed.

This print has been beautifully framed by Prestige Framing who have generously donated time and materials.

Valued at $500Current bid: $150

Donated By Bette Gallander, artwork donor, and Prestige Picture Framing

$500
$150

Scene on Saltspring Island, Gary Brandstadt

Bring nature into your home with this original painting of a forest waterfall that invites you to stop and stay awhile.

Painted by local artist and opera supporter, Gary Brandstadt, acrylic and oil, 26 1/4' x 32," framed.

Further art viewing at www.garybrandstadt.com

Valued at $550Current bid: $0

Donated By Gary Brandstadt

$550
$0

Shoreline, Graham Herbert

This stunning feature-sized painting is by renowned artist Graham Herbert. The painting was purchased directly from the artist in his Sidney studio, and has had single ownership since that time, watercolour, 33 1/4"W x 41 1/4"H, framed.

Valued at $5,000Current bid: $0

Donated By Lynda and Murray Farmer

$5,000
$0

Castle, Iola Scott

Castle, by Iola Scott, lovely petite landscape scene. Oil, Size: 9 3/4" x 11 3/4", Framed.

Please note that there is a slight flaw in the top right portion of the frame.

Valued at $350Current bid: $150

Donated By Estate of Bob and Jo Durie

$350
$150

Snowfall, Iola Scott

Snowfall by Iola Scott, beautiful winter scene of fresh snow. Oil, Size: 9 3/4" x 11 3/4, Framed.

Valued at $350Current bid: $0

Donated By Estate of Bob and Jo Durie

$350
$0

Framed score from Mignon

In a charming vintage frame, Titled "Thomas"and Mignon" probably from Ambroise Thomas' opera Mignon. Size: 18.5" x 15"

Please note that this is a vintage item and there is slight damage to one corner of the frame.

Valued at $100Current bid: $65

Donated By Maryla Waters & Jacquelyn Mulders

$100
$65

Stepping Out, Nancy Slaght

A lovely nature-themed artwork by artist Nancy Slaght to lift your spirits and inspire new beginnings.
Medium: Soft Pastel, Size: 16" x 18" , Framed.

Valued at $350Current bid: $0

Donated By Lydia Wingate

$350
$0

Westcoast Seascape, S. Petley-Jones

Restful seascape with gorgeous sculptural movement in the ocean waves, 1980, by Stanley Petley-Jones.
This artwork is in excellent condition in original frame. Medium, acrylic on canvas. Size: 15 3/4" x 19 3/4"

Artist: Stanley Petley-Jones, b.1911-d.1986

Valued at $350Current bid: $150

Donated By Martin and Angele Segger

$350
$150

Westcoast Cruiser, Robert Amos

West Coast Cruiser" by well-known artist and writer Robert Amos. Watercolour, Size: 22 1/4" x 28 3/4", Framed.

Valued at $3,000Current bid: $0

Donated By Phil Rogers and Sheila Grigg

$3,000
$0

Thunderbird Drum, Rex Tom

Thunderbird Artwork by Rex Tom, 2010. Serigraph 16/50. Size: 18" x 18", unframed.

Valued at $200Current bid: $0

Donated By Martin and Angele Segger

$200
$0

Trio, Sam Black

Crisp lines and a neutral palette of colour define this beautiful print "Trio" by well-known BC artist Sam Black.

Sam Black (1913-1998), limited edition woodblock print, 4/50, signed, 40" x 31" Framed (frame has flaw)

Valued at $350Current bid: $0

Donated By Grania Litwin

$350
$0

Heron Against the Waves, watercolour original, Sheena Lott

Heron Against the Waves, by multi-award winning Saanich artist Sheena Lott. Watercolour original, Size 8 3/4" x 10 3/4," Framed.

Valued at $250Current bid: $100

Donated By Sheena Lott

$250
$100

San Josef Bay, watercolour original, Sheena Lott

San Josef Bay, an original painting with gorgeous detail, by multi-award winning Saanich artist Sheena Lott. Watercolour, Framed, Size 9 1/2" x 11"

Valued at $250Current bid: $150

Donated By Sheena Lott

$250
$150

24" Sandblasted Cedar Hummingbird Panel, Trevor Hunt

A Unique opportunity to support Pacific Opera and local First Nations Artists!

24" Sandblasted Cedar Hummingbird Panel by Trevor Hunt, Kwakiutl or Purchase it at the Buy It Now price and commission the artist for the same sized panel and choose your design (Bear, Eagle, Hummingbird, Orca, Raven, Wolf) and colours. Allow up to 3 weeks for completion

Westcoast Auctions

Valued at $1,850Current bid: $0

Donated By Westcoast Auctions

$1,850
$0

Carved Cedar Paddle, Harvey John

Carved Cedar paddle. Beautifully and exquisitely hand-crafted by Indigenous artist Harvey John of the Nuu-chah-nulth First Nations. The perfect addition to any home or office.
Dimensions: approx. 53.5" long x 6" wide.
Signed on the back by the artist.

Valued at $700Current bid: $0

Donated By Westcoast Auctions

$700
$0

The Fisherman, Patrick Amos

Limited Edition, hand signed framed print "The Fisherman" # 219/299.
Artist Patrick Amos, Nuu-chah-nulth

Valued at $350Current bid: $0

Donated By Westcoast Auctions

$350
$0

Salmon Carving, Harvey John

Northwest Coast First Nations 18" Salmon Carving by Harvey John, Nuu-chah-nulth

Valued at $250Current bid: $135

Donated By Westcoast Auctions

$250
$135

20" Glass Panel, John Nutter

Northwest Coast First Nations 20" Glass Panel over Painted Steel Base featuring bentwood box design

Valued at $2,200Current bid: $0

Donated By Westcoast Auctions

$2,200
$0

Hummingbird Carving, Harvey John

Northwest Coast First Nations 21" Hummingbird Carving by Harvey John, Nuu-chah-nulth

Valued at $250Current bid: $0

Donated By Westcoast Auctions

$250
$0

Soapstone Humpback Whale, Valencia Bird

Northwest Coast First Nations 6.5" Soapstone Humpback Whale by artist Valencia Bird, Cree, b. 1973

Valued at $650Current bid: $0

Donated By Westcoast Auctions

$650
$0

Killer Whale Carving, Stan Joseph

Northwest Coast First Nations 8" Killer Whale Carving by Stan Joseph, Squamish

Valued at $200Current bid: $0

Donated By Westcoast Auctions

$200
$0

8.5" Orca panel, Harvey John, Nuu-chah-nulth

Northwest Coast First Nations 8.5" Orca panel, Harvey John, Nuu-chah-nulth

Valued at $275Current bid: $0

Donated By Westcoast Auctions

$275
$0

Sandblasted Killer Whale Panel, Trevor Hunt

Northwest Coast First Nations Indigenous Sandblasted 14" Killerwhale Panel, Trevor Hunt, Kwakiutl

Valued at $500Current bid: $0

Donated By Westcoast Auctions

$500
$0

Bentwood Box, Trevor Hunt

Northwest Coast First Nations Indigenous Sandblasted Bentwood Box, Trevor Hunt, Kwakiutl.

This traditionally made bentwood box features all wood construction, from Yellow Cedar & acrylic and measures 9 x 6 x 7.5."

The top of the box features an Eagle design and the four other sides all feature a Raven's Head design.

Valued at $750Current bid: $0

Donated By Westcoast Auctions

$750
$0

Ceramic Wolf Bowl, Stewart Jacobs

Northwest Coast First Nations - Stewart Jacobs, Squamish Nation- Ceramic Bowl featuring Wolf design.
Lines are hand carved and hand painted.
6" high x 5" diameter

Valued at $175Current bid: $0

Donated By Westcoast Auctions

$175
$0

Killerwhale Panel, Harvey John, Nuu-chah-nulth

NORTHWEST COAST First Nations 16" Killerwhale Panel Yellow Cedar, Acrylic, Harvey John, Nuu-chah-nulth

Valued at $300Current bid: $0

Donated By Westcoast Auctions

$300
$0

Selkirk Trestle, Original Photograph, Works Photography

This lovely ethereal image captures the mist over the Selkirk Trestle, and is an original photograph by Jo-Ann Richards of Works Photography.

The image is 24" x 30" on 100% fine art cotton paper, framed.

Valued at $750Current bid: $0

Donated By Works Photography

$750
$0

PERSONAL CARE

Salon Felice, Uptown, Gift Certificate for $100

Pamper yourself or help this $100 gift certificate find its way to someone on your gift list this season!

Salon Felice offers a variety of cosmetic and esthetic treatments at their salon with a great selection of self care products.

Valued at $100Current bid: $75

Donated By Salon Felice

$100
$75

Rest & Relaxation Basket, Broadmead Pharmacy

Bring a little rest and relaxation into your life or someone else's with this lovely basket of goods from Broadmead Pharmacy.

Basket contents: Chamomile Grow Kit, a Tea Mug with Strainer and Lid in a lily pad/lotus pattern, a Coaster & Tissues, a Reusable Water Bottle and a White Cosmetic bag.

Valued at $120Current bid: $25

Donated By Broadmead Pharmacy

$120
$25

Hair Care Extraordinaire, Gemi Boutique

An incredible package of hair and personal care products to keep you looking fabulous this winter:

BioSilk Volumizing Therapy Hair spray
Mexico City Nail Lacquer
Pureology Piecing Sculpt
Pureology Refresh & Go Shampoo
Brocato Leave-in Conditioner
Crazy Colour Cream (Vermillion Red, Violette and Cyclamen)
Redken Heat Active Texturizer
RedkenVegan Shampoo
Color Proof Evolved Color Care
Tea Tree Firm Hold Gel
Paul Mitchell Triple Rescue Color Repair
Sterling Silver Conditioner
AG Blond Dry Shampoo
La Biosthetique Marine Extract Beauty Capsules
Footlogix DD Cream Mousse

Valued at $300Current bid: $125

Donated By Gemi Hair Salon

$300
$125

Product assortment, Kande Global Hair Couturiere

The perfect stocking stuffer, or pick-me up for that well-groomed partner or friend, this great product assortment includes R & Co Neon Lights Dry Oil Spray, Oribe Hit Refresh Kit and an R & Co Television Perfect Hair Mask and an assortment of samples from Kande Global Hair Salon, matched with a wonderful, luscious bar of Shea Butter Peony Soap.

Valued at $98Current bid: $20

Donated By Kande Global Hair Couturiere

$98
$20

Nails Forever, Gift Certificate for a Gel Pedicure

Enjoy some personal care with a gel pedicure at Nails Forever, one of Victoria's best nail salons.

Valued at $52Current bid: $62

Donated By Nails Forever

$52
$62

Classic Spa Pedicure, Spa Space

Enjoy a classic Spa Pedicure at this lovely day spa located in the Broadmead Village.

Valued at $75Current bid: $75

Donated By Spa Space

$75
$75

CHILDREN

Two Children's books, Illustrated by Sheena Lott

A pair of lovely children's books, "Midnight on the Mountain" and "Salmon Forest" to gift to a special little someone.

Salmon Forest is a softcover book, authored by David Suzuki and Sarah Ellis.
Midnight in the Mountains is a hardcover book, authored by Julie Lawson.

Both books are illustrated by Sheena Lott.

Valued at $48Current bid: $58

Donated By Sheena Lott

$48
$58

Child's Banjo by Janod

This sweet and colourful instrument is perfect for that little music lover in your life. This is a quality child's banjo made by Janod, and suitable for children aged 4 to 8 years.

Valued at $30Current bid: $40

Donated By Buddies Toys

$30
$40

PETS

Pamper your Pet Package

Gift some comfort to your pet this holiday season.

This package includes a comfy Dream Chaser Donut Pet Bed, suitable for a dog or cat (and exchangeable for a different size), and a $100 gift certificate, both from Four Paws Pet Boutique, and a $100 gift certificate for bath, haircut of choice and nails from Groom that Dog in Sidney.

(Please note that the toy dogs are not included in this package; they'd be missed by the helpful kids who lent them to us for the photo!)

Valued at $240Current bid: $100

Donated By

Four Paws Pet Boutique
Groom That Dog, Sidney

$240
$100

Driftwood Cat Tree

A one-of-a-kind tree for your one-of-a-kind cat.

Select from a collection of locally crafted driftwood trees. Artful, comfy and your cat will definitely thank you!


Note: Cats not included

Valued at $200Current bid: $70

$200
$70

GARDENING

Bedding Plants, $500 Gift Certificate, C & C Growers

An opportunity not to be missed for all of the gardeners out there!

C & C Growers, a wholesale gardening supply, is offering the chance to fill your car or truck with your choice of bedding plants in planting season, up to a $500 value!

Christon Smith, owner, is pleased to offer assistance with the selection of your bedding plants.

Valued at $500Current bid: $225

Donated By Christon Smith, C & C Growers

$500
$225

Bedding Plants, $500 Gift Certificate, C & C Growers

An opportunity not to be missed for all of the gardeners out there!

C & C Growers, a wholesale gardening supply, is offering the chance to fill your car or truck with your choice of bedding plants in planting season, up to a $500 value!

Christon Smith, owner, is pleased to offer assistance with the selection of your bedding plants.

Valued at $500Current bid: $550

Donated By Christon Smith, C & C Growers

$500
$550

WINE & SPIRITS

Case of Premium Australian Wine, Vintages 2005 -09

Appreciate these Australian treasures without ever leaving the comfort of your home.

This very special assortment of premium Australian wines comes to you from a personal collection. Each bottle was collected over many trips to the amazing wineries of the Barossa area just outside of Adelaide. This case lot of wine is beautifully curated and is donated with delight, inviting you to enjoy these wines that are drinking at their prime.

Wines:
Greenock Creek, Seven Acre Shiraz 2005, 1 bottle
Greenock Creek Alice's Shiraz, Barossa Valley 2005, 2 bottles
DuMol Syrah Eddie's Patch Russian River Valley 2008, 1 bottle
Noon Eclipse Winery South Australia 2008, 4 bottles
Blue Eyed Boy Shiraz Product of Sarah & Sparky Marquis 2007, 1 bottle
Grant Burge Barossa Meshach 2002, 2 bottles
Rolf Binder Heysen Barossa Valley Shiraz 2006, 1 bottle

Please note that the bidder must be over 19 years of age to bid on this item. The government requires PST to be paid on the alcohol items in this lot.

Valued at $1,080Current bid: $0

Donated By Evan Hazell

$1,080
$0

Go Local with Literature & Libations

Cozy up for a relaxing few evenings with this $50 gift certificate to Bolen's Books and a 750 ml bottle of Merridale Cowichan Gin.

Two local business favourites that make a lovely pairing.


Please note that bidders must be over 19 years of age to bid on this item. The government requires PST to be paid on the alcohol items in this lot.

Valued at $80Current bid: $75

Donated By

Merridale Cidery & Distillery
Board and Trustees of Pacific Opera Victoria

$80
$75

Scotch & Shortbread, Talisker Storm & Pure Vanilla

Winter holidays were made for this pairing!

Sit back, relax and enjoy your evenings with this fine 750 ml bottle of Talisker Storm Single Malt Scotch Whisky, and sample some flavoured shortbread, Chocolate Mint & Cranberry Orange, from Pure Vanilla.

Cheers!

Please note that the government requires us to collect PST on the liquor in this lot.

Valued at $125Current bid: $90

Donated By Grania Litwin

$125
$90

EXPERIENCES

Private Garden Tour & Wine Tasting, Government House

A one of a kind experience to enjoy with friends.

Join Jerymy Brownridge, Private Secretary to the Lieutenant Governor of British Columbia, for a private and exclusive tour of the Gardens at Government House, and follow it up with a wine tasting for 6.

Wonderful flora, gorgeous views and grand company await you.

Priceless!Current bid: $500

Donated By Lieutenant Governor of British Columbia

Priceless!
$500

Lexus Long Weekend, Jim Pattison Lexus Victoria

Enjoy three days of driving in the comfort and style of a new Lexus vehicle!



This wonderful offer is available to you until December 31, 2021. Please note that the selection of vehicle is subject to the discretion of the Lexus Service Manager, and will be drawn from the service loaner fleet. The award winner must book the use of the vehicle at least four weeks in advance.

Valued at $600Current bid: $234

Donated By Jim Pattison Lexus Victoria

$600
$234

Hatley Park Gardens, Guided Tour for 6 and Book

A special opportunity for you and a group of friends to be outside together breathing in the beauty of the Hatley Park Gardens on this one hour guided tour for 6.

Generously offered by Royal Roads University, the winning bidder will also receive a copy of the book "Hatley Park Throughout the Seasons' by Maurice Robinson and Beverley Hall.

A wonderful visit to indulge in this coming new year!

Priceless!Current bid: $123

Donated By Royal Roads University

Priceless!
$123