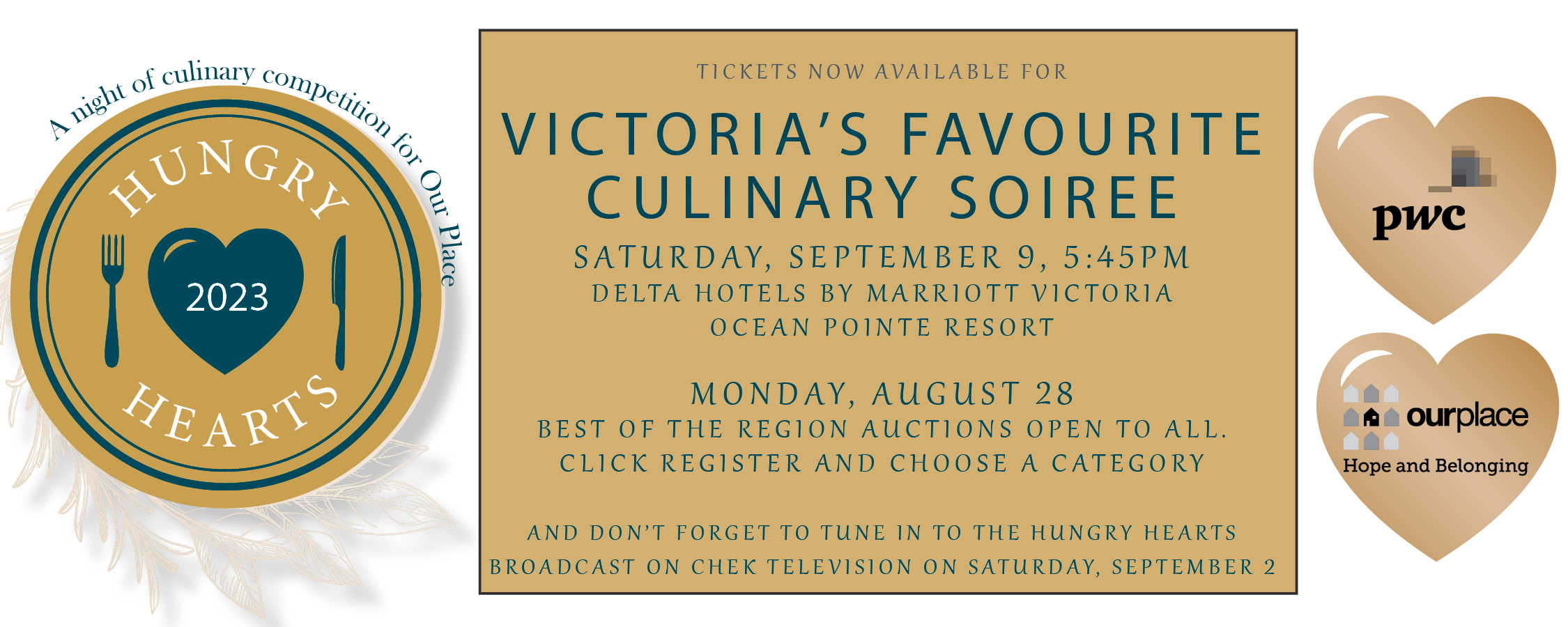 Location:
Delta Hotels by Marriott Victoria Ocean Pointe Resort
100 Harbour Road, Victoria BC V9A 0G1
Victoria BC
Date:
Saturday Sep 9, 2023
5:45 PM - 9:00 PM PDT
Contact:
Steven Seltzer
(250) 940-5064

Update - September 9: The Hungry Hearts gala is now sold out. To be placed on a waitlist, please email stevens@ourplacesociety.com
-------------
Tickets: We are excited for the return of Our Place and PwC's presentation of Hungry Hearts, Victoria's favourite culinary soiree. Enjoy a night of great food, music, prizes, auctions and so much more. Over the past 9 years, Hungry Hearts has raised over $1,000,000 in support of Our Place's vital programs and services in our community!

Our auctions will open for bidding in late August. For those of you not buying tickets to the gala but looking to bid on auction items, Just click on "Register then click on "Category" and choose Online Bidding - Free!
Auction Item

s

Value
High Bid
Hungry Hearts 2023 Silent Auction

Golf

#10) Juan De Fuca Golf Course: 2 Complimentary 9 Hole Rounds

Do you love to play golf? Invite a friend and play a 9 hole round of golf at Juan De Fuca Golf Course.

Valid Monday to Friday. Does not include holidays. Expires: December 2023.

"Not far from Victoria, Juan de Fuca Golf Course offers terrific views and challenging play for golfers at every skill level. Well-groomed fairways and greens keep Juan de Fuca Golf Course difficult yet friendly."

Valued at $35Current bid: $40

Donated By Juan de Fuca Golf Course

$35
$40

#11) Juan De Fuca Golf Course: 2 Complimentary 9 Hole Rounds

Do you love to play golf? Invite a friend and play a 9 hole round of golf at Juan De Fuca Golf Course.

Valid Monday to Friday. Does not include holidays. Expires: December 2023.

"Not far from Victoria, Juan de Fuca Golf Course offers terrific views and challenging play for golfers at every skill level. Well-groomed fairways and greens keep Juan de Fuca Golf Course difficult yet friendly."

Valued at $35Current bid: $40

Donated By Juan de Fuca Golf Course

$35
$40

#12) Ardmore Golf Course: 9 Holes of Golf for 4

Do you love to golf? Bring three of your friends to Ardmore Golf Course with these 4 passes for 9 holes of golf!

Pass expires December 31, 2024. Tee times must be booked.

Valued at $140Current bid: $110

Donated By Ardmore Golf Course

$140
$110

#13) Arbutus Ridge Golf Club: Golf for Two

A round of golf for two with cart at Arbutus Ridge Golf Club.

Valid anytime Monday-Thursday or after 12 pm Friday - Sunday. Valid until June 30, 2024. Reservations are required and based on availability.

"The Arbutus Ridge facility has thrived for over 25 years and continues to provide outstanding value to residents of the community as well as golf enthusiasts both on the golf course and in the clubhouse. The establishment has taken great pride in its environmental sustainability efforts and has earned numerous accolades over the years, including the 2017 Tourism Vancouver Island Employer of the Year award. "

Valued at $206Current bid: $195

Donated By Arbutus Ridge Golf Club

$206
$195

#14) Storey Creek Golf Club: 18 Holes of Golf for 4

Enjoy 18 holes of golf for four people at Storey creek Golf Club!

Valid after 1pm Monday to Friday only. No Statutory Holidays. Restricted to booking 6 days or less in advance. Expires June 30, 2024.

"Situated just south of Campbell River, British Columbia, Storey Creek Golf Club is internationally renowned for its stunningly picturesque and challenging, yet playable Les Furber designed golf course, located on the east-central coastline of Vancouver Island."

Valued at $276Current bid: $180

Donated By Storey Creek Golf Club

$276
$180

#15) Mount Doug Golf Course: 9 Holes of Golf for Two

Enjoy 9 holes of golf for two with a power cart at Mount Doug Golf Course!

"Mount Doug offers a little something for every caliber of golfer with 5 par three holes and 4 pars fours. We are proud to be the only 9 hole executive Par 3 golf course in Victoria, BC."

Valued at $65Current bid: $75

Donated By Mt. Doug Golf Course

$65
$75

#16) 1 Year Social Membership at Victoria Golf Club

A social membership for one year after date of activation at the Victoria Golf Club.

Social membership must be activated before December 9, 2023.

"On a links-style course, the dynamic relationship between golfer and environment are more closely knit than ever. Designed as nature allowed, our golf course is best experienced while walking and enjoying the magnificent west coast environment."

Valued at $2,600Current bid: $0

Donated By Anonymous donor

$2,600
$0

#17) *New Item* Bear Mountain Package

Enjoy four rounds of Bear Mountain golf. Either mountain or valley. Expires end of 2023. Includes power cart and range balls. 7 days booking in advance required

Bear Mountain gift basket includes - hat, 3 pack Titleist balls, water bottle, gloves and notebook.

Valued at $1,000Current bid: $650

Donated By Ecoasis Developments LLP

$1,000
$650

Pets

#20) Paws on Cook: Gift Basket

A wonderful pet gift basket from Paws On Cook!

Some of the items in this beautiful basket include: pet biscuits, a plush cat toy, a dog toy with squeaker, and more!

Valued at $115Current bid: $70

Donated By Paws on Cook

$115
$70

#21) Helmcken Vet Clinic: Dog Gift Basket

A wonderful dog gift basket from Helmcken Vet clinic, including: 1 voucher for a medical exam, food, treats, toys and more!

Valued at $200Current bid: $100

Donated By Helmcken Veterinary Clinic

$200
$100

#22) Helmcken Vet Clinic: Cat Gift Basket

A wonderful cat gift basket from Helmcken Vet Clinic, including: 1 voucher for a medical exam, food, bowls, toys, treats and more!

Valued at $200Current bid: $120

Donated By Helmcken Veterinary Clinic

$200
$120

Staycations

#25) Oak Bay Beach Hotel: 1 Night Stay

A one night in a one bedroom Ocean view Suite at the Oak Bay Beach Hotel!

This stay includes complimentary parking and Wifi, as well as exclusive access to the heated seaside Mineral Pools, sauna, and Fitness Studio.

Valid until August 28, 2024. Blackout dates apply: Not valid August 28 2023 - October 1 2023, June 1 2024 - August 28 2024; on statutory holidays, long weekends, NYE, Valentine's Day, or Mother's Day.

Valued at $699Current bid: $555

Donated By Oak Bay Beach Hotel

$699
$555

#26) Chateau Victoria: Bed & Benny's Package

The Bed & Benny's Package at Chateau Victoria Hotel & Suites includes: a one night stay in a one-bedroom suite with a $50 gift card to enjoy eggs benedict for two (or any other item) in Vista 18 Restaurant + Lounge.

Valid until September 30, 2024. Subject to availability, limited availability on Friday and Saturday.

"Built in 1975, Chateau Victoria Hotel & Suites is a locally owned and operated full-service hotel located in the heart of downtown Victoria, BC. The hotel is known for its stunning rooftop restaurant."

Valued at $500Current bid: $290

Donated By Chateau Victoria

$500
$290

#27) The Parkside Hotel & Spa: Two Night Stay

A two night stay in a one bedroom luxury suite at the Parkside Hotel and Spa! This certificate includes complimentary parking.

Valid until August 31, 2024.

"Our suites feature fully equipped kitchens, including a washer and dryer, private balconies, gas fireplaces, and plenty of space to unwind. Guests can look forward to premium furnishings, high-quality linens, and impeccable, modern décor"

Valued at $850Current bid: $617

Donated By The Parkside Hotel & Spa

$850
$617

#28) Wickaninnish Inn: 3 Night Stay

Take a trip to Tofino and enjoy 3 nights of accommodation for two in a deluxe guest room in the casual luxury of the Wickaninnish On the Beach Building, including complimentary valet parking and wifi.

Valid October 1, 2023 through April 30, 2024 or October 1, 2024 through April 30, 2025. Excluding selected holiday periods which includes all Canadian and US statutory holiday periods, Valentine's Day/weekend and the January closure.

Please note reservations are subject to minimum stay requirements at the time of booking.

Valued at $2,300Current bid: $2,150

Donated By Wickaninnish Inn

$2,300
$2,150

#29) A Trip To Parksville!

Enjoy 3 nights accommodation in a cottage at the beautiful Oceanside Village Resort in Parksville for July 2-5, 2024! While in Parksville head over to the Riptide Lagoon Adventure Park with these 4 complimentary passes to the Miniature Golf, and 4 passes for bumper cars!

The resort stay includes access to the indoor pool and hot tub, and the cottage can accommodate a maximum of 6 people.

Valued at $1,428Current bid: $1,075

Donated By Carol Eamer

$1,428
$1,075

#30) Oswego Hotel: One Night in a One Bedroom Premium Suite

A one night stay in a Luxury One Bedroom Premium Suite at the Oswego Hotel!

Complimentary underground self parking for one vehicle is also included. Valid until July 7, 2024. Subject to availability based on an occupancy of two guests. Invalid within peak season from June 1 - September 30.

"Well known as a chic retreat for leisure travelers, our modern condo configured units feature sleek amenities, private balconies, alongside in-suite cooking facilities for guest convenience."

Valued at $450Current bid: $325

Donated By Oswego Hotel

$450
$325

#31) Hotel Zed: 1 Night Stay

A certificate for one night stay at any Hotel Zed location!

Valid from September 2023 to September 2024. Not valid July or August, or any BC long weekends. Only applicable for standard rooms.

The people behind Accent Inns had "this crazy idea of creating a funky hotel that wasn't pretentious. You know, a place that was super cool and kick ass, but totally down-to-earth. Fun, playful and approachable, that's Hotel Zed."

Valued at $239Current bid: $235

Donated By Hotel Zed

$239
$235

#32) "Free Night? Get Outta Town!" with Accent Inns

One night stay at any Accent Inns location!

Valid from September 2023 to September 2024, Not valid July and August and long weekends during the year.

"Think elevators transformed into hot air balloon rides and a rubber ducky to keep you company in the tub. Must haves like free in-room WiFi, free parking, and yes, free bike rentals."

Valued at $191Current bid: $190

Donated By Accent Inns

$191
$190

#33) Delta Hotels by Marriott: One Night Stay

A one night stay at the newly renovated Delta Victoria Ocean Pointe Resort!

Subject to availability and will not be accepted on dates that the hotel anticipates selling out. It is non-transferable, and not valid on holidays or holiday weekends. Does not include parking, or any other incidental room charges.

Valid until: June 30th, 2024.

Valued at $300Current bid: $225

Donated By Delta Victoria Ocean Pointe Resort & Spa

$300
$225

#34) Hotel Grand Pacific: 1 Night Stay

Treat yourself to a night at the Hotel Grand Pacific!

A gift certificate for a one night stay in a Victoria Guest Room. Blackout dates: May 1 - September 30th. Valid until September 30th 2024.

"Welcome to the Hotel Grand Pacific, a hotel that recognizes that the perfect getaway has to embrace all facets of your lifestyle."

Valued at $300Current bid: $300

Donated By Hotel Grand Pacific

$300
$300

#35) Old House Hotel: 1 Night Stay in One Bedroom Suite

A one night stay in a one bedroom suite at the Old House Hotel and Spa! All one bedroom suites have a full kitchen with a gas fireplace and access to an outdoor heated pool and hot tub.

Expires September 30th, 2024. Based on availability, not valid for Saturdays, holidays, or special occasions. Not valid December 20th to January 1st, July or August.

Valued at $400Current bid: $245

Donated By Old House Hotel & Spa

$400
$245

#36) Union Club of BC: One Night Stay Plus Breakfast

Enjoy a one night stay at the Union Club of BC in a Harbour View Suite, with an a la carte breakfast in the morning!

"The Union Club is in the heart of downtown Victoria, on one of Canada's most beautiful harbours and within walking distance of interesting shops, restaurants, art galleries, bookstores, eco-adventures, and tourist attractions."

Gift certificate expires June 15, 2024.

Valued at $399Current bid: $305

Donated By Union Club of BC

$399
$305

#37) Magnolia Hotel and Spa: Two Nights for Two

Enjoy two nights for two guests in a Superior Room at the Magnolia Hotel.

"Emanating timeless elegance, The Magnolia Hotel & Spa offers an unrivalled luxury boutique hotel experience in the heart of the city, only steps from Victoria's Inner Harbour. Welcome to a world of personalized service, thoughtfully appointed rooms, fine dining, and tranquil spa experiences."

Valid from September 29 2023 to October 31 2024. Blackout dates apply, no long weekends, no December 23-27 or 30-31, no February 14, no June 14 to September 21.

Valued at $558Current bid: $575

Donated By Magnolia Hotel

$558
$575

Home Decor

#40) Hand Painted Garden Stake

A beautiful piece for your garden. One of a kind hand painted garden stake. Acrylic on aluminum and sealed with protective varathane.

Valued at $125Current bid: $85

Donated By Jennifer Mcintyre

$125
$85

#41) Prestige Picture Framing: Gold Mirror

A beautiful mirror with a gold frame and gold fillet. A perfect accent piece for any room!

Valued at $530Current bid: $0

Donated By Prestige Picture Framing

$530
$0

#42) Red Smedbo Garbage Can

A red SMEDBO 6L garbage can donated by Victoria Specialty Hardware and Plumbing.

This item also comes with a coupon for 15% off any new order at Victoria Specialty Hardware and Plumbing, valid until December 31st 2023!

Valued at $170Current bid: $100

Donated By Victoria Specialty Hardware & Plumbing

$170
$100

#43) Latitude By GATCO Minimalist Magazine Rack

A Minimalist Magazine Rack by Latitude by GATCO donated by Victoria Specialty Hardware and Plumbing.

This item also comes with a coupon for 15% off any new order at Victoria Specialty Hardware and Plumbing, valid until December 31, 2023!

Valued at $137Current bid: $0

Donated By Victoria Specialty Hardware & Plumbing

$137
$0

#44) Dodd's Furniture and Mattress: Twin Bed in a Box

A galaxy plush top twin Bed in a Box from Dodd's Furniture and Mattress!

"Topped with plush knitted fabric the Galaxy is your new favourite place to drink your morning coffee. Support your body's pressure points with 7.1 inches of 13 gauge Pocket coils. Pocket coils prevent motion transfer while you sleep, making the Galaxy a great choice for couples.

Conveniently comes in a box with wheels for easy transport."

Valued at $747Current bid: $0

Donated By Dodd's Furniture and Mattress

$747
$0

#45) Whisk Victoria: Cooking Supply Kit

An appliance and supply kitchen kit!

This includes:
- Kliner Clip Top Drink Dispenser
- Drink Dispenser Stand
- Replacement Tap
- Bartender's Knife
- Large Ice Cube Tray
- Cocktail Rimmer
- 12 Medium Crystal Glass Tumblers
- A small whisk (of course)!

Valued at $275Current bid: $175

Donated By Whisk Kitchen Supplies

$275
$175

#46) Classic Rock Garden Ornaments: Hanging Fish Plaque

A hanging fish plaque (10" x 25") from Classic Rock Garden Ornaments to decorate your garden!

"Designed and manufactured on Vancouver Island, the Hanging Fish Plaque is shown here in the Basalt finish. The plaque has the necessary wire for hanging on the wall. The Fish Plaque is made of hand-packed concrete making it thinner and lighter, and then finished with a grey Basalt stain."

Valued at $120Current bid: $110

Donated By Classic Rock Garden Ornaments

$120
$110

#47) Madrona Gallery: Basking Seal Sculpture

Artist: Komoartuk Pootoogook
Title: Basking Seal
Size: 4.5 x 9 x 4 Inches
Medium: Serpentine
Community: Kimmirut

Valued at $525Current bid: $525

Donated By Madrona Gallery

$525
$525

Technology

#55) Westcom: 4 Hours of Service

Four hours of technology service from Westcom Business Solutions Ltd!

"Based in Victoria, BC, Westcom offers expert managed IT services, software procurement and deployment, product sales and cloud services for businesses in Greater Victoria and Vancouver Island."

Valued at $500Current bid: $0

Donated By Westcom Business Solutions Ltd.

$500
$0

#56) Caorda: $2000 Gift Certificate

A $2000 gift certificate to Caorda for a website SEO audit and report.

"Using Google Search Console and Google Analytics plus a combination of on-page plugins/tools and some paid commercial services, our expert Digital Marketing team can review an enormous amount of data and distill this information into an easy to understand report that explains the highest priority options for improving your website."

Expires: September 30, 2024.

Valued at $2,000Current bid: $0

Donated By Caorda

$2,000
$0

Fitness

#58) BoulderHouse: 3 Month Pass

A 3 month pass for BoulderHouse.

"Climbing at BoulderHouse is designed around a set of 8 colour coded climbing circuits. Each circuit includes 5 to 6 problems and is designed to provide climbers with a varied set of challenges from technical slab climbing to powerful overhangs and everything in between.

By encouraging our community to progress through each complete circuit, our vision is to help every climber, at every level, develop a well-rounded set of skills. To keep you motivated and challenged in new ways, we reset a section of the wall weekly. From our beginner yellow circuit to the advanced pink circuit, there is something for everyone.

Valued at $284Current bid: $190

Donated By Boulder House

$284
$190

#59) Crystal Pool & Fitness Centre: 10 Visit Adult Pass

A 10 Visit Adult Pass for the Crystal Pool and Fitness Centre.

"The City of Victoria's fitness and aquatics centre is located at 2275 Quadra Street. Enjoy our 50-metre pool, two warm pools, 160-foot water slide, hot tub, weight room, cardio area and more."

Valued at $54Current bid: $55

Donated By City of Victoria

$54
$55

#60) Crystal Pool & Fitness Centre: 10 Visit Adult Pass

A 10 Visit Adult Pass for the Crystal Pool and Fitness Centre.

"The City of Victoria's fitness and aquatics centre is located at 2275 Quadra Street. Enjoy our 50-metre pool, two warm pools, 160-foot water slide, hot tub, weight room, cardio area and more."

Valued at $54Current bid: $30

Donated By City of Victoria

$54
$30

#61) Crystal Pool & Fitness Centre: 20 Visit Adult Pass

A 20 Visit Adult Pass for the Crystal Pool and Fitness Centre.

"The City of Victoria's fitness and aquatics centre is located at 2275 Quadra Street. Enjoy our 50-metre pool, two warm pools, 160-foot water slide, hot tub, weight room, cardio area and more."

Valued at $108Current bid: $65

Donated By City of Victoria

$108
$65

#62) Crystal Pool & Fitness Centre: 20 Visit Adult Pass

A 20 Visit Adult Pass for the Crystal Pool and Fitness Centre.

"The City of Victoria's fitness and aquatics centre is located at 2275 Quadra Street. Enjoy our 50-metre pool, two warm pools, 160-foot water slide, hot tub, weight room, cardio area and more."

Valued at $108Current bid: $55

Donated By City of Victoria

$108
$55

#63) Crystal Pool & Fitness Centre: 20 Visit Adult Pass

A 20 Visit Adult Pass for the Crystal Pool and Fitness Centre.

"The City of Victoria's fitness and aquatics centre is located at 2275 Quadra Street. Enjoy our 50-metre pool, two warm pools, 160-foot water slide, hot tub, weight room, cardio area and more."

Valued at $108Current bid: $55

Donated By City of Victoria

$108
$55

#64) Victoria Kayak Tours: Half Day Kayak for Two

Bring a friend and spend a half day kayaking in the historic Victoria Harbour!

"Join us on a kayak exploration of historic Victoria Harbour. On your kayak adventure, you will be greeted by harbour seals, great blue heron, and a guarranteed otter sighting - at least the airplane kind."

Previous experience not required.

Valued at $208Current bid: $150

Donated By Victoria Kayak Tours & Rentals

$208
$150

#65) Adventure Gear Package

Adventure Gear Package includes:
- A Swiss Gear 9960 Backpack (fits a 17 Inch Laptop or Tablet, features multiple pockets, RFID anti-theft screen, and airflow system)
- A new pair of Xcursion Fusion shoes (women's size 7, waterproof, and trail ready)

Valued at $250Current bid: $130

Donated By Anonymous donor

$250
$130

#66) Tropic Feet HDry Shoe

A pair of Tropic Feet HDry Shoes (women's size 6.5)!

"HDry is the choice for outdoor enthusiasts looking for the highest waterproof and breathable performance in the most challenging weather conditions. This technology takes footwear to the next level of waterproofness."

Valued at $200Current bid: $0

Donated By Anonymous donor

$200
$0

#67) Tropos Fitness Club: Beginner's Guide to Fitness

Are you new to the gym? Learn how to use the equipment and feel comfortable in the gym at Tropos Fitness!

This item includes 1 free consultation, and 3 personal training sessions at Tropos Fitness!

Expires October 31, 2023.

Valued at $410Current bid: $0

Donated By Tropos Fitness

$410
$0

#68) Tropos Fitness Club: Beginner's Guide to Fitness

Are you new to the gym? Learn how to use the equipment and feel comfortable in the gym at Tropos Fitness!

This item includes 1 free consultation, and 3 personal training sessions at Tropos Fitness!

Expires October 31, 2023.

Valued at $410Current bid: $0

Donated By Tropos Fitness

$410
$0

#69) Tropos Fitness Club: Beginner's Guide to Fitness

Are you new to the gym? Learn how to use the equipment and feel comfortable in the gym at Tropos Fitness!

This item includes 1 free consultation, and 3 personal training sessions at Tropos Fitness!

Expires October 31, 2023.

Valued at $410Current bid: $0

Donated By Tropos Fitness

$410
$0

#70) Tropos Fitness Club: Beginner's Guide to Fitness

Are you new to the gym? Learn how to use the equipment and feel comfortable in the gym at Tropos Fitness!

This item includes 1 free consultation, and 3 personal training sessions at Tropos Fitness!

Expires October 31, 2023.

Valued at $410Current bid: $0

Donated By Tropos Fitness

$410
$0

#71) Saanich Parks and Recreation: 10X Recreation Pass

A 10X Saanich Recreation Centre Pass

This pass entitles the bearer to use eligible drop in programs at any of the four Saanich recreation centres. Programs include: drop in swims, skates, and most fitness classes, weight room and fitness studios.

Valid until June 30, 2024.

Valued at $65Current bid: $70

$65
$70

#72) Oak Bay Recreation Centre: 10 Drop In Passes

10 drop in passes to the Oak Bay Recreation Centre! This entitles the bearer, either adult or child, to any Recreation Oak Bay Drop In program. This includes, swimming, skating, and fitness at the Oak Bay Recreation Centre, as well as fitness, kindergym, table tennis, and badminton at the Henderson Recreation Centre!

Valued at $68Current bid: $70

Donated By Oak Bay Parks, Recreation, and Culture

$68
$70

#73) Crystal Pool & Fitness Centre: 10 Visit Adult Pass

A 10 Visit Adult Pass for the Crystal Pool and Fitness Centre.

"The City of Victoria's fitness and aquatics centre is located at 2275 Quadra Street. Enjoy our 50-metre pool, two warm pools, 160-foot water slide, hot tub, weight room, cardio area and more."

Valued at $54Current bid: $30

Donated By City of Victoria

$54
$30

Entertainment

#74) A Night at the Theatre: 2 Tickets to The Fiancee

"Enjoy the gift of live theatre" with two tickets to The Fiancee at the Chemainus Theatre!

In The Fiancee "Lucy can't bear the thought of soldiers being sent off to war without the hope of someone to come home to. Her inability to say "no" puts her in a serious predicament when they all arrive home on the same day, ready for nuptial bliss – in this madcap, door-slamming, hilarious farce, as Lucy tries to set things right one cake at a time."

Valid Show Dates: September 22 - October 13 2023.

Valued at $124Current bid: $105

Donated By Chemainus Theatre

$124
$105

#75) Blue Bridge Theatre: 2 Tickets To Any Show

Do you love the theatre? See any show in the Blue Bridge Theatre 2023/24 season with these 2 tickets!

Valued at $90Current bid: $60

Donated By Blue Bridge Theatre

$90
$60

#76) Canadian College of Performing Arts: 2 Subscriptions

Two subscriptions for the 2023/24 Studio Ensemble Production Season at the Canadian College of Performing Arts!

Valid between September 2023-February 2024.

Valued at $150Current bid: $80

Donated By Canadian College of Performing Arts

$150
$80

#77) BC Lions: Tickets to Home Game

Do you love football? Enjoy Two Lower Corner Tickets to a 2023 BC Lions Regular Season Home Game!

Valued at $120Current bid: $80

Donated By BC Lions

$120
$80

#78) A Night at the Symphony: 2 Tickets to 2023/24 Season

Two complimentary tickets to a Victoria Symphony concert of your choosing in the 2023/24 season.

"Music this good sounds even better live."

Valid for two tickets to any concert at "A" zone pricing, excluding concerts marked as "Specials". Subject to availability. Must be redeemed two weeks prior to concert date.

Valued at $156Current bid: $160

Donated By Victoria Symphony

$156
$160

#79) A Night at the Symphony: 2 Tickets to 2023/24 Season

Two complimentary tickets to a Victoria Symphony concert of your choosing in the 2023/24 season.

"Music this good sounds even better live."

Valid for two tickets to any concert at "A" zone pricing, excluding concerts marked as "Specials". Subject to availability. Must be redeemed two weeks prior to concert date.

Valued at $156Current bid: $130

Donated By Victoria Symphony

$156
$130

#80) Victoria On Stage: 2 Tickets to The Wizard of Oz

Two tickets to the Victoria On Stage Theatre's performance of The Wizard of Oz!

At the Mcpherson Playhouse, November 24th to December 3rd, 2023. Follow Dorothy, Scarecrow, Tinman, and Lion as they follow the yellow brick road to the Emerald City!

Valued at $130Current bid: $100

Donated By Victoria On Stage

$130
$100

#81) Pacific Opera: 2 Section B Seats to Die Walküre in Oct

Two Section B seats to the Pacific Operas autumn show Die Walküre in October!

"A bold and robust masterpiece of musical storytelling, the iconic score of Wagner's Die Walküre is a rich and sumptuous feast for the senses.

The vivid orchestration takes you deep into the world of Norse mythology, where cosmic fate devours illicit lovers and Valkyries soar on sweeping melodies.

A three-course (three-act) gourmet opera experience of a lifetime – come to explore the cycles of love, tragedy, and heroic feat."

Valued at $260Current bid: $0

Donated By Pacific Opera Victoria

$260
$0

#82) Belfry Theatre: 2 Tickets to YAGA

Two tickets to any in-person performance of YAGA (Sep 12 - Oct 8, 2023) at the Belfry Theatre.

About the play:
"A gruesome murder in a small town leads a female sheriff, a cocky young detective, and a university professor with a taste for younger men, into a labyrinth of secret lives, ancient magic, and multiple suspects.

The exceptional Kat Sandler uses the Slavic folktale of Baba Yaga, the witch who lives in a magical hut that sits on chicken legs, as a launching pad for an exploration of female power in its many forms – wisdom, rage, motherhood, and sex.

Yaga races along and draws you into a world where nothing is quite what it seems."

Valued at $102Current bid: $110

Donated By Belfry Theatre

$102
$110

Cycling

#85) Konnix Waterproof Messenger / Pannier Bag

A Konnix Waterproof Messenger / Pannier bag for regular or E-Bikes.

Valued at $95Current bid: $70

Donated By Ride the Glide

$95
$70

#86) Konnix Waterproof Messenger / Pannier Bag

A Konnix Waterproof Messenger / Pannier bag for regular or E-Bikes!

Valued at $95Current bid: $80

Donated By Ride the Glide

$95
$80

#87) Oak Bay Bicycles: 2 E-Bike Experiences

Two vouchers for an E-Bike Experience from Oak Bay Bicycles! Redeemable for a single-day city e-bike rental.

All rentals include a helmet and lock. Maps and expert advice can be provided. Nutrition, hydration and cycling accessories are available for purchase as needed.

Valued at $180Current bid: $110

Donated By Oak Bay Bikes

$180
$110

Gift Baskets

#88) Discovery Coffee Gift Bag

Fabulous Discovery Coffee gift bag, includes: 1 pound of Rock Bay blend coffee, a Discovery Coffee mug, branded stickers, and a Mocha chocolate bar.

Valued at $44Current bid: $35

Donated By Discovery Coffee

$44
$35

#89) Discovery Coffee Gift Bag

Fabulous Discovery Coffee gift bag, includes: 1 pound of Solstice blend coffee, a Discovery Coffee mug, branded stickers, and a Mocha chocolate bar.

Valued at $44Current bid: $25

Donated By Discovery Coffee

$44
$25

#90) Epicure Dessert Basket

Calling all dessert lovers!

This wonderful basket from epicure includes: a blue butterfly herbal tea blend, a summer berry sweet dip mix, 2 berry swirl no bake cheesecakes, 2 citrus lime no bake cheesecakes, 2 dulce de leche pudding mixes, and 2 chocolate bliss brownie mix, all put into a purple round steamer!

Valued at $100Current bid: $70

Donated By Epicure

$100
$70

#91) Epicure BBQ Basket

Do you love to barbeque? If so, this basket is perfect for you!

This basket includes: a 3 in 1 burger press, cheesy fries seasoning, salmon rub, BBQ chicken and rib rub, big burger sauce mix, and 3 smokin' BBQ sauce mixes, all wrapped up in a wire serving bowl.

Valued at $100Current bid: $60

Donated By Epicure

$100
$60

#92) Beginners Cooking Package

Are you new to cooking? If so, this package is perfect for you!

Includes: the "Cedar and Salt" cookbook by D.L Acken and Emily Lycopolus, as well as $200 worth of gift cards to Whole Foods in order to buy all the supplies you need to get started.

Valued at $245Current bid: $210

Donated By Veronica Osborn and Alison Wedekind

$245
$210

#93) Nature Bee Holdings: Variety Bag

A goody bag of sustainable home goods!

Two Nature Bee beeswax wrap variety sets, 2 Swedish discloths, 1 foaming hand soap kit, 1 multi-purpose spray kit, 2 packs of concentrated foaming hand soap refill tablets, and 2 packs of concentrated multipurpose spray refill tablets.

Valued at $100Current bid: $80

Donated By Nature Bee Holdings

$100
$80

#94) Pharmasave: Anti-theft Bag Package

You won't have to worry about someone stealing your things with these bags! A black PacSafe Compact Travel Organizer, as well as a PacSafe Anti-theft Vibe 200 Back Pack made out of plastic bottles.

Valued at $140Current bid: $75

Donated By Pharmasave Broadmead

$140
$75

#95) Fish Hair Salon: Healthy Hair Starter Kit

A package to keep your hair happy and healthy!

It includes: R+Co Television Perfect Hair Shampoo, R+Co Television Perfect Hair Conditioner, R+Co Rockaway Salt Spray, and R+Co Zig Zag Root Teasing + Texture Spray!

Valued at $357Current bid: $200

Donated By Fish Hair Salon

$357
$200

#96) Adriana's The Whole Enchilada: Gift Basket

Two bags full of delicious foods and products from Adriana's The Whole Enchilada!

"Over 20 years in business, Adriana has set the standard in Victoria for Mexican food. We are the only large-scale manufacturer of corn tortillas on Vancouver Island."

Valued at $100Current bid: $80

Donated By Adriana's The Whole Enchilada

$100
$80

#97) Victory Barber & Brand: Gift Bag

A gift bag from Victory Barber and Brand including: a T-shirt, a Victory Barber and Brand Pukka ball cap, Super-Dry weightless texture hair paste, a gift certificate for a standard hair cut, hair and beard wash, and texture tonic primer!

Valued at $200Current bid: $110

Donated By Victory Barber & Brand

$200
$110

#98) House of Boateng: Hot Sauce Basket

A basket with all your seasoning needs for delicious and flavourful meals from House of Boateng!

Valued at $90Current bid: $110

Donated By House of Boateng

$90
$110

#99) Wildfire Bakery: A Baker's Basket

The perfect basket for someone who loves to bake!

A $50 gift certificate for the Wildfire Bakery, as well as: - 5 kg of assorted Organic flour
- 2 bags of granola
- A box of cookies!

Valued at $143Current bid: $115

Donated By Wildfire Bakery

$143
$115

#100) Gemi Hair: Beauty Basket

A hair & beauty supplies basket.

This basket includes: two coral nail lacquers, brunette color corrector cream, Lanza T.R.U.E. clean shampoo and conditioner, conditioning dry oil and re-styler spray, Kerasilk colour conditioner texturizing spray gel, Redken finishing spray, Bed Head dry spray wax, hand sanitizer, heat spray, and Bed Head hydrating jelly oil.

Valued at $300Current bid: $0

Donated By Gemi Hair LTD

$300
$0

#101) SpecSavers: Eye Care Basket

A gift basket containing a voucher for a pair of glasses up to $299, lens cleaner, lens wipes, a tote bag, a water bottle, a travel mug and a glasses chain.

"Specsavers is a global optical company with a purpose of changing lives through better sight, offering quality eyecare and affordable eyewear to millions of customers worldwide. So, whenever you come across one of our stores in Victoria, you'll find experts in eye health and frame style, as well as great value with our glasses, sunglasses, contact lenses and eye-catching offers."

Valued at $350Current bid: $200

Donated By SpecSavers

$350
$200

#102) Oak Bay Flower Shop: Gift Basket

A delicious basket from the Oak Bay Flower Shop! This basket includes a $30 gift certificate, a Daniels dark chocolate bar and Whiskey truffles, St Jeans smoked salmon and tuna, Saltspring pepper jelly, dark chocolate coated cashews, raincoast crisps, and Olivia rum pralines!

Valued at $115Current bid: $90

Donated By Oak Bay Flower Shop

$115
$90

#103) IPB Consulting Services: Wine and Cheese Basket

A delicious basket of wine and cheeses donated by IPB Consulting Services. This basket includes 2 bottles of wine from Road 13, a $50 gift certificate to Charelli's Cheese, and 2 loaves of artisan sourdough bread.

Valued at $150Current bid: $157

Donated By IPB Consulting Services

$150
$157

#104) Special Teas Inc: Tea Lovers Gift Basket

The perfect gift for someone who loves tea! This basket includes a tray, a mug, a teapot and strainer, a warmer measuring spoon, 3 white sugar sticks, 3 brown sugar sticks and 50 gr tea bags!

The kinds of tea included are, Assam BOP-PF Rich Black Tea, Earl Grey Black Tea with bergamot and cornflowers, China Jasmine Te Ji Green Tea with Jasmine flowers, Empress Treasures Green Tea with strawberry ad pineapple, and Rooibos Morning Star tea.

Valued at $67Current bid: $55

Donated By Special Teas Inc.

$67
$55

Health / Beauty

#105) Gentle Touch: Pedicure

Treat yourself with a European pedicure at Gentle Touch!

A European pedicure includes a foot bath, nail shaping, callous removal, light foot massage, and your choice of polish!

Valued at $51Current bid: $55

Donated By Gentle Touch

$51
$55

#106) A Single Float at Float House

A gift card for a single float (first float) at Float House!

"Experience Weightlessness. Floating in a tank creates the perfect conditions for removing all external stimuli. This is the sensory deprivation element. Your vision is restricted in the pitch black, you can hear nothing but your own body. You are completely buoyant in the Epsom salt water. This leads to a feeling of zero gravity with no real concept of up, down, time or space."

Valued at $60Current bid: $65

Donated By Anonymous donor

$60
$65

#107) Total Prepare: Individual Essentials Emergency Kit

An Individual Essentials Emergency Kit from Total Prepare! A three day supply of all the essentials for one person.

Valued at $30Current bid: $35

Donated By Total Prepare

$30
$35

#108) Copa Hair Studio: Cut and Colour Service

In the mood for a makeover? Get a cut and colour service at Copa Hair Studio!

"Copa Hair Studio opened back in 2009, by our amazing loving owner Brandy. Our mission was to have an inviting, neighbourhood salon that everyone could feel welcomed in. We provide multiple services such as, haircuts, colour, facial waxing, and more! We provide free consultations to talk to a stylist about all your hair wants and needs"

Valued at $150Current bid: $80

Donated By Copa Hair Studio

$150
$80

#110) Crescendo for Hair: Styling products & body scrub

Gift bag from Crescendo for Hair, containing Tigi and Sebastian styling products, as well as Hempz body scrub.

Valued at $130Current bid: $70

Donated By Crescendo for Hair

$130
$70

#111) *New Item* Elate Cosmetics Beauty Package

This package comes with a Bamboo palette, Mascara, Prep Priming serum and a 150 gift card to choose all your own shades. A total value of $250

All courtesy of Eluma Beauty Inc. | Elate Cosmetics | Foster Skincare

Valued at $250Current bid: $150

Donated By Elate Cosmetics

$250
$150

One of a Kind

#120) Heart & Sole Shoes: Handmade Taupe Purse and Hat

Looking for some new accessories?

One taupe coloured genuine all-leather handmade purse from renowned artist David Luna with hand detailed swirl designs and detail work etched into the bag. The lining of the bag is genuine leather with ample space and zipper closure.

One Canadian handmade Maria Curcic designer hat in taupe with feather and flower detailing. This designer has previously designed hats seen in CBC's Nancy Drake Mysteries. The hat is 100% silk and size small-medium.

Valued at $595Current bid: $320

Donated By Heart & Sole

$595
$320

#121) Fabulous Sooke Package

This fabulous Sooke package will let you experience some of the best businesses in Sooke.

It includes a one night stay for two in a King Oceanview Room at the Prestige Oceanfront Resort, as well as a $30 gift card to award winning restaurant Wild Mountain, and a $100 gift card to SaltWest Naturals!

Valued at $395Current bid: $360

$395
$360

#121) Studio Portrait Session with Dominic Hall

Portable studio brought to your location, resulting in 3 high-end portraits with professional retouching.

In a 2 hour session which includes a backdrop of your choice, photographer, assistant and professional lighting!

Valued at $1,200Current bid: $0

Donated By Dominic Hall

$1,200
$0

#123) Coca Cola: World Cup Collectors Cooler

A one of a kind item! A collectors cooler from the World Cup, that is also a useable foosball table.

Valued at $200Current bid: $0

Donated By Coca Cola

$200
$0

#124) Thom Klos Creative: Rack Card Design

A full colour, 2 sided, rack card design that is 4 inches by 9 inches, done by Thom Klos Creative.

This certificate includes the design and layout, plus two rounds of changes, a press quality PDF file to printer's specifications, and a digital version for emailing purposes and to post on website.

This does not include any stock photography, graphics, illustrations, or fonts that may need to be purchased, any printing, production, shipping, delivery, or distribution.

Valued at $400Current bid: $0

Donated By Thom Klos Creative

$400
$0

#125) SoundBody Studio: 3 Hour Workshop

Tune In, Tune Up and Compose Yourself through Improvisational Voice and Movement Fusion with Bisia Belina of SoundBody Studio!

3 hour workshop for a maximum of 8-10 people, suitable for caregivers, staff development, team building, personal and artistic expression. This workshop is about self centering and rejuvenation. It is a combination of self care techniques,
vocal warm ups, movement patterns to loosen up and composition that incorporates them all.

Experience ways to de-stress, unwind, unravel your tired brain and body. Find your breath, your rhythm, your time, your entry point into self expression and rejuvenation. We will tailor the session to your needs.
It is an experimental workshop so be prepared to move, breath and sing and find a way back to yourself!

This offer expires November 15 2023.

Valued at $300Current bid: $0

Donated By SoundBody Studio

$300
$0

#126) Informative guide on death and grieving

A copy of "The Ultimate Guide On What To Do When Someone You Love Dies" by Laurie Mueller M.Ed.

"This all-encompassing guide will help you through the tasks required when someone close to you dies and you are responsible for fulfilling their last wishes. In this guide, you will find a checklist beginning with the necessary steps. You will also learn step-by-step how to write an obituary, a eulogy, and options for hosting a celebration of life."

Valued at $24Current bid: $12

Donated By Laurie Mueller

$24
$12

#127) Tall Tree Health: Gift Basket

A gift basket from Tall Tree Health that includes 1 DEXA scan, and 1 VO2 max test that can be redeemed at the Cordova Bay location.

"A DEXA scan (DXA scan) is a quick, painless, low-level x-ray that measures body composition, body fat percentage, overall skeletal health, total lean mass, visceral fat, limb comparison for imbalance, and more.

VO2 max measures and tracks your current cardiovascular fitness level and provides data to guide and enhance your training. It's the best measure of endurance out there.

DEXA and VO2 max are two valuable preventative healthcare services that Tall Tree offers in conjunction with our Longevity Medicine Program.

This is gold standard, precision testing."

Valued at $400Current bid: $275

Donated By Tall Tree Health

$400
$275

#128) Vintage Spirits: Cocktail Basket

A cocktail basket from Vintage Spirits. This basket includes: a 4 prong cocktail strainer, a cocktail shaker, a bar spoon, and six bottles of liqueur!

Valued at $280Current bid: $180

Donated By Hotel Rialto

$280
$180

#129) Marilena: Chef's Tasting Menu for Two with Wine

A Chef's tasting menu for two with wine pairings at hot new restaurant Marilena Cafe + Raw Bar!

"Marilena features global and local seafood paired with farm-fresh high-quality sustainable ingredients that adhere to the highest standards."

Valued at $400Current bid: $400

Donated By Top Table Group

$400
$400

#130) Ask Me Anything: Mystery Lunch for 2 with Dr Fred Voon

A Lunch at a Mystery Victoria Restaurant for two with Dr. Fred Voon.

Dr. Voon is a local Emergency Physician, Speaker, Author, and viral Tik Tok content creator. This lunch includes a 1 hour Ask Me Anything session, including any of the following topics: Evidence-Based Happiness, Non-fiction writing and publishing process, Home / Office Emergencies, Your personal First Aid Kit / Home Medicine Cabinet, and General health / healthcare.

PLUS 2 signed copies of his book, "Your Inside Guide to the Emergency Department--and How to Prevent Having to Go!"

Valued at $388Current bid: $220

Donated By Dr. Fred Voon

$388
$220

#131) Victoria Olive Oil Co: Italy Basket

An Italy basket from the Victoria Olive Oil Company that includes pasta, sauce, olive oil and vinegar, bread sticks, olives, Tapanade, honey, balsamic vinegar, and almond roca!

Valued at $125Current bid: $150

Donated By Victoria Olive Oil Co.

$125
$150

#132) Road 13: Wine Lovers Package

A wine lovers package from Road 13 Vineyards!

This includes a complimentary wine tasting for two, alongside a charcuterie board, at Road 13 Vineyards, as well as 2 bottles of their Select Harvest Wine - Road 13 2018 Traditional Method Sparkling Chenin Blanc Wine (750 mL).

Valued at $184Current bid: $102

Donated By Road 13 Vineyards

$184
$102

#133) Top Floor Photo: $400 Gift Card for Headshots

A $400 gift card for corporate headshots from Top Floor Photo!

The offering includes the following comprehensive package:
A one-hour consultation call
Wardrobe styling guidance
A 90-minute photography session accommodating up to five distinct outfits
Posing guidance during photo shoot
One professionally retouched digital image ready to post on social media or website
Option to acquire additional images

Valued at $400Current bid: $245

Donated By Top Floor Photo

$400
$245

#134) Scrapbook Garage: Crafting Supplies

A pack of colourful crafting supplies, to use in your creative projects.

Valued at $75Current bid: $55

Donated By Scrapbook Garage

$75
$55

Car

#136) Audi Victoria: Service Package

A car service package at Audi Victoria. This includes: an oil and filter change and a brake fluid flush.


"Audi Victoria is also by your side whenever you need any car service and repair work done in Victoria. What's more, our auto parts team would be happy to get you whatever you need to keep your Audi vehicle on the road for many miles to come."

Valued at $480Current bid: $270

Donated By Audi Victoria

$480
$270

#137) Lordco Auto: Hat and $25 Gift Card

A Lordco trucker hat and $25 gift card for Lordco Auto Parts.

Valued at $50Current bid: $30

Donated By Lordco Auto Parts

$50
$30

#138) Campus Honda: Oil & Filter Change

Get an oil & filter change, plus a safety inspection at Campus Honda.

Valued at $150Current bid: $90

Donated By Campus Honda

$150
$90

#139) Campus Honda: Oil & Filter Change

Get an oil & filter change, plus a safety inspection at Campus Honda.

Valued at $150Current bid: $80

Donated By Campus Honda

$150
$80

Jewelery

#140) Wild Abandon Jewelry: Purple 3 Piece Set

A purple toned jewelry set with matching earrings and necklace, and a bracelet from Wild Abandon Jewelry!

"Wild Abandon is a community of women following their passions, striving to inspire others – near and far – who share a love for unique jewelry. With price and versatility in mind, the pieces can be shared with anyone."

Valued at $45Current bid: $25

Donated By Wild Abandon Jewelry

$45
$25

#141) Wild Abandon Jewelry: Turquoise 3 Piece Set

A turquoise toned jewelry set with earrings, a necklace, and a bracelet from Wild Abandon Jewelry!

"Wild Abandon is a community of women following their passions, striving to inspire others – near and far – who share a love for unique jewelry. With price and versatility in mind, the pieces can be shared with anyone."

Valued at $45Current bid: $30

Donated By Wild Abandon Jewelry

$45
$30

#142) A La Mode Consignment: Jewelry & Bath Salts

This lovely gift bag includes:
1 Wild Abandon Kaci Rose Quartz Necklace
1 pair Wild Abandon Kaci Rose Quartz Earrings
1 Wild Abandon Silver Fiora Ring
1 bag Island Therapeutics Rejuvenation CBD bath salts

Valued at $86Current bid: $45

Donated By A La Mode Upscale Resale Boutique

$86
$45

#143) Cut & Hill Jewellery: Keshi pearl necklace & earrings

Beautiful 6-strand Keshi pearl necklace with freshwater pearls and gemstones: Amythyst, pink Tourmaline, Herkimer diamond, pink sapphire, Ametrine with a sterling silver Marcasite clasp. Complete with matching earrings.

Valued at $1,000Current bid: $0

Donated By Cut & Hill Jewellery

$1,000
$0

Shopping

#149) Cold Comfort Ice Cream: One Pint of Ice Cream

A postcard gift voucher for one pint of ice cream from Cold Comfort!

"This post card entitles the bearer to one pint of Cold Comfort Ice cream. Delivered to your door (within Victoria B.C). The flavour of the ice cream will be determined by you. Anything your heart desires."

Valued at $40Current bid: $35

Donated By Cold Comfort

$40
$35

#150) Munro's Books: $50 Gift Card

Looking for new books, puzzles, or stationary? Find exactly what you need at Munro's Books with this $50 gift card!

Valued at $50Current bid: $75

Donated By Munro's Books

$50
$75

#151) Max Furniture: $250 Gift Certificate

A $250 gift certificate to Max Furniture for all your furniture needs!

"We specialize in Canadian-made custom solid wood and upholstery for every room in your home or office. Our Canadian furniture manufacturers offer a variety of size and configuration options to accommodate any living space. We can also custom-build any piece to fit your needs – we can design it and build it the way you like. Our friendly staff would be more than happy to help you acquire that perfect piece."

No cash value. Valid on regular priced items. New purchases only. Gift cards cannot be combined.

Valued at $250Current bid: $130

Donated By Max Furniture

$250
$130

#152) Beehive Wool Shop: Goody Bag

A goody bag from the Beehive Wool Shop including: one skein of Fleece Artist Merino Slim in Peridot: 100% Superwash Merino, hand-dyed in Halifax, a Beehive notions bag made in Vancouver, two washable paper "Made with love" tags, and a $25 gift certificate (good for everything in store, including classes).

Valued at $85Current bid: $65

Donated By Beehive Wool Shop

$85
$65

#153) Bolen Books: $20 Gift Certificate

Get a new book, puzzle, or gift at Bolen Books with this $20 gift certificate!

Valued at $20Current bid: $25

Donated By Bolen Books

$20
$25

#154) Bolen Books: $20 Gift Certificate

Get a new book, puzzle, or gift at Bolen Books with this $20 gift certificate!

Valued at $20Current bid: $20

Donated By Bolen Books

$20
$20

#155) Unsworth Vineyards: $100 Gift Certificate

A $100 gift certificate to Unsworth Vineyards!

"The wine way-of-life in "Canada's Provence."
To understand the wines made by Unsworth Vineyards starts with appreciating the uniquely mild, Mediterranean-like climate of the Cowichan Valley and how things grow here."

Valued at $100Current bid: $115

Donated By Eve and Lionel Gaudet

$100
$115

#156) Grocery Shopping Bundle: Save On Foods & Walmart

Get all your cooking and grocery needs with this $100 gift card to Save On Foods, these two $20 gift cards to Walmart, plus a $50 prepaid Visa!

Valued at $190Current bid: $180

Donated By Anonymous donor

$190
$180

#157) LA Limousines: $50 Voucher

A $50 voucher to be used towards rentals
of luxury vehicles, limousines, SUV limousines, limo buses, minibuses, or a Luxury
Wine Tour Inc. product.

Expires June 12, 2024.

Valued at $50Current bid: $35

Donated By LA Limousines

$50
$35

#158) LA Limousines: $50 Voucher

A $50 voucher to be used towards rentals
of luxury vehicles, limousines, SUV limousines, limo buses, minibuses, or a Luxury
Wine Tour Inc. product.

Expires June 12, 2024.

Valued at $50Current bid: $35

Donated By LA Limousines

$50
$35

#159) Brown's The Florist: $75 Gift Certificate

A $75 gift certificate to Brown's The Florist!

"We have three beautiful flower shops in Downtown Victoria, BC; in Sidney, BC; and on the Westshore, in Langford, BC. We are a team of professional florists who specialize in quality flowers, plants and gift baskets, and we are famous for our quality and great customer service."

Valued at $75Current bid: $100

Donated By Brown's The Florist

$75
$100

#160) Luv-A-Rug: $100 Gift Certificate

A $100 gift certificate to Luv-A-Rug that can be put towards a restorative rug washing or repair!

"We love your rugs!"

Valued at $100Current bid: $60

Donated By Luv-A-Rug

$100
$60

#161) Foxy Box Wax Bar: $100 Gift Certificate

A $100 gift certificate to the Foxy Box Wax Bar!

"We're Foxy Box, and we believe feeling foxy is not a luxury…it's a basic human right. Through our authentic, kind, and no-BS approach, we're working to inspire and empower millions to celebrate their uniqueness and rock what they've got!"

Valued at $100Current bid: $70

Donated By Foxy Box Wax Bar

$100
$70

#162) Moe's Home Collection: $250 Gift Certificate

A $250 gift certificate to Moe's Home Collection!

"Living Spaces You'll Love - From modern concepts to revisited mid-century classics, unique accents & newly engineered forms, our living room furniture brings effortless style & easy flow—always adaptable & timelessly chic."

Valued at $250Current bid: $130

Donated By Moe's Home Collection

$250
$130

#163) Buttons 'N' Bows: Gift Certificate

A gift certificate to Buttons 'N' Bows!

"Buttons'n'Bows is a cute little fabric store on Foul Bay Rd. We carry lots of beautiful fabrics for quilting, garment making, and various crafts. We also stock plenty of useful notions and a wide variety of trims and specialty laces. Come in and take a look around. With the best selection of buttons in town for 55+ years!"

Valued at $75Current bid: $45

Donated By Buttons'n'Bows

$75
$45

Outings

#170) Butchart Gardens: Two Admission Passes

Two passes to the magnificent Butchart Gardens.

"The Butchart Gardens is a National Historic Site of Canada. You'll find remnants of the original cement plant and millions of bedding plants in over 900 varieties awaiting you as you wander The Gardens. Can you think of a better way to spend the day?"

Valued at $75Current bid: $70

Donated By Butchart Gardens

$75
$70

#171) Victoria Butterfly Gardens: Fun One-Day Pass

A "Fun One-Day Pass" entitles the bearer and up to four guests to complimentary admission to the Victoria Butterfly Gardens (total of 5 free admissions).

"As you wander through, we want you to meet our family. With surprises at every turn, you'll encounter poison dart frogs, tortoises, large iguanas, flamingos, tropical ducks, free flying tropical birds and more. Stroll through and marvel at our lush gardens including tropical flowers, carnivorous plants and fruits of the world."

Valued at $93Current bid: $85

Donated By Victoria Butterfly Gardens

$93
$85

#172) Tea for Two at the Fairmont Empress

Enjoy tea for two people at the Fairmont Empress Victoria!

Advanced reservations required. Valid until April 30th, 2024.

"On your tea tiers, you'll find a menu resplendent with fresh, locally sourced ingredients. The strawberry jam for our freshly baked scones is made in-house from local berries, honey from our own bee hives and lavender from our rooftop garden. The teas are ethically sourced from the top tea producers in the world. Tea at the Empress is truly an elevated culinary experience."

Valued at $190Current bid: $190

Donated By Fairmont Empress

$190
$190

#173) Shaw Centre of the Salish Sea: 6 Admission Passes

6 day passes and two guide books of local species for the Shaw Centre for the Salish Sea in Sidney.

"Canada's public aquarium and learning centre for the Salish Sea. Come and experience 160 species of marine life, a marine mammal artifact exhibit, and a unique Coast Salish art collection."

Valued at $115Current bid: $85

Donated By Shaw Centre for the Salish Sea

$115
$85

#174) Horror Escape Rooms: Voucher for 2 Players

Looking for a scary adventure? Take a friend with you to Horror Escape!

Expires December 31, 2023.

"You have 45 minutes to uncover a mystery in our detailed escape room sets, finding clues, solving puzzles, triggering high tech props and unlocking your way into multiple rooms! We offer 3 thrilling escape rooms at horror escape and we launch a new room every year. We're a local business with a passion for creating immersive and thrilling entertainment. Will you escape?"

Valued at $50Current bid: $45

Donated By Horror Escape: The Experience

$50
$45

#175) BC Ferries: Two One Way Vouchers

Take a trip on BC Ferries!

Two complimentary travel vouchers for a passenger vehicle and driver, and two complimentary travel vouchers for an adult passenger.

Each valid for a single, one-way travel on BC ferries routes. Valid on all routes except for Inside Passage, Discovery Coast Passage, and Haida Gwaii routes.

Expires: March 31, 2024.

Valued at $190Current bid: $190

Donated By BC Ferries

$190
$190

#176) Malahat Skywalk: Two Adult Day Tickets

Two Adult Day Tickets to the Malahat Skywalk!

"With the ground far below you and breathtaking scenery all around, walk out onto the sturdy 84 ㎡ Adventure Net for an experience unlike any other. Suspended above the centre of the tower, you'll have uninterrupted views of the lush arbutus forest and the spiralling structure beneath your feet."

Valued at $74Current bid: $65

Donated By Malahat Skywalk

$74
$65

#177) Sea Cider: Cider Tasting for Four

A cider tasting for four people at the Sea Cider farms!

"Relax at our cider house, and drink in the panoramic water views overlooking our orchard across the Haro Straight to James Island. The Ciderhouse is open for tastings and tours year-round."

Valued at $36Current bid: $35

Donated By Sea Cider

$36
$35

#178) Teahouse at Abkhazi Gardens: High Tea for Two

Enjoy a delicious high tea for two at the Teahouse at Abkhazi Gardens!

"The Teahouse at Abkhazi Garden offers four-star guest service and exceptional food in a beautiful setting, giving guests a memory to cherish.
Seasonal menus showcase regional or Abkhazi Garden-grown produce, complementing the garden's appearance when it is in bloom."

Valued at $130Current bid: $160

Donated By Teahouse at Abkhazi Gardens

$130
$160

#179) Teahouse at Abkhazi Gardens: High Tea for Two

Enjoy a delicious high tea for two at the Teahouse at Abkhazi Gardens!

"The Teahouse at Abkhazi Garden offers four-star guest service and exceptional food in a beautiful setting, giving guests a memory to cherish.
Seasonal menus showcase regional or Abkhazi Garden-grown produce, complementing the garden's appearance when it is in bloom."

Valued at $130Current bid: $150

Donated By Teahouse at Abkhazi Gardens

$130
$150

#180) Clos Du Soleil Winery: Tasting for Six

Join us in our tasting room for a 20-minute guided tasting of 3 wines pre-selected by our Tasting Room staff!

"Visit us, Taste some wine"

Valued at $60Current bid: $50

Donated By Clos Du Soleil Winery

$60
$50

#181) Ritual Nordic Spa Nordic Circuit Experience

Two gift passes for Nordic Circuit Experiences at the Ritual Nordic Spa!

"Our signature 2 hour self guided hot / cold circuit with Finnish sauna, steam room, cold plunge pool, Nordic bucket shower, relaxation salt lounge, and outdoor patios. Valid for mid-week or weekend use."

Valued at $138Current bid: $145

Donated By Paula Carey

$138
$145

This Just In!

#182) DEVINE Distillery: 4 Bottles

4 different 750ml bottles from DEVINE Distillery:
- Quarter Cask Ancient Grains
- 5 Grain Whiskey Ancient Grains
- Genever: Original Dutch Style Gin
- Beekeeper's Reserve Honey Shine

"Good honest spirits made by hand & crafted from the heart. Locally made, sustainably crafted from grain to glass."

Valued at $243Current bid: $170

Donated By DEVINE Distllery

$243
$170

#183) Bark Pet Boutique: Two Petsonality Sweaters

One Petsonality pink sweater with hood (XXL - fits dogs upto 44 cm long), and one Petsonality grey sweater with hood (XXL). Perfect for keeping your pet warm during the coming winter months.

"Bark, Bath & Beyond is a boutique dog grooming pet supply store with a large selection of quality and eco-friendly pet supplies located in Victoria BC."

Valued at $140Current bid: $0

Donated By Bark Pet Boutique

$140
$0

#184) Road 13: Trio of Wine

A trio of wines from Road 13 Vineyard, including:
1 bottle Sparkling Chenin Blanc (2018)
1 bottle John Oliver Selection 5th Element (2020)
1 bottle John Oliver Selection Cabernet Sauvignon (2020)

"On our road there are no shortcuts. We work hard. We rely on each other. We respect the land.

Our grapes grow outside our front door and just over the hill in the Similkameen. Farming these rows one vine at a time is how we bring out big, bold flavours in the wine."

Valued at $190Current bid: $130

Donated By Road 13 Vineyards

$190
$130

#185) Cherry Point Estate Wines: Tour and Tasting

A farm and winery tour as well as a wine tasting at Cherry Point Estate Wines for 6 people!

Valid until June 1, 2024.

"Home of the world famous Cowichan Blackberry Dessert Wine, handcrafted from locally picked blueberries, this sweet Port style wine is ripe with blackberry flavour, perfect by itself or with any rich dessert."

Valued at $60Current bid: $50

Donated By Cherry Point Winery

$60
$50

#186) Cherry Point Estate Wines: Tour and Tasting

A farm and winery tour as well as a wine tasting at Cherry Point Estate Wines for 6 people!

Valid until June 1, 2024.

"Home of the world famous Cowichan Blackberry Dessert Wine, handcrafted from locally picked blueberries, this sweet Port style wine is ripe with blackberry flavour, perfect by itself or with any rich dessert."

Valued at $60Current bid: $90

Donated By Cherry Point Winery

$60
$90

#187) Dinner for Two at Aura Waterfront Restaurant and Patio

Enjoy a dinner for two at the Aura Waterfront Restaurant and Patio!

"Aura Waterfront Restaurant + Patio is a globally-inspired share plates restaurant set against the inspiring backdrop of Victoria's renowned Inner Harbour. Our award-winning chefs' creative menu design combines local, farm-direct ingredients with international flavours on shareable plates designed to inspire conversation and connection."

Valid until August 31, 2024. Does not include alcoholic beverages or gratuities, subject to availability.

Valued at $125Current bid: $135

Donated By Inn at Laurel Point

$125
$135

#188) Blenz Coffee: Coffee Beans

Do you love trying new coffee brands? Try these two bags of coffee beans from Blenz Coffee! Two 12 oz bags of dark Klondike Whole Bean Arabica Coffee Beans.

Valued at $26Current bid: $20

Donated By Blenz Coffee

$26
$20

#190) Wind Cries Mary: Two Tasting Menus

Enjoy a delicious tasting meal selected and prepared by the Chef at Wind Cries Mary.

"Our dynamic food menu has a nose-to-tail approach, utilizing all aspects of the local bounty and geared towards "sharing". We invite you to come and "break bread" with us and let our talented bar and culinary team take you on a laid-back, west coast experience of freshly foraged food and drink."

Valued at $170Current bid: $180

Donated By Wind Cries Mary

$170
$180

#191) Road 13: Bubbles!

Two bottles of Road 13 Sparkling Chenin Blanc (2018).

"On our road there are no shortcuts. We work hard. We rely on each other. We respect the land.

Our grapes grow outside our front door and just over the hill in the Similkameen. Farming these rows one vine at a time is how we bring out big, bold flavours in the wine."

Valued at $90Current bid: $60

Donated By Road 13 Vineyards

$90
$60

#192) Legends Comics: Four Spider-Man Hardcover Comics

Do you love Spider-Man? Start your Marvel Spider-Man Comic collection with these four Spider-Man Hardcover Comics!

"The Amazing Spider-Man Death and Dating"
"The Amazing Spider-Man Kraven's First Hunt"
"The Amazing Spider-Man New Ways to Die"
"The Amazing Spider-Man Election Day"

Valued at $140Current bid: $75

Donated By Legends Comics and Books

$140
$75

#193) Charelli's Cheese Shop: Cheese & Antipasto Platter

A gift certificate for a delicious Cheese and Antipasto Platter donated by Charelli's Cheese Shop and Delicatessen!

Gift certificate valid for three months after September 2023.

Valued at $50Current bid: $70

Donated By Charelli's Cheese Shop & Delicatessen

$50
$70

#194) Hey Happy Coffee: Baseball Cap and $20 Gift Card

A purple Hey Happy baseball cap, and a $20 gift card!

"Located in the heart of downtown on traditional lək̓ʷəŋən territory, Hey Happy has been around since 2014. Our goal is to provide an amazing and genuine experience for each and every one of our customers."

Valued at $54Current bid: $35

Donated By Hey Happy Coffee

$54
$35

#195) Board with Friends: Game Basket

The perfect basket for your next game night donated by Board with Friends!

This package includes the following games: Codenames, Dos, and Taco Cat Goat Cheese Pizza!

Valued at $50Current bid: $45

Donated By Board with Friends

$50
$45

#196) The Papery: Cat Themed Gift Bag

A cat themed gift bag from The Papery! This includes a journal and related stationary, pencil case, stapler, cards, and stickers!

Valued at $80Current bid: $75

Donated By The Papery

$80
$75

#197) Poke Fresh: $20 Gift Card and Shirt

A $20 gift card to Poke Fresh, plus a Poke Fresh Shirt (size M).

"When you eat at Poke Fresh, you are helping us save the world - one delicious bowl at a time."

Valued at $45Current bid: $25

Donated By Poke Fresh

$45
$25

#198) Good Earth Coffee: Coffee Beans

Two bags of roasted coffee beans from Good Earth Coffee!

One 34g bag of espresso beans roasted from Brazil and Ethiopia, and one 34g bag of medium roast coffee beans roasted from Columbia and Guatemala.

Valued at $40Current bid: $30

Donated By Good Earth Coffee House

$40
$30

#199) Mayfair Optometric Clinic: $500 gift certificate

$500 gift certificate for Mayfair Optometric, redeemable on eyewear products.

Valued at $500Current bid: $250

Donated By Mayfair Optometric Clinic

$500
$250
Hungry Hearts 2023 Tree of Plenty

#200) Ooh La La Cupcakes: $50 Voucher

Enjoy delicious cupcakes and treats from Ooh La La Cupcakes with this $50 Voucher!

"All of our cupcakes are made with fresh ingredients and contain no additives. We use the finest ingredients like pure vanilla, sweet rich butter and fresh eggs."

Valid until: September 1, 2024.

Valued at $50Current bid: $50

Donated By Ooh La La Cupcakes

$50
$50

#201) Bean Around The World: 10 drinks + 1 lb. coffee beans

Do you like coffee? Enjoy 1 punch card for 10 free coffees and a 1 pound bag of coffee beans from Bean Around The World!

"We believe that serving the best quality coffee along with exemplary customer service is what keeps people coming back."

Valued at $70Current bid: $70

Donated By Bean Around the World

$70
$70

#202) Floyd's Diner: $50 Gift Certificate

Do you love breakfast foods? Enjoy breakfast, or lunch at Floyd's Diner with this $50 gift certificate!

"Food fanatics and risk takers, come one come all! Nothing but a healthy appetite can prepare you for The Mahoney. Simply tell your waiter/waitress "Bring me The Mahoney" and you'll soon be facing something unique from our savvy cooks. The cooks prepare whatever they feel like making you, just tell us if you want breakfast or lunch."

Valued at $50Current bid: $50

Donated By Floyd's Diner

$50
$50

#203) The Market Stores: $50 Gift Certificate

A $50 gift certificate to The Market Stores!

"We have what you need." Yates location downtown and Millstream location in Langford.

Valued at $50Current bid: $50

Donated By The Market Stores

$50
$50

#204) Darcy's Pub: $100 Gift Card

Enjoy great food and music at Darcy's Pub!

"House made west coast pub fare with gluten friendly and vegan options."

Valued at $100Current bid: $100

Donated By Darcy's Pub

$100
$100

#205) 5th Street Bar and Grill: $50 Gift Certificate

Enjoy dinner and a drink from Fifth Street Bar and Grill with this $50 gift certificate!

"We make it FRESH. All our soups, sauces, dips and dressings are made with care, in-house.

We make it GREAT. We boast Victoria's only wood-fired grill & rotisserie.

We keep it REAL. We create traditional stone oven fired pizzas with quality ingredients. You can taste it."

Valued at $50Current bid: $50

Donated By 5th Street Bar and Grill

$50
$50

#206) 5th Street Bar and Grill: $50 Gift Certificate

Enjoy dinner and a drink from Fifth Street Bar and Grill with this $50 gift certificate!

"We make it FRESH. All our soups, sauces, dips and dressings are made with care, in-house.

We make it GREAT. We boast Victoria's only wood-fired grill & rotisserie.

We keep it REAL. We create traditional stone oven fired pizzas with quality ingredients. You can taste it."

Valued at $50Current bid: $50

Donated By 5th Street Bar and Grill

$50
$50

#207) 5th Street Bar and Grill: $50 Gift Certificate

Enjoy dinner and a drink from Fifth Street Bar and Grill with this $50 gift certificate!

"We make it FRESH. All our soups, sauces, dips and dressings are made with care, in-house.

We make it GREAT. We boast Victoria's only wood-fired grill & rotisserie.

We keep it REAL. We create traditional stone oven fired pizzas with quality ingredients. You can taste it."

Valued at $50Current bid: $50

Donated By 5th Street Bar and Grill

$50
$50

#208) 5th Street Bar and Grill: $50 Gift Certificate

Enjoy dinner and a drink from Fifth Street Bar and Grill with this $50 gift certificate!

"We make it FRESH. All our soups, sauces, dips and dressings are made with care, in-house.

We make it GREAT. We boast Victoria's only wood-fired grill & rotisserie.

We keep it REAL. We create traditional stone oven fired pizzas with quality ingredients. You can taste it."

Valued at $50Current bid: $50

Donated By 5th Street Bar and Grill

$50
$50

#209) Pizzeria Prima Strada & Hoyne: Gift Certificates

Enjoy a pizza and a beer with these gift cards!

A $40 gift card to Pizzeria Prima Strada and a $25 gift card to Hoyne Brewing Co.!

"Prima Strada's house made products are created with love, using traditional methods and fresh and local ingredients."

Valued at $65Current bid: $65

Donated By Prima Strada Pizzeria

$65
$65

#210) Pizzeria Prima Strada & Hoyne: Gift Certificates

Enjoy a pizza and a beer with these gift cards!

A $40 gift card to Pizzeria Prima Strada and a $25 gift card to Hoyne Brewing Co.!

"Prima Strada's house made products are created with love, using traditional methods and fresh and local ingredients."

Valued at $65Current bid: $65

Donated By Prima Strada Pizzeria

$65
$65

#211) Niche Grocerant: $100 Gift Certificate

A $100 gift certificate to Niche Grocerant!

"At Niche we love to support our local growers and
farmers. Each dish has been created to showcase
Vancouver Island's bounty. We hope you enjoy."

Valued at $100Current bid: $100

Donated By Niche Grocerant

$100
$100

#212) Parachute Ice Cream: $50 Gift Card

Do you love Ice Cream? If so, this item is for you! A $50 gift card to Parachute Ice Cream.

"Every problem has a solution and more often than not, that solution is ice cream. One spoonful of our carefully crafted confections triggers the ultimate release. Two will save the day. Ice cream is love and love is all you need."

Valued at $50Current bid: $50

Donated By Parachute Ice Cream

$50
$50

#213) Tim Hortons: $20 Gift Card

Buy your morning coffee for a week with this $20 gift card to Tim Hortons!

Valued at $20Current bid: $20

Donated By Anonymous donor

$20
$20

#214) McDonalds: $50 Gift Card

A $50 gift card to McDonalds!

Valued at $50Current bid: $50

Donated By Anonymous donor

$50
$50

#215) Country Grocer: $50 Gift Certificate

Two $25 gift cards to Country Grocer!

"Country Grocer is a Vancouver Island and Salt Spring Island family-owned and operated grocery chain.

Our grocery stores provide exceptional products, service, pricing, and community support. We strive to provide our customers with the freshest products available and to support local British Columbia suppliers whenever possible. You'll feel like family!"

Valued at $50Current bid: $50

Donated By Country Grocer

$50
$50

#216) Country Grocer: $50 Gift Certificate

Two $25 gift cards to Country Grocer!

"Country Grocer is a Vancouver Island and Salt Spring Island family-owned and operated grocery chain.

Our grocery stores provide exceptional products, service, pricing, and community support. We strive to provide our customers with the freshest products available and to support local British Columbia suppliers whenever possible. You'll feel like family!"

Valued at $50Current bid: $50

Donated By Country Grocer

$50
$50

#217) Country Grocer: $50 Gift Certificate

Two $25 gift cards to Country Grocer!

"Country Grocer is a Vancouver Island and Salt Spring Island family-owned and operated grocery chain.

Our grocery stores provide exceptional products, service, pricing, and community support. We strive to provide our customers with the freshest products available and to support local British Columbia suppliers whenever possible. You'll feel like family!"

Valued at $50Current bid: $50

Donated By Country Grocer

$50
$50

#218) Country Grocer: $50 Gift Certificate

Two $25 gift cards to Country Grocer!

"Country Grocer is a Vancouver Island and Salt Spring Island family-owned and operated grocery chain.

Our grocery stores provide exceptional products, service, pricing, and community support. We strive to provide our customers with the freshest products available and to support local British Columbia suppliers whenever possible. You'll feel like family!"

Valued at $50Current bid: $50

Donated By Country Grocer

$50
$50

#219) Refire Kitchen: $50 Gift Certificate

A $50 gift certificate to Refire Kitchen!

"Serving The Greater Victoria Area - Delicious Home-Cooked Meals Are Now Just A Click Away!
Let's face it, meal time can be stressful. Between shopping, prepping and cooking, a lot of challenges can present themselves. Refire Kitchen, located in Victoria, BC., is your solution to serving gourmet flavoured meals in a fraction of the time and without all the effort."

Valued at $50Current bid: $50

Donated By Refire Kitchen

$50
$50

#220) Fernwood Coffee Company: $20 Gift Card

A $20 gift card to Fernwood Coffee!

"Fernwood Coffee Company is a roastery and cafe in Victoria BC. We hand craft fine roasted coffees and serve the highest standards of espresso and filter coffee as well as offering a menu of locally sourced, in-house prepared food."

Valued at $20Current bid: $20

Donated By Fernwood Coffee Company

$20
$20

#221) Wildfire Bakery: $50 Gift Certificate

A $50 gift card to Wildfire Bakery!

"We are a small, family-owned business, specializing in artisan baking since 1998. We strive to provide our community with high quality, nutritious foods that are made as accessible as possible. At the same time, we work to create a healthy working environment and operate in a socially responsible manner. We wish to support a community that values humanity, health and nature."

Valued at $50Current bid: $50

Donated By Wildfire Bakery

$50
$50

#222) Heron Rock Bistro: $50 Gift Certificate

A $50 gift certificate to Heron Rock Bistro!

"Connecting people with quality food and beverage was the driving force behind opening Heron Rock Bistro in 2005."

Valued at $50Current bid: $50

Donated By Heron Rock Bistro

$50
$50

#223) Heron Rock Bistro: $50 Gift Certificate

A $50 gift certificate to Heron Rock Bistro!

"Connecting people with quality food and beverage was the driving force behind opening Heron Rock Bistro in 2005."

Valued at $50Current bid: $50

Donated By Heron Rock Bistro

$50
$50

#224) Frankie's Modern Diner: $75 Gift Card

A $75 gift card to Frankie's Modern Diner!

"At Frankie's, we take pride in making everything from scratch – just like Frankie's Momma. When you mix fresh food and a whole lot of love something amazing happens, which is why we make everything in-house, by hand."

Valued at $75Current bid: $75

Donated By Frankie's Modern Diner

$75
$75

#225) Frankie's Modern Diner: $75 Gift Card

A $75 gift card to Frankie's Modern Diner!

"At Frankie's, we take pride in making everything from scratch – just like Frankie's Momma. When you mix fresh food and a whole lot of love something amazing happens, which is why we make everything in-house, by hand."

Valued at $75Current bid: $75

Donated By Frankie's Modern Diner

$75
$75

#226) Old Spaghetti Factory: $25 Gift Card + $10 off Coupons

Enjoy a delicious dinner at the Old Spaghetti Factory with this gift card!

A $25 gift card plus three $10 off any meal purchase coupons.

"The Old Spaghetti Factory welcomes you to dine in our most extraordinary restaurant. We will surround you with a delightfully warm and exciting atmosphere, and then serve you with the finest of fresh pasta"

Valued at $55Current bid: $55

Donated By The Old Spaghetti Factory

$55
$55

#227) Fernwood Coffee Company: $20 Gift Card

A $20 gift card to Fernwood Coffee!

"Fernwood Coffee Company is a roastery and cafe in Victoria BC. We hand craft fine roasted coffees and serve the highest standards of espresso and filter coffee as well as offering a menu of locally sourced, in-house prepared food."

Valued at $20Current bid: $20

Donated By Fernwood Coffee Company

$20
$20

#228) Fernwood Coffee Company: $20 Gift Card

A $20 gift card to Fernwood Coffee!

"Fernwood Coffee Company is a roastery and cafe in Victoria BC. We hand craft fine roasted coffees and serve the highest standards of espresso and filter coffee as well as offering a menu of locally sourced, in-house prepared food."

Valued at $20Current bid: $20

Donated By Fernwood Coffee Company

$20
$20

#229) Hide and Seek Coffee: $25 Gift Certificate

Grab a delicious coffee at Hide and Seek Coffee with this $25 gift certificate!

"We're a family-run business with one really simple goal: make great coffee and serve it in a fun and friendly environment."

Valued at $25Current bid: $25

Donated By Hide & Seek Coffee

$25
$25

#230) Shine Cafe: $50 Gift Certificate

A $50 gift certificate to Shine Cafe!

"Brunch is always a good idea"

Valued at $50Current bid: $50

Donated By Shine Cafe

$50
$50

#231) Shine Cafe: $50 Gift Certificate

A $50 gift certificate to Shine Cafe!

"Brunch is always a good idea"

Valued at $50Current bid: $50

Donated By Shine Cafe

$50
$50

#232) The Drake: $50 Gift Certificate

A $50 gift certificate to The Drake Eatery!

"Since 2014, we at The Drake Eatery have been committed to offering our guests a casual, safe and comfortable space to enjoy a West Coast craft beer and food experience. A social environment to encourage conversation without the distractions of TV's or intrusively loud music."

Valued at $50Current bid: $50

Donated By The Drake Eatery

$50
$50

#233) Cafe Brio: $150 Gift Certificate

A $150 gift certificate to Cafe Brio!

"We think of our restaurant as an extension of our home. We treat people as though they were our personal guests; with a bit of fun and a little irreverence."

Valued at $150Current bid: $150

Donated By Cafe Brio

$150
$150

#234) Milestones: $50 Gift Card

A $50 gift card to Milestones!

"We serve familiar food with a twist in an atmosphere that feels just right. Whether you're celebrating a milestone, taking advantage of Happy Hour after work or enjoying brunch with friends, we'll make sure you have a simply memorable experience."

Valued at $50Current bid: $50

Donated By Milestones (Victoria)

$50
$50

#235) MeeT On Blanshard: $25 Gift Card

Enjoy a delicious meal at vegetarian and vegan restaurant MeeT On Blanshard!

"Enjoy all of your classic brunch favourites with a MeeT twist. From waffles to bennies, and even poutine, we're here to satisfy your brunch cravings daily from open to 3pm."

Valued at $25Current bid: $25

Donated By MeeT On Blanshard

$25
$25

#236) MeeT On Blanshard: $25 Gift Card

Enjoy a delicious meal at vegetarian and vegan restaurant MeeT On Blanshard!

"Enjoy all of your classic brunch favourites with a MeeT twist. From waffles to bennies, and even poutine, we're here to satisfy your brunch cravings daily from open to 3pm."

Valued at $25Current bid: $25

Donated By MeeT On Blanshard

$25
$25

#237) Keating Coffee: $20 Gift Certificate

A $20 gift certificate to Keating Coffee!

"When it comes to food, our cafe is all about high quality and homemade comfort food. We make our soups from scratch and our made-to-order sandwiches and Panini's feature top quality meats and fresh veggies from local markets. We feature bakery fresh Irene's Bakery breads and Focaccia. Our sandwiches are always served with a side of chips."

Valued at $20Current bid: $20

Donated By Keating Coffee

$20
$20

#238) John's Place: $25 Gift Certificate

A $25 gift certificate to John's Place!

"For over almost forty years we have been making everything from scratch including our herb bread, cornbread and all our salad dressings. When Food Network Canada was filming, "You Gotta Eat Here" we made our Southwestern Meatloaf, Belgian Waffles with our own cream cheese syrup and our best seller, Eggs Benedict with an authentic real butter hollandaise sauce and we had a blast doing it."

Valued at $25Current bid: $25

Donated By Veronica Osborn

$25
$25

#239) John's Place: $25 Gift Certificate

A $25 gift certificate to John's Place!

"For over almost forty years we have been making everything from scratch including our herb bread, cornbread and all our salad dressings. When Food Network Canada was filming, "You Gotta Eat Here" we made our Southwestern Meatloaf, Belgian Waffles with our own cream cheese syrup and our best seller, Eggs Benedict with an authentic real butter hollandaise sauce and we had a blast doing it."

Valued at $25Current bid: $25

Donated By Veronica Osborn

$25
$25

#240) Ferris' Upstairs Oyster Bar: $50 Gift Certificate

A $50 gift certificate to Ferris' Upstairs Oyster Bar!

"Ferris' Upstairs Oyster Bar is the extension of the Ferris' feel, with a more up-scale menu. Upstairs (as it is sometimes known) features deeply coloured wooden floors and rich brick walls accented by candlelight - all of which is supported by a great wine list, the best in fresh seafood from our local waters, and premium steaks from Alberta. It's a great place to lounge and enjoy what Vancouver Island has to offer."

Valued at $50Current bid: $50

Donated By Ferris Oyster bar

$50
$50

#241) Hey Happy Coffee: $20 Gift Card

A $20 gift card to Hey Happy!

"Located in the heart of downtown on traditional lək̓ʷəŋən territory, Hey Happy has been around since 2014. Our goal is to provide an amazing and genuine experience for each and every one of our customers."

Valued at $20Current bid: $20

Donated By Hey Happy Coffee

$20
$20

#242) Wildfire Bakery: $50 Gift Certificate

A $50 gift card to Wildfire Bakery!

"We are a small, family-owned business, specializing in artisan baking since 1998. We strive to provide our community with high quality, nutritious foods that are made as accessible as possible. At the same time, we work to create a healthy working environment and operate in a socially responsible manner. We wish to support a community that values humanity, health and nature."

Valued at $50Current bid: $50

Donated By Wildfire Bakery

$50
$50

#243) Bon Macaron: $25 Gift Certificate

A $25 gift certificate to Bon Macaron Patisserie!

"Welcome to the Bon Macaron Patisserie online macaron shop, where you can place orders for pickup at one of our locations in Vancouver or Victoria. From snack-sized boxes of six to sharing boxes of 30, and even large arrangements for parties, we are ready to please your sweet tooth."

Valued at $25Current bid: $25

Donated By Bon Macaron

$25
$25

#244) Empire Donuts: $20 Gift Certificate

Two $10 gift certificates to Empire Donuts!

'"A Hole Lotta' Love" All donuts are made by hand, from scratch, with quality ingredients'

Valued at $20Current bid: $20

Donated By Empire Donuts

$20
$20

#245) Empire Donuts: $30 Gift Certificate

Three $10 gift certificates to Empire Donuts!

'"A Hole Lotta' Love" All donuts are made by hand, from scratch, with quality ingredients'

Valued at $30Current bid: $30

Donated By Empire Donuts

$30
$30

#246) Fiamo: $100 Gift Certificate

A $100 gift certificate to Fiamo!

"We strive to bring the best quality ingredients from our local community and beyond to your table. Our menu is prepared in a traditional Italian fashion, with a hint of Mediterranean, French and Spanish influences.

Everyone is welcome at Fiamo. Whether you are looking for a romantic date spot, a place to celebrate a special occasion, a room to host a family dinner or a cozy corner to tip a glass with your best friend, Fiamo has something for you."

Valued at $100Current bid: $100

Donated By Fiamo Italian Kitchen

$100
$100

#247) L' Apéro: $100 Gift Card

$100 Gift Card to spend at L' Apéro Wine & Cheese Bistro

"L'Apéro Wine and Cheese Bistro is about connections.
Connecting great food with great wine, but above all, it's about connecting with each other."

Valued at $100Current bid: $100

Donated By L' Apéro Wine & Cheese Bistro

$100
$100

#248) Il Covo: $100 Gift Certificate

$100 gift certificate to spend at Il Covo Trattoria.

"Victoria's truly authentic Italian restaurant. Dine al fresco on our patio. Local, fresh ingredients."

Valued at $100Current bid: $100

Donated By Il Covo Trattoria

$100
$100

#249) Roast Meat & Sandwich Shop: $50 Gift Certificate

$50 Gift Certificate to Roast, located in the Victoria Public Market.

"Roast is a lot of things: a sandwich shop, a meat shop, a place to pick up a last minute meal or a quick and healthy salad. What unites everything we do is our singular commitment to provide you with delicious, natural, and humane meat you can feel good about buying and eating."

Valued at $50Current bid: $45

Donated By Roast Meat & Sandwich Shop

$50
$45

#250) Lifestyle Markets: $100 Gift Certificate

$100 gift certificate from Lifestyle Markets.

"Lifestyle Markets, established in 1995 on beautiful Vancouver Island, Canada, is your one-stop vitamin and health food store in Victoria."

Locations on Douglas Street, Cook Street and in Sidney.

Valued at $100Current bid: $100

Donated By Lifestyle Markets

$100
$100

#252) The Keg: $100 Gift Certificate

A $100 gift certificate for The Keg.

"Come as you are, and we'll guarantee exceptional hospitality, the classics you know and love and all around good times."

Valued at $100Current bid: $100

Donated By The Keg (Fort St)

$100
$100

#253) The Keg: $100 Gift Certificate

A $100 gift certificate for The Keg.

"Come as you are, and we'll guarantee exceptional hospitality, the classics you know and love and all around good times."

Valued at $100Current bid: $100

Donated By The Keg (Fort St)

$100
$100