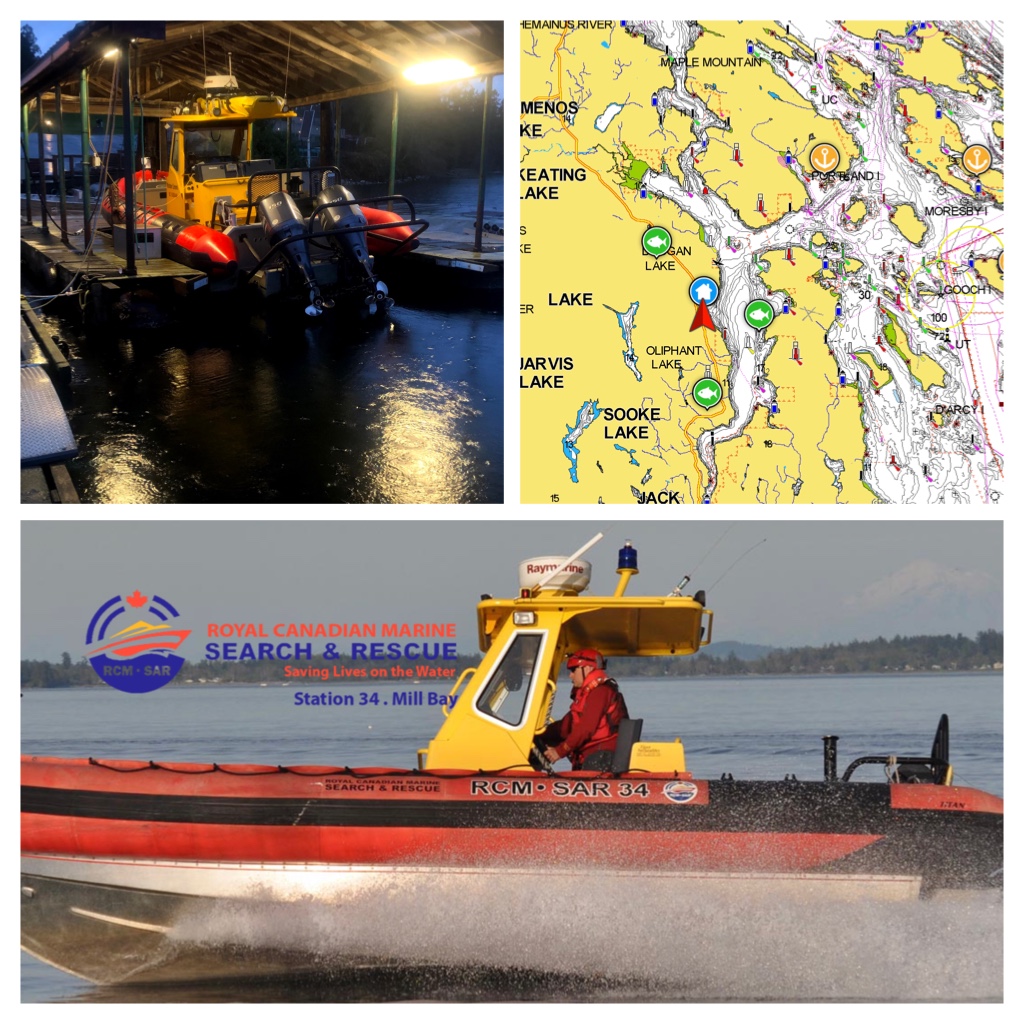 Event:
Boathouse Replacement Fundraising and Auction
Start:
Saturday February 27, 2021
9:00 AM PST
End:
Saturday March 6, 2021
9:00 PM PST
Already registered? Sign in here.
RCMSAR contributes to the marine safety of people in our community of Mill Bay and surrounding areas by saving lives and property. As a local charity, we depend on donations to ensure we have the right equipment, rescue boats and on-shore facilities. Your support today will go towards a replacing our existing boathouse.

Website is under construction and Auction Items will be added as they are received. Registration has started today on February 24, 2021. Auction will open on February 27, at 9:00 am and close March 06 at 9:00 pm.
Cash Appeal

s

Our Goal

Fundraiser Cash Donation

Cash donations will be gratefully accepted. Tax receipts will be provided for all donations over $20.

Our Goal: $15,000

$15,000

$250
Auction Item

s

Value
High Bid
Boathouse Fundraiser

Round of golf for two(2) at Arbutus Ridge Golf Club.

Round of golf for two(2) at Arbutus Ridge Golf Club. Call 250-743-5000 to book.

Valued at $140Current bid: $160

Donated By Arbutus Ridge Golf Club

Item pickup location: Mill Bay.
This item can be mailed.

$140
$160

Gift Certificate (two month membership + assessment)

Valued at $300Current bid: $0

Donated By Snap Fitness Duncan

Item pickup location: Mill Bay.
This item can be mailed.

$300
$0

Felco 160L brand secateur (pruning shear).

These larger size FELCO 160L pruning shears are the ideal choice if you are the proud owner of large hands and require a reliable tool to do all those general pruning jobs in your garden without a heavy-duty specification. High-strength, exceptionally lightweight composite fibreglass handles and a simple yet very stable blade adjustment system, combine with ergonomic hand and wrist protection to make them a joy to use. We could highlight the efficient sap groove, the enviable dexterity they allow and the hardened steel blades, but as you finally become the equally proud owner of a tool that specifically suits your personal physical and pruning requirements, you will probably want to just get on with the job.

Valued at $50Current bid: $65

Donated By B. Dinter Nursery Ltd.

Item pickup location: Mill Bay

$50
$65

Mill Bay Marine Group Gift Certificate $50

Can be used at any MBMG location , for anything. $50 gift card valid at any Mill Marine Group Marina or Restaurant.

Valued at $50Current bid: $69

Donated By Mill Bay Marine Group

Item pickup location: Mill Bay.
This item can be mailed.

$50
$69

Bag with Marine Goodies

1. Cabella, Shoulder Bag. 2.First Aid Kit. 3.Cabella's Multitool. 4.Light Sticks. 5.See-Me Locator Strobe. 6. SeaChoice Floating Signal Mirror. 7.Seachoice JestSCream Whistle. 7. Pair of Gloves. 8. Deck of Waterproof playing Cards. 9. Mercury Large t-Shirt and Baseball Cap

Valued at $130Current bid: $85

Donated By Dean's Marine

Item pickup location: Mill Bay

$130
$85

$50 towards an order of The French Oven Bakery.

Hi everyone,
Authentic French baking, made from scratch, baked fresh for each Delivery.

Make your bids to get $50 worth of Baked goods from The French Oven Bakery,
You will get your prize delivered on the Saturday of your choice at home.
The winner will be contacted and place their order on the phone, for now look at the menu and start thinking.... can discuss products,

Cheers everyone and thank you for your awesome support!
Nick and Sandra

Valued at $50Current bid: $65

Donated By The French Oven Bakery

$50
$65

A $100 Unsworth Vineyard Gift Basket containing:-

1.) 1 Bottle of Gamay Noir 2018, 2.) One Bottle of Tim Bucktwo 2016, 3) One Bag of Organic Maple Sugar, 4). Jar of Mrs Jones Jam BleuBerry-Lemon,

Valued at $99Current bid: $125

Donated By Unsworth Vineyard

Item pickup location: Mill Bay

$99
$125

Mill Bay Marine Group Gift Certificate $50

Can be used at any MBMG location , for anything. $50 gift card valid at any Mill Marine Group Marina or Restaurant

Valued at $50Current bid: $65

Donated By Mill Bay Marine Group

Item pickup location: Mill Bay

$50
$65

Dodger for a Hunter 33 sailboat or similar.

Dodger for a Hunter 33 sailboat or similar. Include stainless steel frame and three-year old Sunbrella  canvas, clear windshields and Sunbrella canvas window covers. Colour = Captain Navy Blue. $5,000+ value. Minimum bid $800.

Valued at $5,000Current bid: $0

Donated By Private Donor R&S

Item pickup location: Mill Bay

$5,000
$0

$150 gift Certificate towards a full Wheel Alignment

Valued at $150Current bid: $50

Donated By KalTire

Item pickup location: Mill Bay.
This item can be mailed.

$150
$50

A $100 Blue Grouse Estate Winery Gift Basket containing:-

1.) 2 Riedel Pinot Noir Glasses value of $80, 2.) Blue Grouse Wine Box value of $15, 3) Blue Grouse Wine Tote value of $3.75, 4). Blue Grouse Water Bottle value of $10, 5).2 for 1 tasting voucher value of $10

Valued at $100Current bid: $100

Donated By Blue Grouse Estate Winery

Item pickup location: Mill Bay

$100
$100

Mill Bay Marine Group Gift Certificate $50

Valued at $50Current bid: $60

Donated By Mill Bay Marine Group

Item pickup location: Mill Bay

$50
$60

Colourful Art Print 37.5"X21 5/8"

by Art & Daphne Carlyle are a creative team at Carlyle Art.

Valued at $350Current bid: $0

Donated By Private Donor JP

Item pickup location: Mill Bay

$350
$0

A $400 gift Certificate for photography.

Bob Vanderford Family or individual Portrait session (Value $200 ).
And $200 Towards your portrait order.
All bidders will receive a mystery prize.

Valued at $400Current bid: $0

Donated By Bob Vanderford Photography

Item pickup location: Bob will contact you please provide phone number and e-mail..
This item can be mailed.

$400
$0

Gift certificate valued at $850.

The Bearer of this Certificate is entitled to receive one
'Travelift" Haul-Out , Pressure Wash, Standard Blocking and Launch for up to a 40 foot boat at Canoe Cove Marina and Boat Yard.

Valued at $850Current bid: $300

Donated By Canoe Cove Marina and Boatyard

Item pickup location: Mill Bay.
This item can be mailed.

$850
$300

Two one-way 'vehicle, driver, adult passenger' vouchers.

Two one-way 'vehicle + driver' vouchers and two one-way 'adult passenger' vouchers. Valid to November 30, 2021. The value of these vouchers is $200.

Valued at $200Current bid: $220

Donated By BC Ferries

Item pickup location: Mill Bay.
This item can be mailed.

$200
$220

Afternoon/Evening Sail on 'O de V' 37' Hunter sailboat

Afternoon/ Evening Sail on O de V a 37 Hunter sailboat, starting at Mill Bay Marina for four people. Drinks and Tapas provided during the sail. Host Bob Annis. Date and time to be agreed. Of course it will be dependant on Dr. Bonnie and Covid rules. We expect it to be in the August - October 2021 period.

Valued at $500Current bid: $250

Donated By Private Donor BA

Item pickup location: Mill Bay.
This item can be mailed.

$500
$250

Garmin GPSMAP 78S Marine GPS Navigator

Garmin GPSMAP 78S Marine GPS Navigator and World Wide Chartplotter
Brand Garmin
Are Batteries Included Yes
Standing screen display size 2.6 Inches
Item Dimensions LxWxH 30 x 66 x 152 millimeters
Memory storage capacity 1724 MB
About this item
Gpsmap 78s features a 3-axis compass, barometric altimeter, and crisp color mapping,
Gpsmap 78s has a built-in 3-axis tilt-compensate electronic compass, which shows your heading even when you're standing still, without holding it level
With gpsmap 78s you can share your way points, tracks, routes and geocaches wirelessly other compatible device users
Gpsmap 78s comes with built-in worldwide basemap, so you can navigate anywhere with ease
Gpsmap 78s locates your position quickly and precisely and maintains its GPS location even in heavy cover and deep canyons
Worldwide shaded relief basemap
microSD card slot for optional mapping
3-Axis compass & barometric altimeter
Floats, buoyant
Worldwide shaded relief basemap
microSD card slot for optional mapping

Valued at $250Current bid: $130

Donated By Roton and Pacific Yacht Systems team

Item pickup location: Mill Bay

$250
$130

COVID Café Virtual Cooking Experience with Chef David

COVID Café Virtual Cooking Experience with Chef David

This is a great opportunity to get together with a group of Family or Friends and prepare a meal and learn about how to prepare this and then jointly eat it.

Enjoy a virtual cooking experience with Brentwood College's Chef David!
Choose from one of the menus noted in the poster or feel free to create a custom menu of your choice.

The perfect way for a group of family/friends to get together, or make it a fun office event!

Event will be hosted on a Saturday night from 6:00 – 8:00pm. Beverages welcome but not supplied.
Shopping list, kitchen requirements and ZOOM link will be sent to participants prior to class start. It is recommended that participants have ingredients prepared and set aside.

Chef David has hosted a wide variety of ZOOM kitchen classes under The COVID Café. Participants have included Brentwood staff and students, Rotary Club and SISU sales teams over the last year.
A one of a kind experience that will leave you with some new skills and new recipes for the future.
No pick up required.

Valued at $500Current bid: $100

Donated By Brentwood College School

Item pickup location: Will be emailed

$500
$100

3 Pack of Sparkling wines

Sparkling wines from Enrico Winery.
Made in the Charmat method, this trio of all of our sparkling wines is to commemorate the debut of our new Célébration bottle design.

Valued at $76Current bid: $85

Donated By Enrico Winery

Item pickup location: Mill Bay

$76
$85

Island Grillstone - Square 12"x12"

This unique BBQ accessory is a natural stone slab that you place directly on the cooking surface of any gas bbq. The stone surface has a natural series of pockets in the stone that hold juices and allow the food to keep moist but avoids any flare ups or burning due to the fact that the stone will not allow dripping to hit the burners below.
The Island Grillstone is awesome. The flavor and ease of cooking is wonderful. I made sausage burgers and fried onions all on the stone at the same time four 1/4 Lb burgers and onions fit perfectly for making a great dinner. Seasoning the stone was as easy as 1-2-3. Being able to use both sides for grilling means while one side is being cleaned (facing down) the other side is great for cooking. The more you use it the better it gets. Here is how I recommend seasoning along with great instructions included with the stone.

Valued at $60Current bid: $72

Donated By South Island Fireplace

Item pickup location: Mill Bay

$60
$72

Brand New Plastimo Trail Inflatable Tender P310HA

Easy ride to the harbour in all seasons and situations.
Inflatable V-type hull provides a stable and comfortable ride : ideal to use under power.
Reinforced cones. Full floor in wood or aluminium.
Hypalon-Orca tube construction : heavy duty durable fabric, ideal for intensive use in tropical environment.
Single skin rigid aluminium hull, V-shaped. Flat aluminium floor.
Designed for use with davits.
Product description Plastimo Trail P310HA
Specifications:

- Maximum Load: 600 Kg
- Overall Dimensions: 306*158*75 Cm
- Stowed Dimensions: 112*58**35 Cm
- Weight: 52 Kg
- Maximum Power: 11.2 Kw(15 Hp)
- Floor: Full, Aluminium Floor
- Tube Diametre: 44 Cm
- Number Of Air Chambers: 3+1
- Inflatable Keel: Yes
- Reinforced Keel: Yes
- D-Towing Rings: 2
- Rear Carrying Handle: 2

Valued at $2,290Current bid: $800

Donated By Lake's Marine Supply

Item pickup location: Mill Bay

$2,290
$800

Mill Bay Marine Group Gift Certificate $50

Can be used at any MBMG location , for anything. $50 gift card valid at any Mill Marine Group Marina or Restaurant.

Valued at $50Current bid: $65

Donated By Mill Bay Marine Group

Item pickup location: Mill Bay.
This item can be mailed.

$50
$65

Dragon Boat Paddle IDBF Approved - Length - 47"

THE REACTOR II IS DESIGNED FOR THE ADVANCED PADDLER WHO DEMANDS THE BEST EQUIPMENT. PRODUCT DESCRIPTION This Paddle Won a Gold medal in Hungary, by Canadian Local BC. team.

The Reactor II is our second generation paddle that incorporates the most advanced one piece construction method that forms the blade and shaft in the same step. This paddle is made with a 100% carbon fibre throughout the blade and the shaft to form a very lightweight, very durable and high performance paddle. The Reactor II has a slip and scratch resistant satin clear finish with the decal embedded into the paddle.

FEATURES
100% carbon - made out of a beautiful 2x2 carbon fibre twill weave and is one of the lightest and stiffest paddles on the market (380g)
A durable paddle that lasts - Seamless one-piece construction - allow for a stronger, lighter and much more responsive paddle
Built light for a quick, effortless recovery and is stiff enough to handle all the power you got.
Scratch and slip resistant satin finish.
100% Carbon fiber w/ 2x2 twill blade and shaft.
Clean entry tip, Reinforced tip and edges.
IDBF PS202a Certified Made in the USA

Valued at $250Current bid: $85

Donated By Private Donor IP

Item pickup location: Mill Bay

$250
$85

Oil painting on canvas

Oil painting on canvas, Reclining Nude (After Modigliani), Alex Korenfeld (Russian-Canadian, b.1934), Signed and Dated 2019 Verso - Unframed on stretcher, 27 x 42.5 in — 68.6 x 108 cm

Valued at $300Current bid: $0

Donated By Private Donor R&S

Item pickup location: Mill Bay

$300
$0

Watch Casio GBX-800 (Grey)

Casio GBX-800 (Grey)
Retail Value: $155
Near-mint condition, does not have original packaging or paper manual

Valued at $155Current bid: $60

Donated By Private Donor KT

Item pickup location: Mill Bay

$155
$60

$100 Gift Certificate. For Unsworth Vineyard or Restaurant

Valued at $100Current bid: $120

Donated By Unsworth Vineyard

Item pickup location: Mill Bay.
This item can be mailed.

$100
$120

New Thetford Marine/RV Porta Potti 260B

Thetford Marine/RV Porta Potti 260B, New & Unused, 2.6 gallon capacity, 12.2" h. x 13.4" w. x 15" d. - 38.4 x 34.39 x 30.81 cm, $100 New

Valued at $100Current bid: $40

Donated By Private Donor R&S

Item pickup location: Mill Bay

$100
$40

Load of Split Firewood, delivered.

Load of Split Firewood, delivery in Cowichan Valley included. Trailer size 5'x9'x2'. Value $300. Demand appears high. After the auction a second load will be made available if the highest bid is matched. Email to mbmrs34@gmail.com to secure this option.

Valued at $300Current bid: $170

Donated By Private Donor GP

Item pickup location: Delivered in Cowichan Valley

$300
$170

Day sail for two people on Serenity,Hunter 33' sailboat

Day sail for two people on Serenity, a Hunter 33' sailboat. The day will begin at the Mill Bay Marina and the destination will be Portland Island, where you will enjoy a picnic lunch and seaside hike. After  enjoying the beauty and serenity of Portland Island, the return trip to Mill Bay Marina will include drinks and snacks. Your hosts will be Sheila and Richard Furbacher. Date and time to be agreed upon and dependant on Covid rules. We expect it to be in the August - October 2021 period but could be earlier if permitted.

Valued at $500Current bid: $200

Donated By Private Donor R&S

Item pickup location: Mill Bay.
This item can be mailed.

$500
$200

Mill Bay Marine Group Gift Certificate $50

Can be used at any MBMG location , for anything. $50 gift card valid at any Mill Marine Group Marina or Restaurant.

Valued at $50Current bid: $61

Donated By Mill Bay Marine Group

Item pickup location: Mill Bay

$50
$61

A $200 Gift Certificate for a Pet Portrait session

A Pet Portrait session (Value $200 ).
With $200 credit towards your print order.
All bidders will receive a mystery prize.

Valued at $200Current bid: $85

Donated By Bob Vanderford Photography

Item pickup location: Bob will contact you.
This item can be mailed.

$200
$85

New 24 Volt Jabsco Macerator Pump.

New 24 Volt Jabsco Macerator Pump, Model #18590-2094, Self Priming, Run Dry Protection, Waste Evacuation. Still in the original box, $250 value. Minimum bid $75.

Valued at $250Current bid: $85

Donated By Private Donor R&S

Item pickup location: Mill Bay

$250
$85

Bosch compact, stackable front loading washer & dryer.

Bosch compact, stackable front loading washer (Model #WFK 2401) and condensing dryer (Model #WTL 5400), Perfect for apartments or space-challenged situations. Used, in perfect working order. Minimum bid $100 each

Valued at $500Current bid: $200

Donated By Private Donor R&S

Item pickup location: TBD

$500
$200

GARMIN BLUE CHART Data Hecate Strait North MCA011R

Product description
MCA011R Covers:. Includes coverage of the northern portion of the Queen Charlotte Islands, Hecate Strait and Dixon Entrance from Duke Island to the northern portion of Aristazabal Island. Includes detailed coverage of many areas including Prince Rupert, BC, and the Grenville Channel.

Valued at $85Current bid: $25

Donated By Private Donor JP

Item pickup location: Mill Bay.
This item can be mailed.

$85
$25

Serious Coffee gift basket

1lb Coal Miners coffee beans
Coastal Mint tea
Black tumbler
Sherpa mug
Teapot

Valued at $62Current bid: $65

Donated By Serious Coffee

Item pickup location: Mill Bay

$62
$65

GARMIN BLUE CHART Data Hecate Strait North MCA010R

Product description
Garmin BlueChart Data Card Hecate Strait South MCA010R Marine Maps for a great time on the water
Part Number: 010-C0009-00

Version 2006

Includes coverage of the southern portion of the Queen Charlotte Islands, Hecate Strait, Queen Charlotte Sound, and Queen Charlotte Strait. Includes detailed coverage of many areas including Port Hardy, BC, Burke Channel and Dean Channel.

Features include:
Chart-specific information, including chart name and number, scale, revision date, latest Notice to Mariners date
Object-oriented cartography
Faithful representation of published official paper charts
Shaded depth contours
Intertidal zones
Spot soundings
Navaids with view range and coverage
Port plans
Tides, wrecks, restricted areas and anchorages

Valued at $85Current bid: $25

Donated By Private Donor JP

Item pickup location: Mill Bay.
This item can be mailed.

$85
$25

Kialoa hybrid single bend outrigger paddle.

Length 46-57".
Kona Race Dream
Designed with a 7 degree bend, this paddle is ideal in calm waters. Made in the USA.

How to choose an outrigger -paddle:-
https://kialoa.com/pages/choosing-an-outrigger-paddle

Valued at $195Current bid: $65

Donated By Private Donor IP

Item pickup location: Mill Bay

$195
$65

13 piece tapas set & 1 year subscription to Pacific Yachting

13 piece tapas set with tray plus

One year subscription to Pacific Yachting Magazine

Valued at $75Current bid: $25

Donated By Private Donor DR

Item pickup location: Mill Bay

$75
$25

Framed 8"x6" print by Ken Prescott in 15"x13" frame.

Ken Prescott was born in London, Ontario in 1938 and attended the Danforth Technical School in Toronto. He has worked as an advertising designer, art director and freelance graphic designer between his travels throughout the Far East, Southeast Asia, Australia, Europe, Africa and the South Pacific.

He has been exhibiting his works for over 30 years in both solo and group exhibitions throughout Canada and the United States. In 1975, he moved to Vancouver and soon after was elected to senior member status and a chairman of The Federation of Canadian Artists.

"Everything in Ken Prescott's work evolves from papers covered with paint that start out on the studio floor an are later "assembled" to form a likeness."

His works are included in more than 100 elite corporate and private collections throughout Canada and the US including: Air Canada, The Royal Bank, Bank of America, Bank of Montreal, Bendorf Verster, BC Hydro, CIBC, Coldwell Banker, Fletcher Challenge, Japan Airlines, London Life, Pan Pacific Hotels, Peat Marwick, Vancouver Aquarium, Simon Fraser University, The Law Courts and IBM Canada.

Valued at $200Current bid: $0

Donated By Private Donor SW

Item pickup location: Mill Bay

$200
$0

Electric Trolling outboard motor

Minn Kota Endura C2 12v 30 lb thrust. Only used two or three times.

Valued at $200Current bid: $100

Donated By Private Donor GM

Item pickup location: Mill Bay

$200
$100

Brass Bosuns call with box

Valued at $42Current bid: $23

Donated By Nautical Consulting

Item pickup location: Mill Bay

$42
$23

Used VINTAGE 1986 DAHON FOLDER BICYCLE

VINTAGE 1986 DAHON FOLDER BICYCLE NOS Sturmey Archer RED folding bike.
Needs some TLC, has some rust, but is operational. Tires in great shape
Item specifics
Condition:
Used: An item that has been used previously. The item may have some signs of cosmetic wear, but is fully ... Read more
Model: Folder
Brand: Dahon Bike Type: Folder Folding Bike
Style: Vintage Material: Steel
Manufacturer Color: Red Model Year: 1986
Tire Type: Tubular Tires Features: Adjustable Seat, Fenders, Kickstand, Reflectors
Configuration: Full Bicycle
Color: Red
Gender: Unisex Adult Vintage: No
Number of Speeds: 3 Speed Item Weight: 31 lb

Valued at $135Current bid: $0

Donated By Private Donor GM

Item pickup location: Mill Bay

$135
$0

Used Rare vintage Scooma Foldy folding bicycle

Used Rare vintage Scooma Foldy folding 3-speed bicycle. Needs some TLC, has some rust, but is operational. Tires in great shape.

Valued at $145Current bid: $0

Donated By Private Donor GM

Item pickup location: Mill Bay

$145
$0

Lewmar Galvanized Delta 22 Lbs Anchor - Used

Lewmar Galvanised Delta Anchor - Used

Suitable for boats from 28' as a storm anchor, to boats 40' in length as a lunch hook.
Self-launching and fast setting for quick, hassle-free anchoring. The carefully engineered weight distribution and apex ballasting allows the Delta to start setting right when it hits bottom, for quick anchoring without dragging. Accommodates all chain and rope end fittings. Galvanized Steel.

Product information
Size :10 kg/22 lb.
Technical Details
Size 10 kg/22 lb.
Brand Lewmar Item Weight 9.98 kg
Manufactured from high grade manganese steel
Self launching.
Recommended Chain Size (in.): 5/16"

Valued at $299Current bid: $200

Donated By Private Donor GM

Item pickup location: Mill Bay

$299
$200

10-Piece T-handle S.A.E. Hex Set

Brand Jet
Sizes 3/32 to 3/8"

Valued at $75Current bid: $25

Donated By Bumper to Bumper Duncan

Item pickup location: Mill Bay

$75
$25

Fast this way & assortment of Bulletproof items.

Fast this way - Dave Asprey + assortment of Bulletproof drinks, supplements and proteins.

For more than a decade, the Bulletproof founder Dave Asprey has shared his unique point of view and expertise to help fans become the best versions of themselves. From living longer to getting smarter, maximizing performance to practicing mindfulness, Dave's followers look to him for his take on the most effective techniques to become healthier and more powerful than most doctors think is possible.

Asprey has been fasting for years, long before it gained widespread popularity, and if you're a fan of Bulletproof coffee and The Bulletproof Diet, you have been enjoying some of the benefits of Intermittent Fasting too.

Valued at $300Current bid: $0

Donated By Bulletproof

Item pickup location: Mill Bay

$300
$0

Nike Brentwood Branded Hoodie

Nike Brentwood Branded Hoodie.
Score some Brentwood branded swag!
Soft and cozy, these Nike hoodies are perfect for lounging around at home or setting sail and exploring our beautiful island!
Winner's choice of black or red hoodie.
Youth XL to Adult XXL sizing available.

Valued at $80Current bid: $35

Donated By Brentwood College School

Item pickup location: Mill Bay.

$80
$35

Getaway for Four to the Ultimate West Coast "Man Cave"

Getaway for Four to the Ultimate West Coast "Man Cave" in Port Renfrew 2021. Donated by Private Donor
Overview: this once-in-a-lifetime experience consists of a guided, all-expense paid, two-day adventure to a private "man cave" in Port Renfrew. Activities are up to you and could include, hiking to Botanical Beach, or fishing for salmon on the world-famous Swiftsure Bank. If you choose the latter, you and three of your (very lucky) friends will serve as crew on the "Charlie Cat," a deluxe 35ft catamaran that's perfectly suited for catching fish as it is for viewing humpback whales, orcas and colonies of resident sea lions. Upon your arrival in Port Renfrew, you'll be lodged in a modern day Man Cave that's perched on a cliff overlooking San Juan Inlet. All meals will be expertly prepared by your host and afterwards, chances are you will be lulled to sleep by the rhythm of the pacific surf breaking far below you.
Keep in mind: The optimum window for this package is between early May and late October. Booking is required 6 weeks in advance, and dependant on Covid rules. The long weekends in July and August are excluded. Weather dependant and done on a mutually agreed time. Transportation included from Mill Bay to Port Renfrew, it could include a helicopter ride across the Island, weather permitting.

Priceless!Current bid: $4,700

Donated By Private Donor AP

Item pickup location: Mill Bay

Priceless!
$4,700