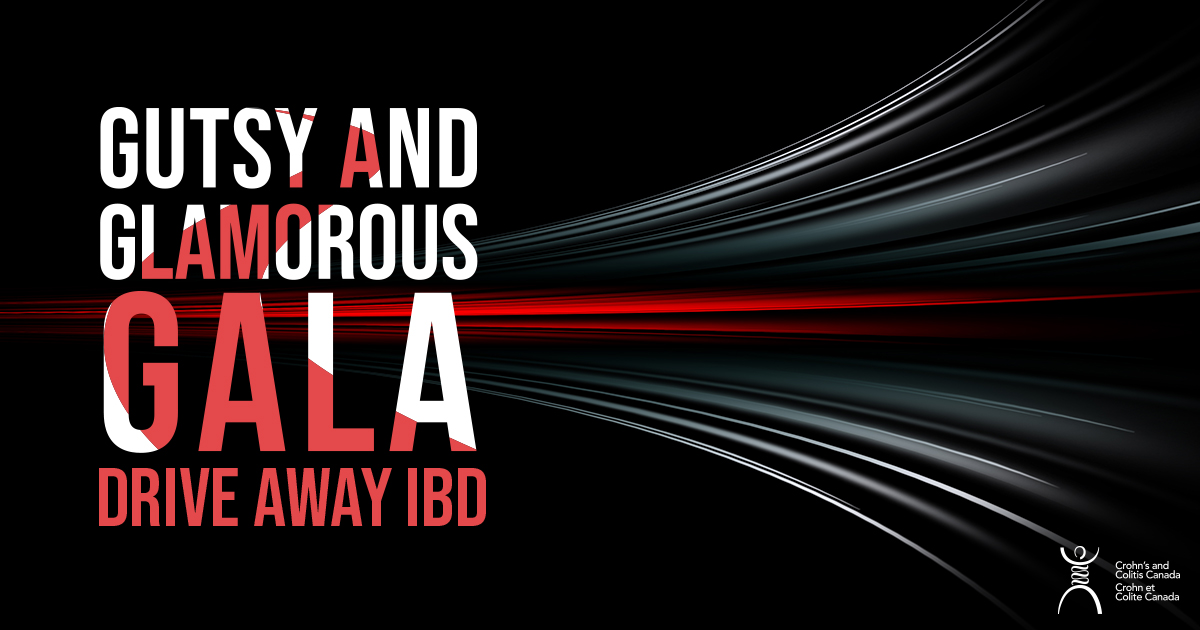 Event:
2023 Gutsy & Glamorous Gala: Drive Away IBD
Location:
Delta Hotel
350 St. Mary Ave
Winnipeg MB
Start:
Sunday February 19, 2023
9:00 AM CST
End:
Thursday February 23, 2023
9:30 PM CST
Welcome to our online auction in support of the 14th Annual Gutsy & Glamorous Gala: Drive Away IBD!

Bid from ANYWHERE in Manitoba! BUT watch for details on pick-up and mailing.

By supporting the Gutsy & Glamorous Gala: Night In, you will be supporting the 1 in 140 Canadians living with Crohn's disease and ulcerative colitis.

We need a cure! Sadly, this insidious disease has no age barrier. It complicates the lives of both children and adults. It severely impacts their quality of life. Participate in our auction and you will be part of something bigger than a single event. "You'll help put a stop to the pain, the surgeries and the missed special moments" caused by inflammatory bowel disease.

BIDDING OPENS ON FEBRUARY 19th.

WINNERS: Confirmed Thursday evening, FEBRUARY 23rd.

PAYMENT:
Visa, Mastercard, American Express. Select Express Check Out option. Payment is due as soon as possible after auction closes.
For alternate payment options please contact: Darrah Horobetz, 204-688-9076 or dhorobetz@crohnsandcolitis.ca

DISTRIBUTION:
-Gift Cards/Certificates can be mailed out
-No Contact-Social Distancing scheduled pick-up or delivery will be available IN WINNIPEG. If you are at the event on February 23, you may collect your winnings prior to departing
-Selected items can also be sent by regular Canada Parcel Post or courier service at winner's expense*
*Fragile items and liquids will NOT be shipped
*We hold no responsibility for items damaged in transit.

It's with a heartfelt thank you, we introduce to you, these fabulous items generously donated by our amazing and invaluable donors.

LET'S GET BIDDING! HAVE FUN!!
Cash Appeal

s

Our Goal

Support Campaign

In these uncertain times, we want to emphasize that the health and safety of you and your loved ones is our highest priority, and we are doing our very best to support you through the evolving COVID-19 pandemic.

To help keep our community safe, we formed an inflammatory bowel disease (IBD) COVID-19 task force made up of world renowned IBD specialists; infectious diseases, public health and mental health experts; and patients to make recommendations to safeguard the health of our community and we are providing new online resources and expanded tools, such as educational events and weekly webinars with IBD experts, to answer your questions.

As you may be aware, Crohn's and Colitis Canada does not receive government funding. The majority of our funding comes from our Gutsy Walk and in-person events, which we have had to cancel or postpone. Our funding is uncertain. Without these events, our revenue has not kept up with our funding needs for critical programs, services, and research. Yet, our community is relying on these programs and services, now more than ever, during these tough times, which is why, if you are able, we are urgently asking for your sustained support today.

By donating now you can help keep critical programs and services going to help not only the 300,000 Canadians living with Crohn's or colitis, but millions of people around the globe, providing critical, up-to-date information and hope, care and support to our entire global community. A tax receipt will be issued for donations of $15 and up. Tax receipts will be distributed after event closes on February 23, 2023.

Our Goal: $4,000

$4,000

$300
Auction Item

s

Value
High Bid

Fun & Recreation

Luxury Staycation

You and a guest will drop off your vehicle at Volvo Cars Winnipeg on a Friday night of your choice and pick up your brand-new Volvo SUV for an extravagant weekend of relaxation!

Includes:
•A one-night stay at the Fort Garry Hotel
•Dining at the Oval Room Brasserie
•New Volvo SUV for the Weekend from Volvo Cars Winnipeg
•Ten Spa Package for Two
•Presidential Vehicle Detailing Package of your vehicle at Birchwood Lexus

Restrictions include:
*Must be used by December 31, 2023
*Vehicle is subject to availability
*Vehicle usage with pickup Friday and return Monday
*Vehicle usage remains within Winnipeg

Valued at $1,400Current bid: $770

Donated By Birchwood Lexus

$1,400
$770

Sports

4 Tickets to the Winnipeg Jets vs. San Jose Sharks!

Jets Fans, this one's for you!!

Tickets for 4 to the Winnipeg Jets vs San Jose Sharks on Monday, March 6 at 6:30pm in ROW 2 (Section 117)!

This is a special night because it is the Jets Bobblehead game! First 5,000 fans will receive a Kyle Connor Bobblehead!

Valued at $800Current bid: $500

Donated By Roger & Carolyn Maguet

$800
$500

4 Tickets to the Winnipeg Jets vs. New Jersey Devils!

Try your luck at another group of Jets Tickets!!

Tickets for 4 to the Winnipeg Jets vs New Jersey Devils on Monday, April 3 at 6pm in ROW 2 in the Budweiser Lounge!

Valued at $1,000Current bid: $450

Donated By Birchwood Automotive Group

$1,000
$450

Zach Collaros Signed Winnipeg Blue Bomber Jersey!

Signed #8 Zach Collaros Jersey

Size XL.
Can be shipped at the winner's expense.

Valued at $230Current bid: $400

Donated By Winnipeg Blue Bombers

$230
$400

Let's Go Bombers!

Check out a Winnipeg Bomber game with 3 of your friends!

Redeemable for 4 P4 Game tickets AND 4 Pre-Game Sideline Passes!

*Tickets are only redeemable for 2023 Regular Season Winnipeg Blue Bomber Home games (excludes banjo bowl and playoffs). Subject to availability.

Valued at $255Current bid: $320

Donated By Winnipeg Blue Bombers

$255
$320

Sky SWEET

Play Ball!
Check out a Winnipeg Goldeyes Private SkySuite at Shaw Park!

Bring your friends - occupancy limit is 21 people!

*Valid for one Friday, Saturday or Sunday 2023 Home game. Subject to availability.

Valued at $900Current bid: $695

Donated By Winnipeg Goldeyes

$900
$695

Hockey, Hockey, Hockey!

20 Tickets to a Manitoba Moose game!

You may use them all at once or you can break it down into 2 or 3 games.

Expires April 10, 2024.

Valued at $800Current bid: $200

Donated By Hitrac

$800
$200

Treat Yourself!

The Gift of Flight

One roundtrip flight for two guests to any regularly scheduled and marketed WestJet destination.*  

Plus: Travel Accessories!

(*No cash value. Taxes, fees, and surcharges not included. Blackout dates and restrictions apply.)  

Priceless!Current bid: $1,510

Donated By WestJet

Priceless!
$1,510

Wine NOT!

Wine lovers, this is for you!

Includes:
6 premium bottles of wine
475 ml Corkcicle Canteen Bottle
1000 piece wine puzzle
Coal & Canary Candle
Whipped body butter, body soap, 2 bath bombs from Genuine Body Care Copper plated corkscrew Wine stopper Chocolate

Valued at $500Current bid: $330

Donated By The Winehouse

$500
$330

Get Moving

You and a friend can get moving with 2 One Month Passes to Tola Movement Training!

Expires December 31, 2023

Valued at $300Current bid: $100

Donated By Tola Movement Training

$300
$100

A Night Out

Enjoy a 1-night stay* at the Delta Hotel (350 St. Mary Ave) including parking and dinner at Leopold's!

*Standard room

Valued at $350Current bid: $240

$350
$240

Women's Shades

Gorgeous women's eyewear!

Valued at $300Current bid: $170

Donated By South Winnipeg Eye Centre

$300
$170

ZYIA Activewear outfit

Get your hands on a ZYIA Activewear outfit of your choice!

Valued at $200Current bid: $140

Donated By Carolyn Maguet, Independent ZYIA Rep

$200
$140

Overnight Bag, Chamois and Swag

Check out this one!
We've got a Rugged canvas overnight duffle bag and Boeing Swag. As well as 2 Bronze washes at The Chamois!

Valued at $450Current bid: $140

Donated By Boeing Winnipeg

$450
$140

Home

Movie Night In, or Out!

Have a movie night in or outside with your family!

Includes:
ONOAYO 5G WiFi Bluetooth Projector, 12000L Native 1080P Portable Mini Projector 4K Support, 4D Keystone&50% Zoom, Sealed Optical Outdoor Movie Projector LED/Home Projector for Phone/PC/Firestick
&
lafuria 14 Feet Inflatable Movie Screen Blow up Mega Movie Projector Screen Indoor/Outdoor

Valued at $430Current bid: $370

Donated By Hitrac

$430
$370

Grocery Spree

We all need groceries, here's $250 to spend at Food Fare!

Valued at $250Current bid: $230

Donated By Food Fare

$250
$230

Grocery Spree Round 2

Another chance to score some money for groceries, here's $250 to spend at Food Fare!

Valued at $250Current bid: $210

Donated By Food Fare

$250
$210

Concrete Sculpture

Beautiful Concrete Sculpture by Artist Kevin Batenchuck

Valued at $200Current bid: $100

Donated By Artist Kevin Batenchuk

$200
$100